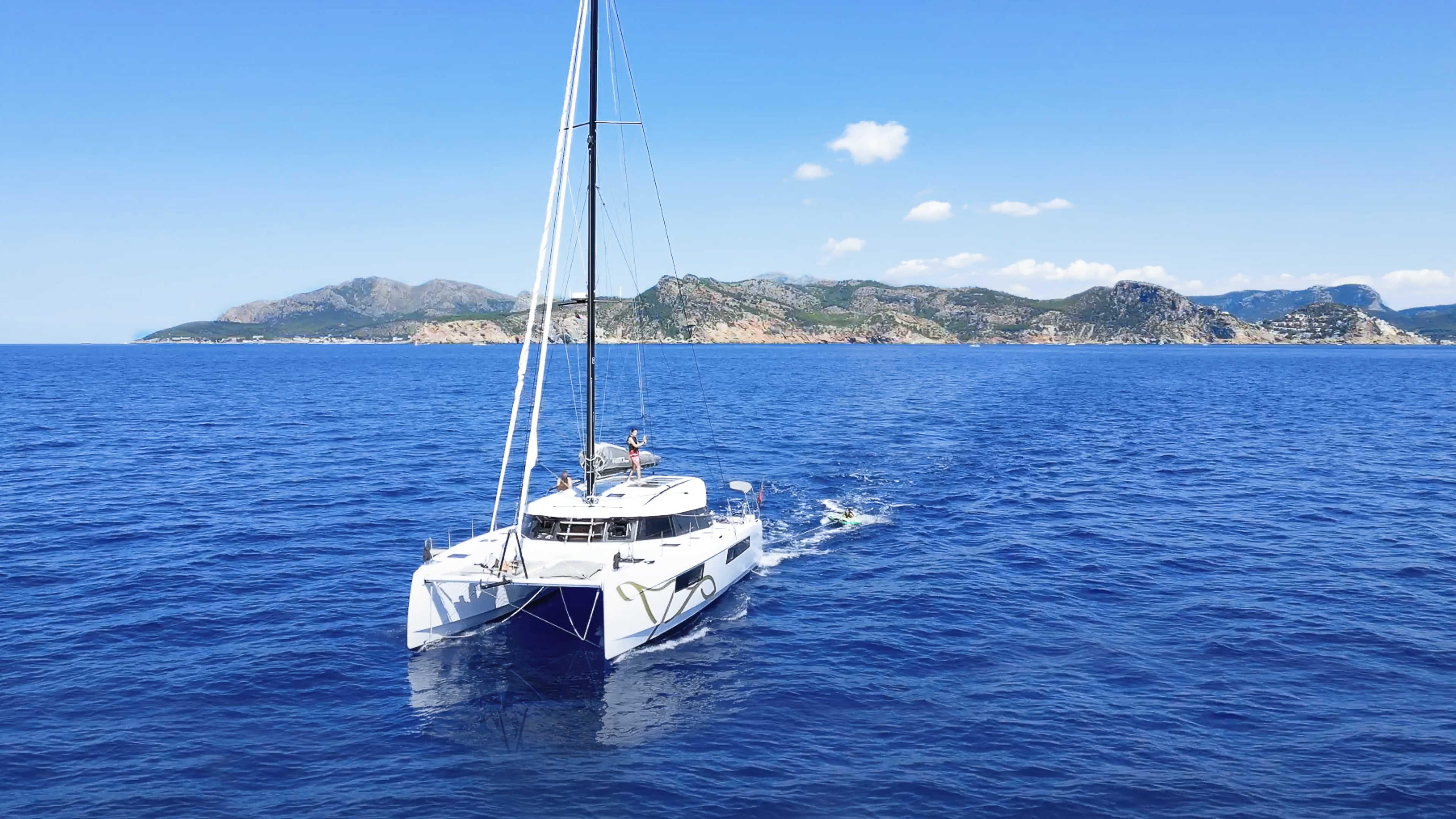 Stephen
Looking for the perfect yacht
Mediterranean
You never find it!
Stephen spent many years looking for a sailboat that met his requirements. After a first failed experiment, the new 44 appeared to be made for him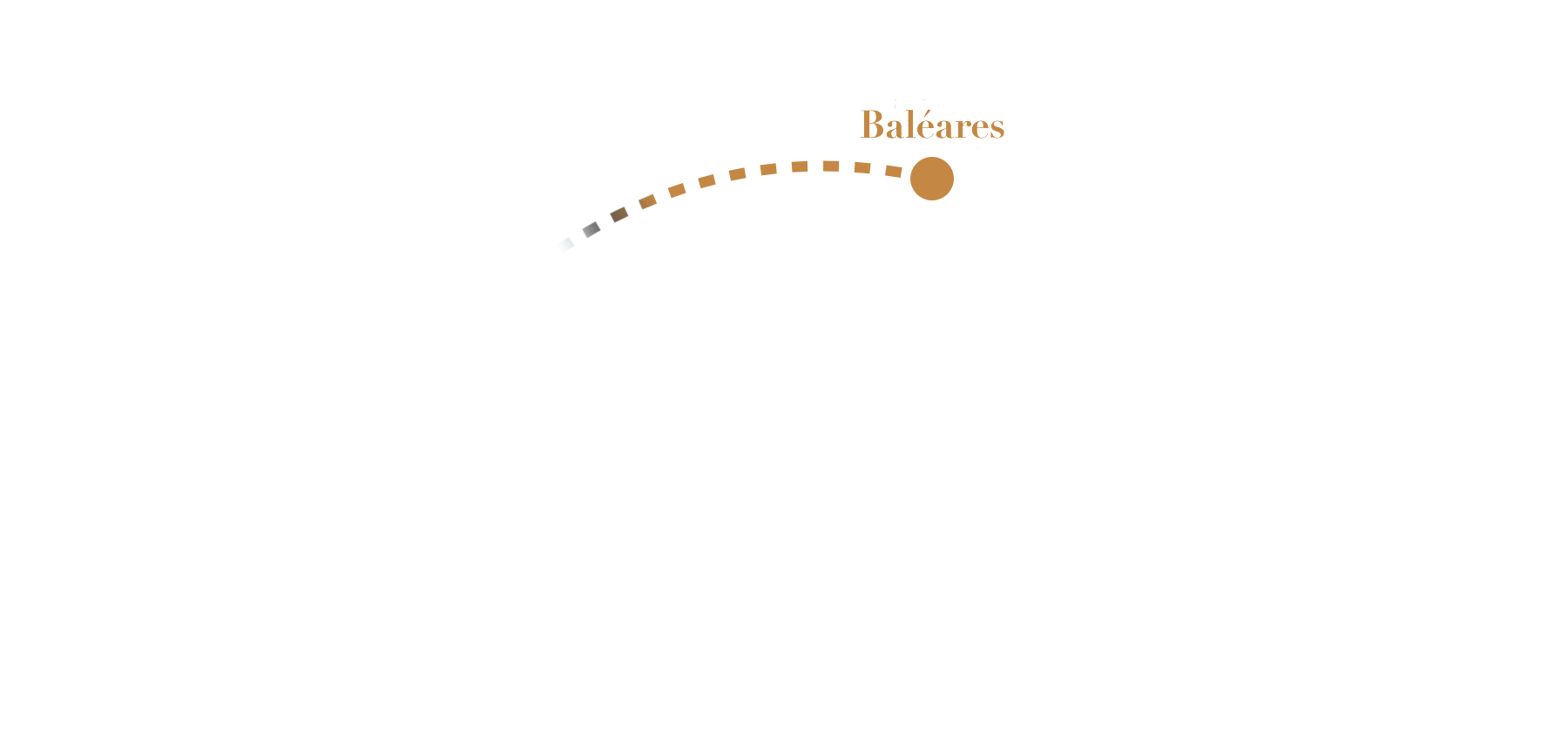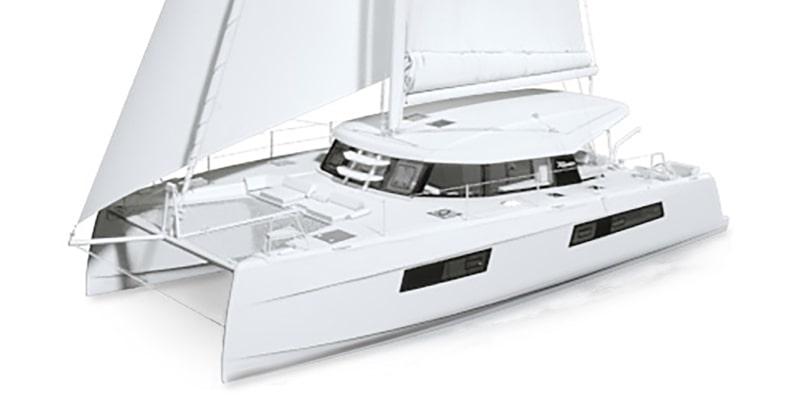 Nautitech 44 Open
As if this Nautitech was designed for them
The 44 Open conquered them at first sight
After buying and reselling dozens of boats of all sizes and of all kinds, a man, obsessed with the ideal yacht, drew this observation a little disillusioned: "You never find it!" This fellow would not have convinced Stephen, far from it. Stephen is a realist. He knows that the perfect sailboat does not exist. So he looked for the right boat. Meaning, a suitable boat for his program, his requirements, his budget and also his refusal to wait. And he finally found it: he has just traveled a thousand nautical miles aboard his Nautitech 44, and he is still dazzled.

Stephen is a man in a hurry. As he approaches his fifties, he can claim a very good resume. Founder and CEO of successful companies, he is the head of a large family. He has had a love for sailing since his earliest childhood. But he put that love in the back of his brain for twenty years, due to a busy schedule and his other great passion. Stephen is crazy about aerial aerobatics, he loves flying the powerful high-flying single-engine aircrafts. He used to love it, at least. Because his looping and his zooming were starting to pull harder and harder on his body. He figured it was time to come back to earth. To sea, specifically. Sailing never left the bottom of his thoughts.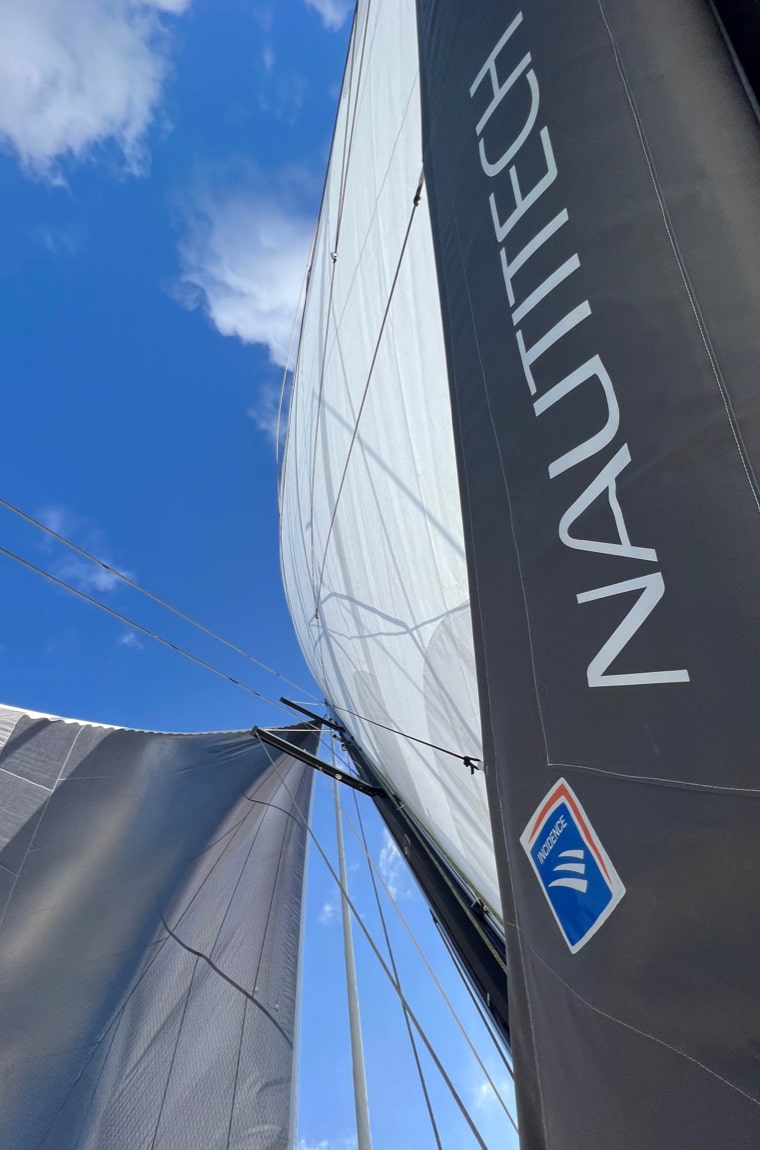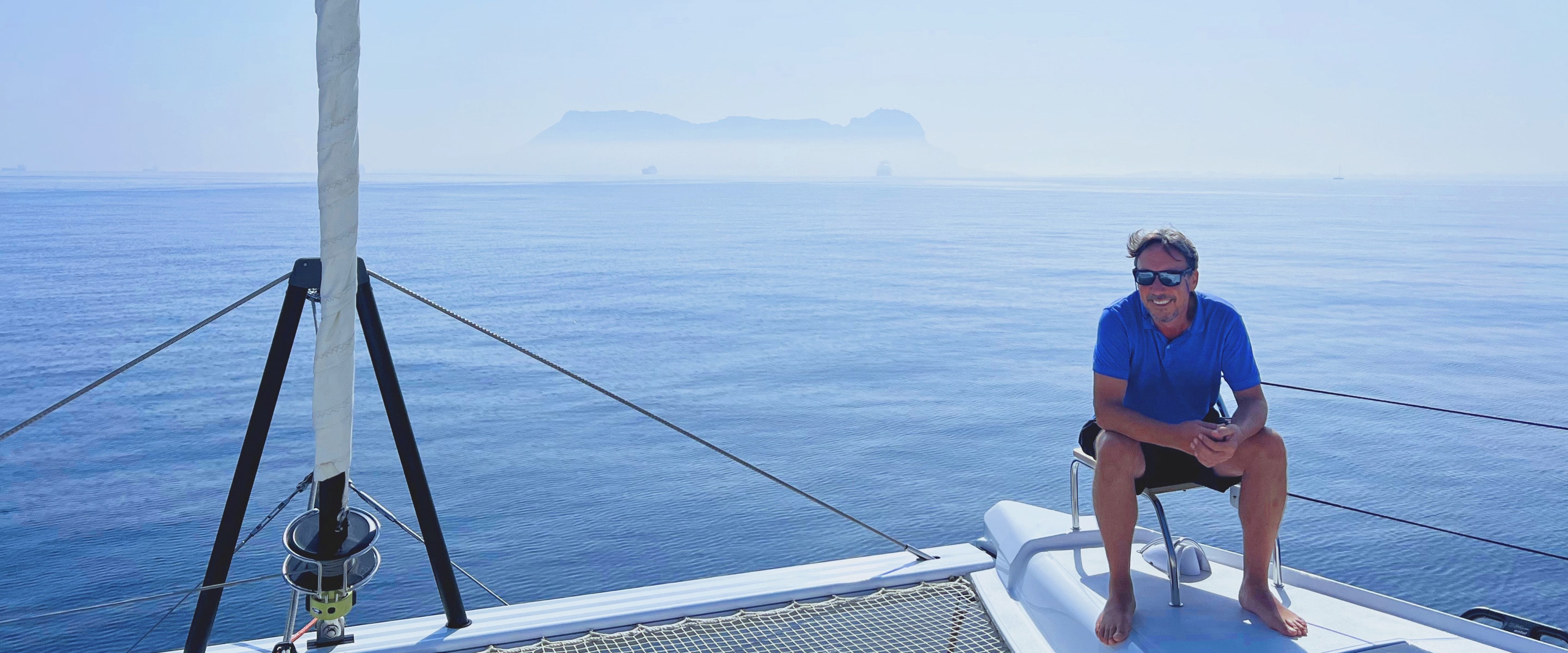 2
Live one life
tho the fullest
Stephen is crazy about aerial aerobatics, he loves flying the powerful high-flying single-engine aircrafts. He used to love it, at least. Because his looping and his zooming were starting to pull harder and harder on his body. He figured it was time to come back to earth. To sea, specifically. Sailing never left the bottom of his thoughts.

Stephen lives his life to the fullest, but he is wise and methodical. He did not hesitate to devote five long years of a too full existence in search of the "Proper Yacht", a concept defined by the American sailor and author Arthur Beiser. This "right boat" is suitable, reliable, and trustworthy. The perfect boat? In any case, the one that comes closest to this ideal. So the best possible boat.

Stephen is methodical. "There are so many parameters to consider, so many sometimes-contradictory things to put into this equation. What programs, what destination, what duration, what size, what performance, what crew, what equipment? It was all over and over in my head. To the point that it ended up stressing me out."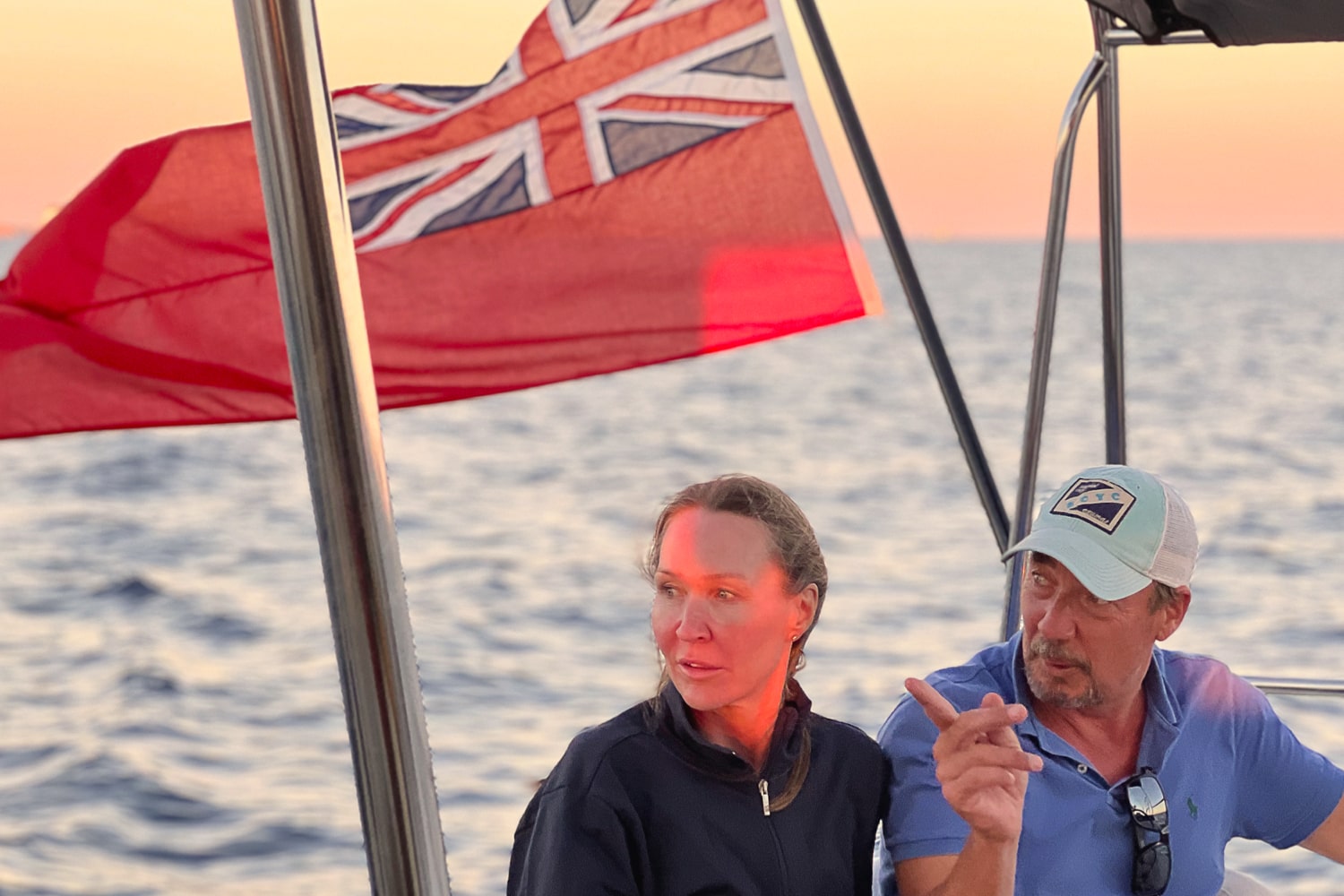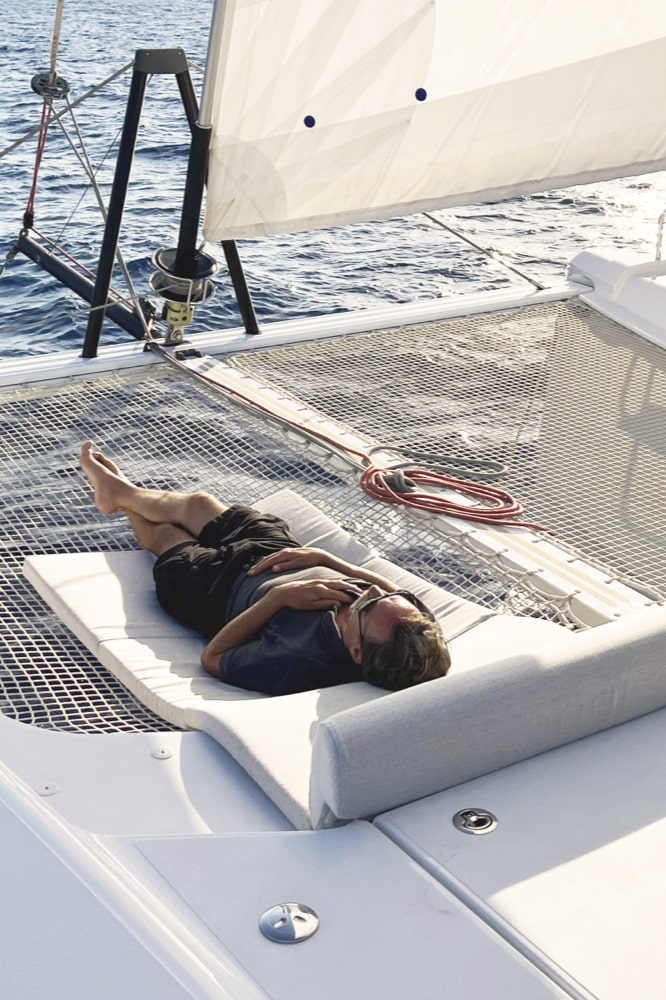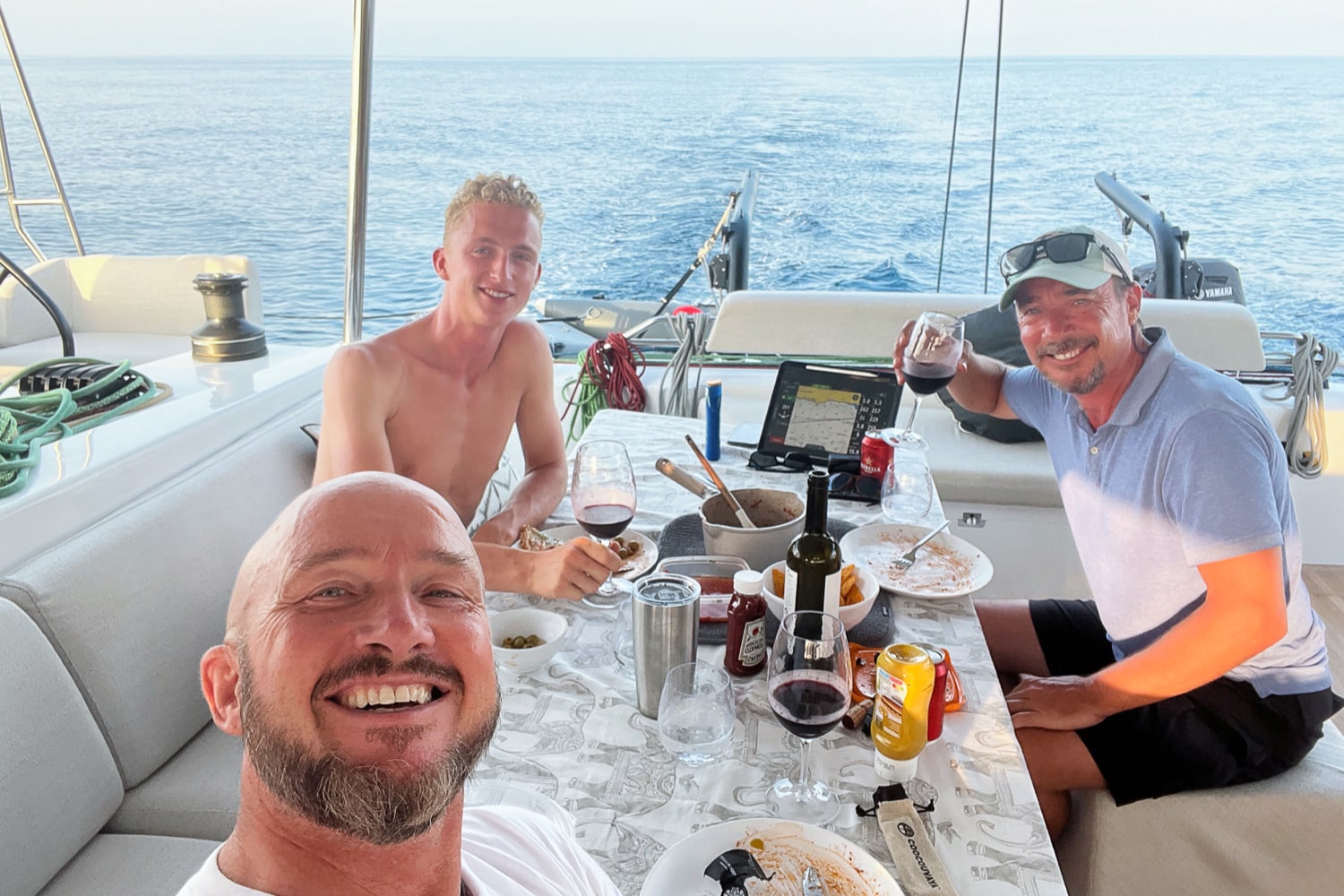 Stephen is a buoyant man. The right way to find answers to these questions was to live and navigate. As a child, he had worn out his oilskin bottom on small dinghies gunwales. When he grew up, he had tasted the sport catamarans. That was before he went to have a blast in the air.
But since he knows that human beings progress by trial and error, Stephen bought his first cruising sailboat. And he was wrong. Yes, it was a fast catamaran, this 52-foot yacht. Stephen couldn't imagine getting off a plane to board a snail. But this ace of high aerobatics thought he was doing well by weighting his yacht with all the comfort equipment that makes life easier… on land. Air conditioning, freezer, washing machine, dishwasher, watermaker, huge flat screen and, obviously, generator and so on. He had been boasted for the speed of his first yacht and this characteristic had convinced him. To the point of not hesitating to spend a small fortune to acquire her.
What a disappointment when she failed to exceed 10 knots in 28 knots of wind and his Code 0 finally exploded!
"I was disappointed and blamed myself. I added at least five tons of a not essential stuff to a boat that was barely 12 lightship. I learn the hard way how weight is the enemy of performance." . But other discoveries added to his disappointment.
The fittings were badly positioned, the sheeting circuit, especially under spinnaker, too complicated; the ropes were chafing and wearing out, the winches angle of attack were not the right ones. "This is the disadvantage of choosing a semi-custom model… I realized that in terms of ideal boat, everyone hesitates between three formulas: the pure prototype designed and drawn to embody all your ideas and all your wishes, the semi-custom which allows you to shape a basic model according to your requirements, and the production boat to which you have to adapt. Well, my experience with my 52-foot has allowed me to see that when the production boat is as well thought out as the Nautitech 44, it finally meets your expectations much better, as special as they are."
High-flying skills accustomed Stephen to solving complex equations on his own. He was not disoriented at the helm of his first catamaran.
"We often sailed with my wife and our young children. In other words, I found myself solo sailing, so to speak. And very quickly entangled in grotesque situations. For example, the dealer had assured me that I could reduce the mainsail from the cockpit. In practice, this has simply proved impossible. Not only I found myself playing the tightrope walker on the coachroof (when you're reefing the mainsail, it's because it's windy and the sea is rough, isn't it?) but I was even forced to climb the mast. Without being able to rely on a seasoned sailor at the helm. It's stupid but extremely frustrating."

When Stephen discovered how easy were the maneuvers aboard his Nautitech 44, the contrast amazed him. Perfect halyards, ropes, and sheets circuit. Reefing with disconcerting ease… These things may seem trivial. Every sailor knows they are crucial. Stephen is a lucid man. During the years of searching for his "proper yacht", he had perfectly identified what made him different from his wife.
She did not have the same passion for the waves, even less for the air flows. She never loves the boat as much as when they arrive at their destination. He is never better thrilled than during the journey to get there. She loves the goal; he prefers the path.
Maybe that's why his quest for sensations had first led him to look towards luxurious, built like Stradivarius, American monohulls. He was even ready to sign the voucher when his wife kindly pointed out that their big family would have less room in a 70-foot sloop than aboard a 50-foot catamaran. This was the reason why he finally bought their twin hulls 52-foot.
Until he realized he had gone wrong. Which did not prevent him from sailing the Caribbean, the Bahamas and the American East coast, dodging the hurricanes. But precisely, all these miles traveled allowed him to understand his mistakes and resume his quest for the best possible yacht. "I now knew how overloading a catamaran is penalizing. I wanted a simple and efficient deck plan, a helm station which could bring sensations and boat control. Between performance, overall length, living space, equipment and cost, the best compromise must be found. And it's not easy."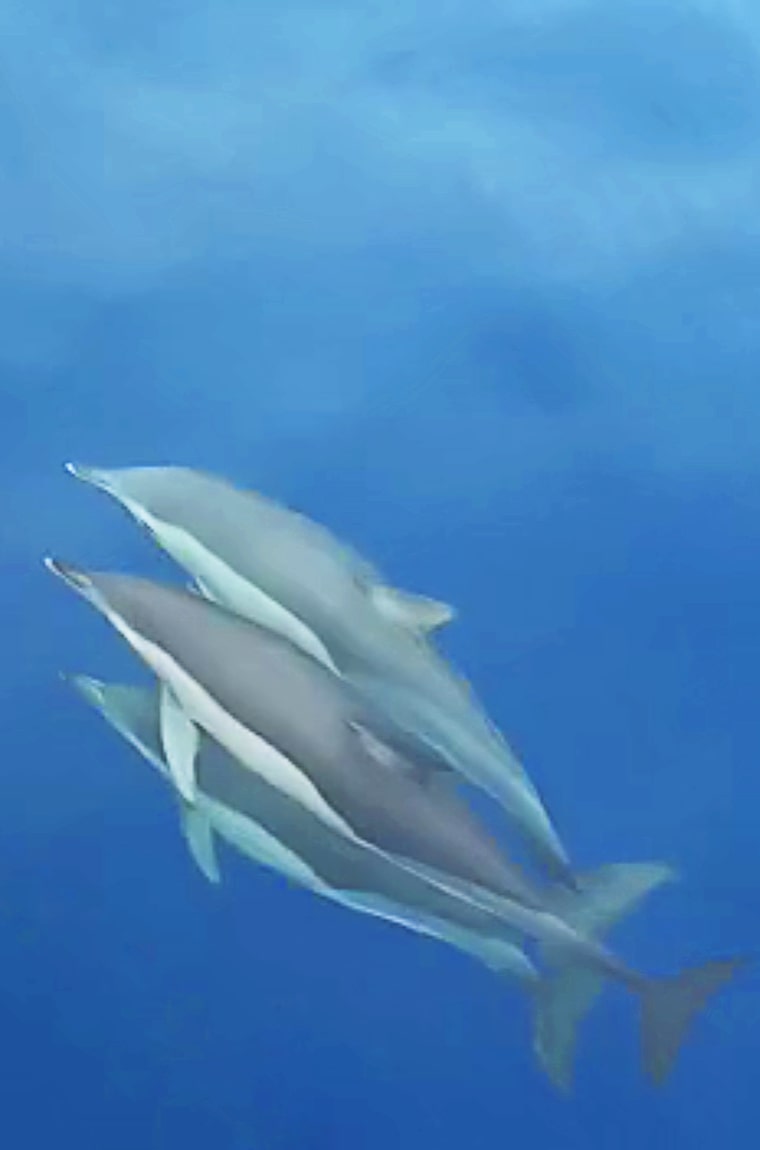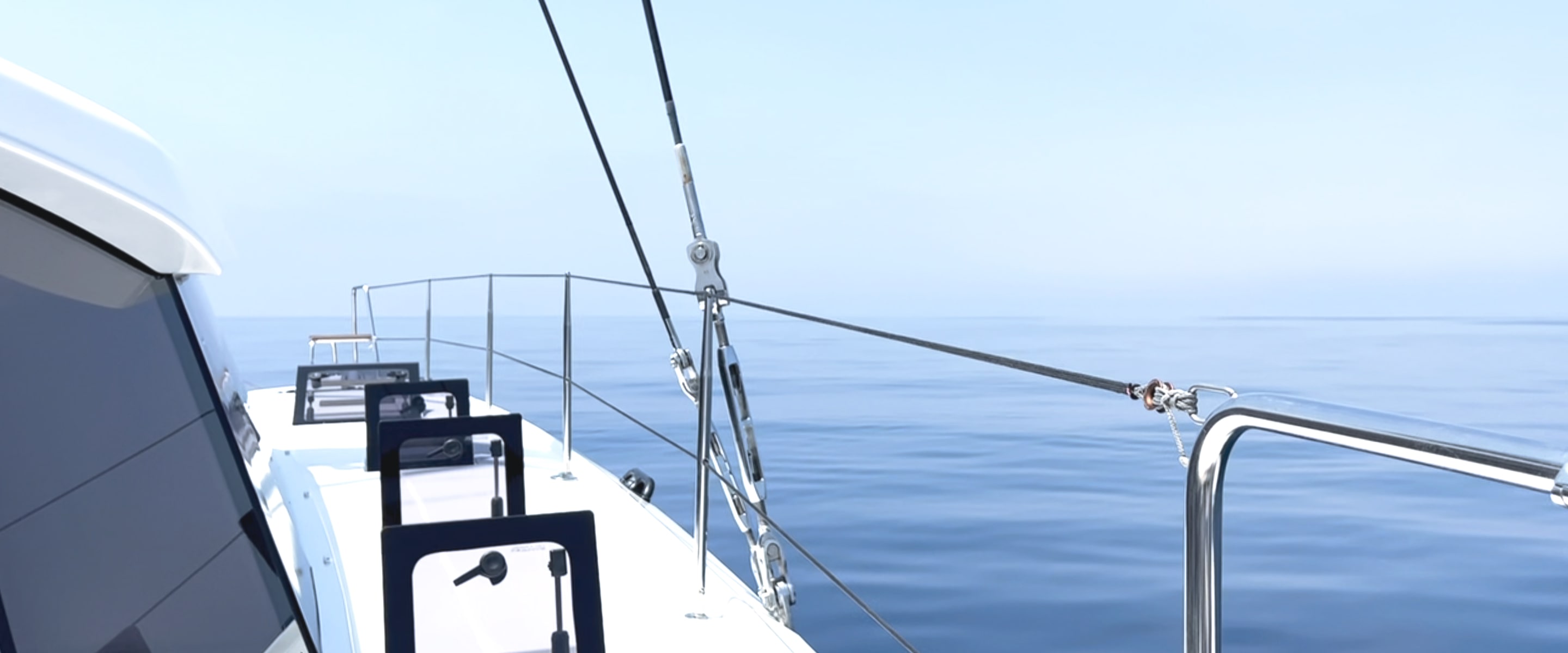 Stephen is not resentful. He simply asked the builder of his 52-foot a new one, rid of its faults. He stiffened when the guy promised him to provide him with a much better unit… within three or four years! And this did not prevent this optimist from claiming the deposit as specified in the terms of sale.
5
The Nautitech
appeared on their
radar screen
Stephen is not vindictive, but the state of the world has inspired him with little confidence. Scalded by recent events, he does not want to wait a cloudless sky to begin living. Therefore, three or four years of manufacturing time excluded this shipyard. Fair player, the builder still bought back him his boat almost at the price he himself had bought it.

Stephen found himself on the dock with the prospect of having to cross a sea of doubts again. He visited several shipyards, tried aluminum made catamarans and others carbon made. He questioned manufacturers who all told him that under no circumstances they could deliver a boat to him before at least two years.
He turned to the second-hand market which appeared to him as tense as the new model's industry.
Which seemed to allow sellers to offer their boats at unreasonable prices.

After months of sometimes daunting quest, the Nautitech appeared on Stephen's radar screen. They never came out of it.
With his wife, they logically started by looking at the 46. They were engaged in the process of buying this large boat, when they learned of the upcoming birth of the 44 Open.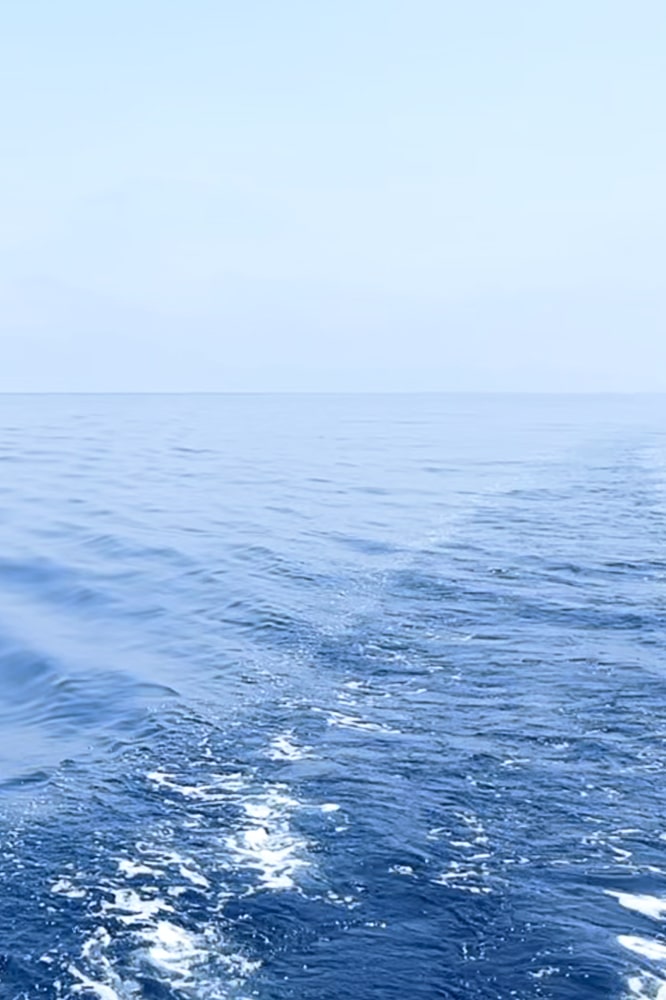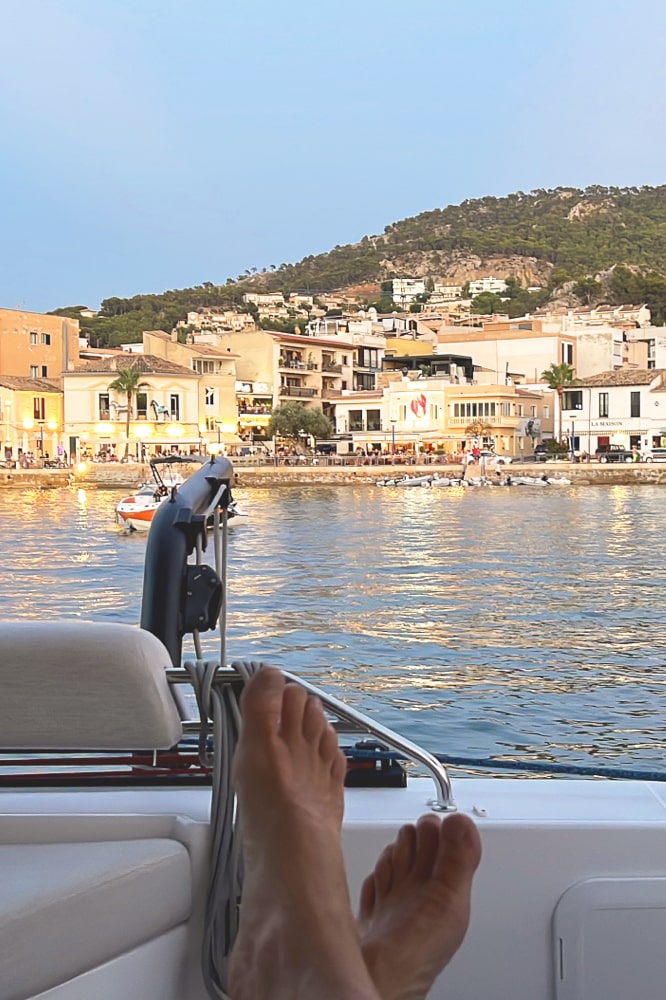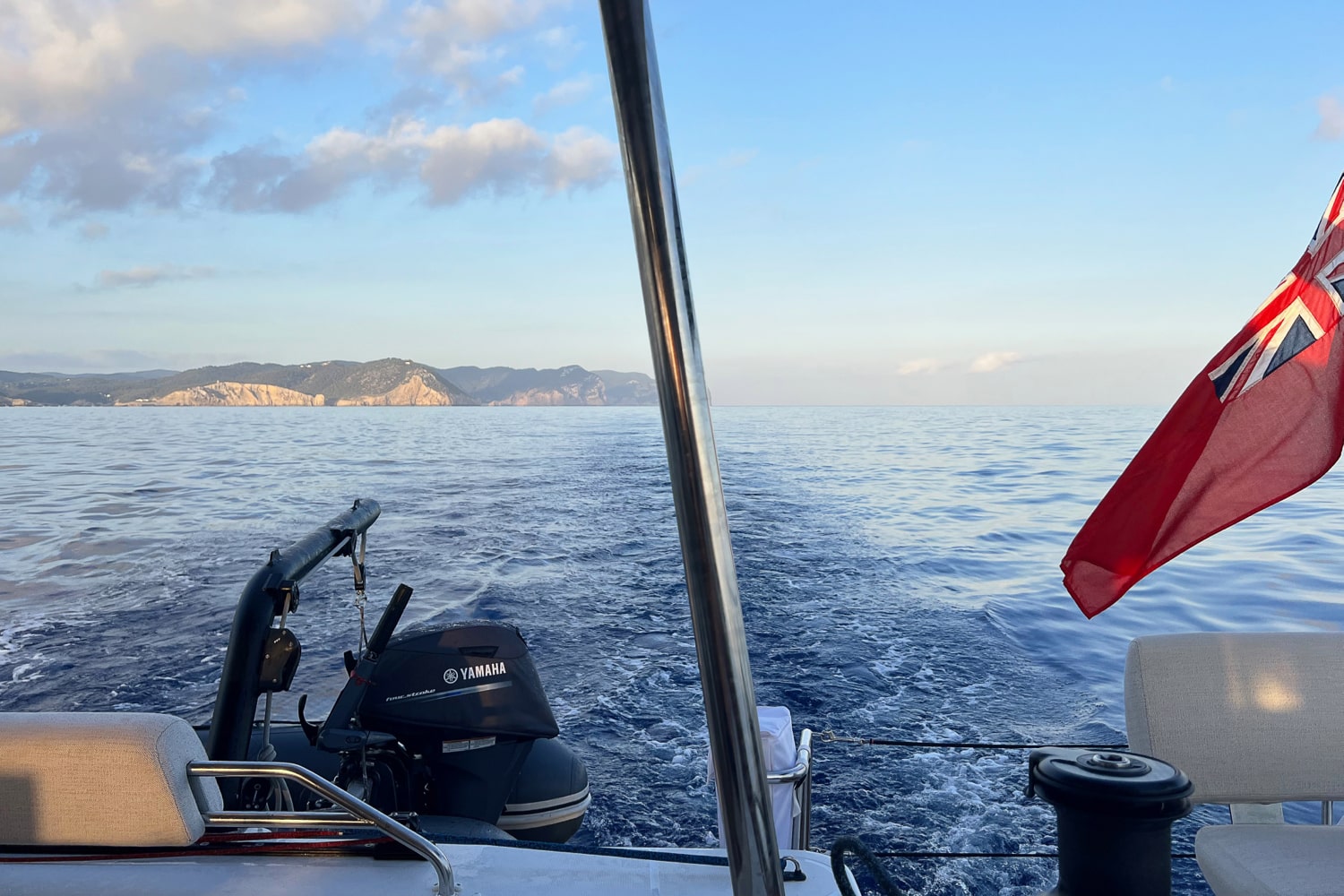 6
This Nautitech had been
designed for them.
Stephen is always looking forward. Novelty attracts him like a magnet. Options like the "Smart Room", the workshop set up in a forward cabin, appealed to him.
Better, luck smiled on him. The Nautitech dealer in Palma de Mallorca informed him that following a withdrawal, one of the first boat of the new series was available.
A brand-new catamaran, almost fully adapted to their wishes, immediately available in the Baleares? The proposal was irresistible. Even if perfection is not of this world. On paper, Stephen and his wife would have preferred the dark wood option for the layout. But once on board, they changed their minds: with its light woodwork, the 44 Open conquered them at first sight.
They signed immediately. Then they sailed to Portugal and came back delighted.
With the feeling that this Nautitech had been designed for them.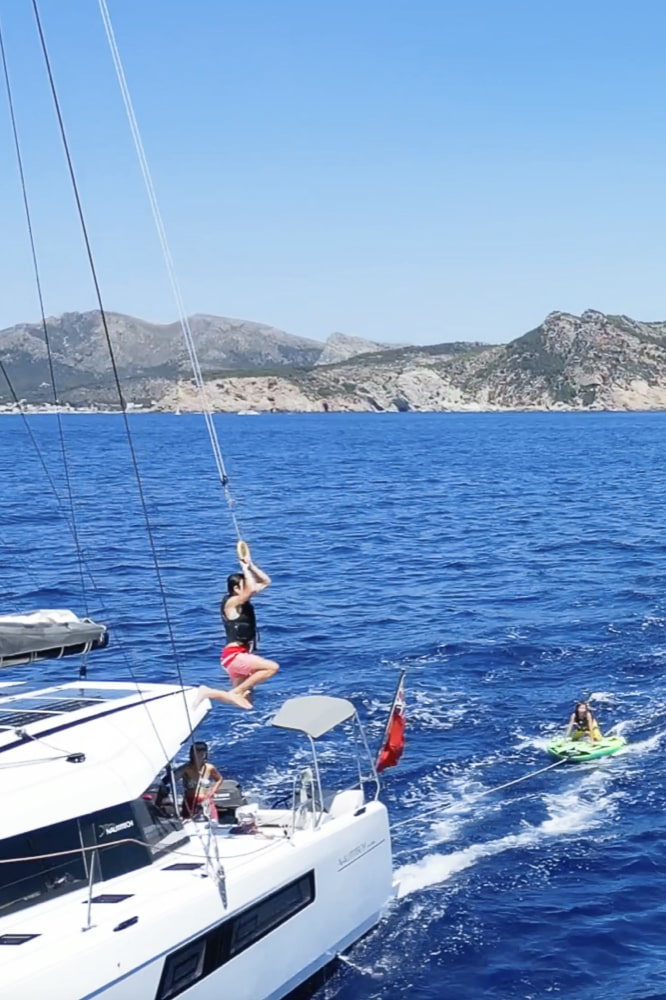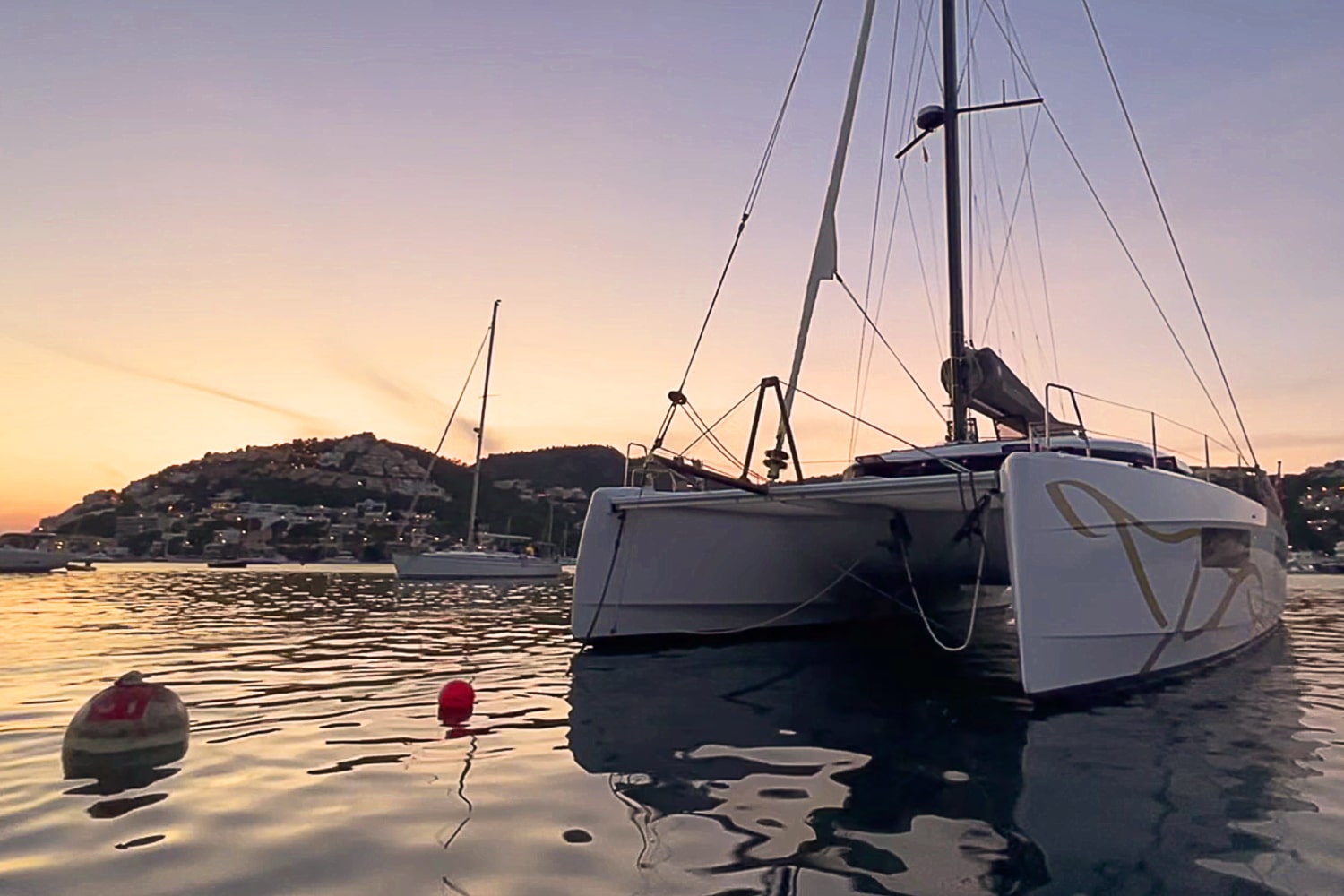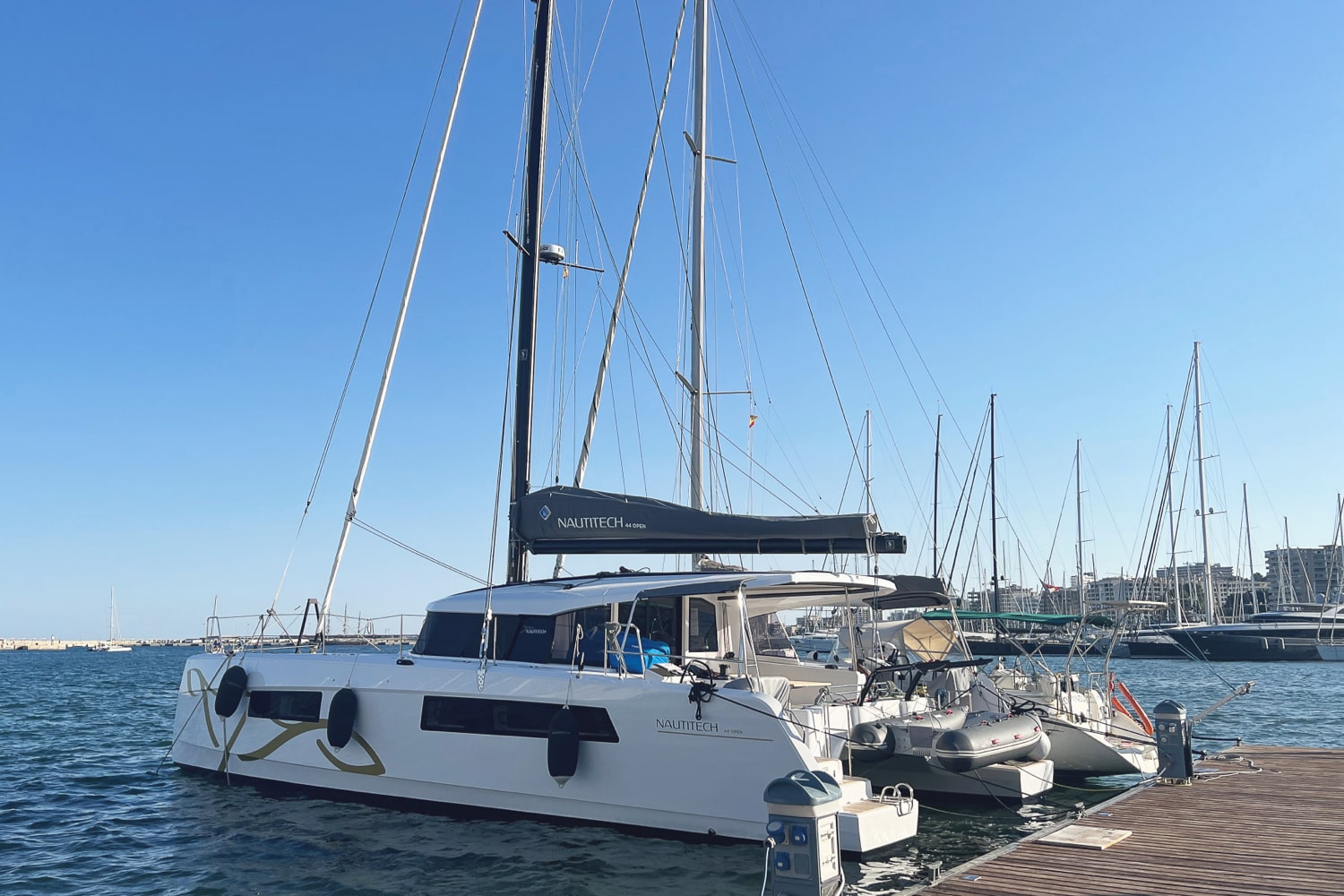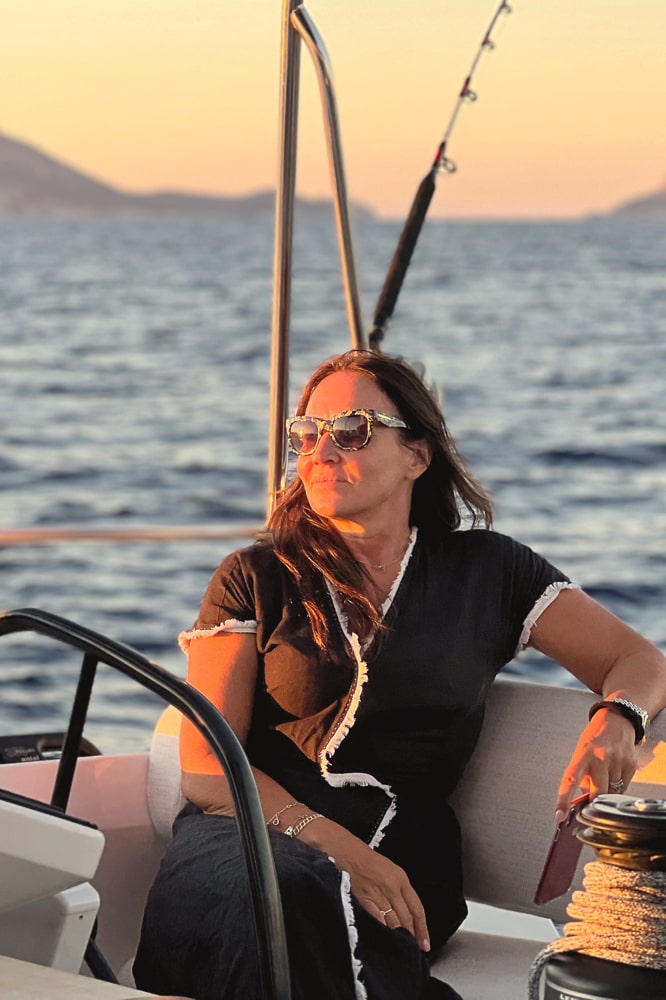 Stephen is a hedonist. He loved steering his catamaran from the back of the hulls. He loves above all to feel it accelerate at the slightest puff of wind. He was careful not to overload it. That's why he gave up putting air conditioning on board. He enjoyed maneuvers, offshore and in port. Everything seems to him perfectly thought out, easy and natural. On board, his wife is thrilled, his children delighted.
Stephen is a happy owner. Soon, his Nautitech 44 Open will take him to the other side of the Atlantic. This will be a first for this methodical adventurer. He will leave with the certainty of having finally found the right boat. Perfectly suited to what he was looking for.
Share their stories
Discover the most beautiful oceani crossings of Nautitech owners et fill up on escape
The ideal partner for living on board and sailing anywhere on our planet.
Made in France
Expert in catamaran construction since 1994, based in Rochefort, one of the cradles of boating.
A unique experience
Elegance, comfort and equipment to offer you a welcoming living space.
Quality and performance
Our main concern is to offer robust and durable catamarans with recognized marine qualities.