Harmony Two
Adventures of
mamie bateau and captain GG
Mediterranean
It was their dream. Discovering the Canarian sweetness, the Capverdian saudade, the Brazilian samba, the Guyanese jungle, the Caribbean coral reefs...
Stuck in the Greek island Cephalonia because of the local lockdown, but still ready to circumnavigate the Atlantic Ocean, Gérald and Marie-Claude tell their twenty months and their strongest memories on board Harmony Two, their Nautitech 40 Open. Here is their two voices tale.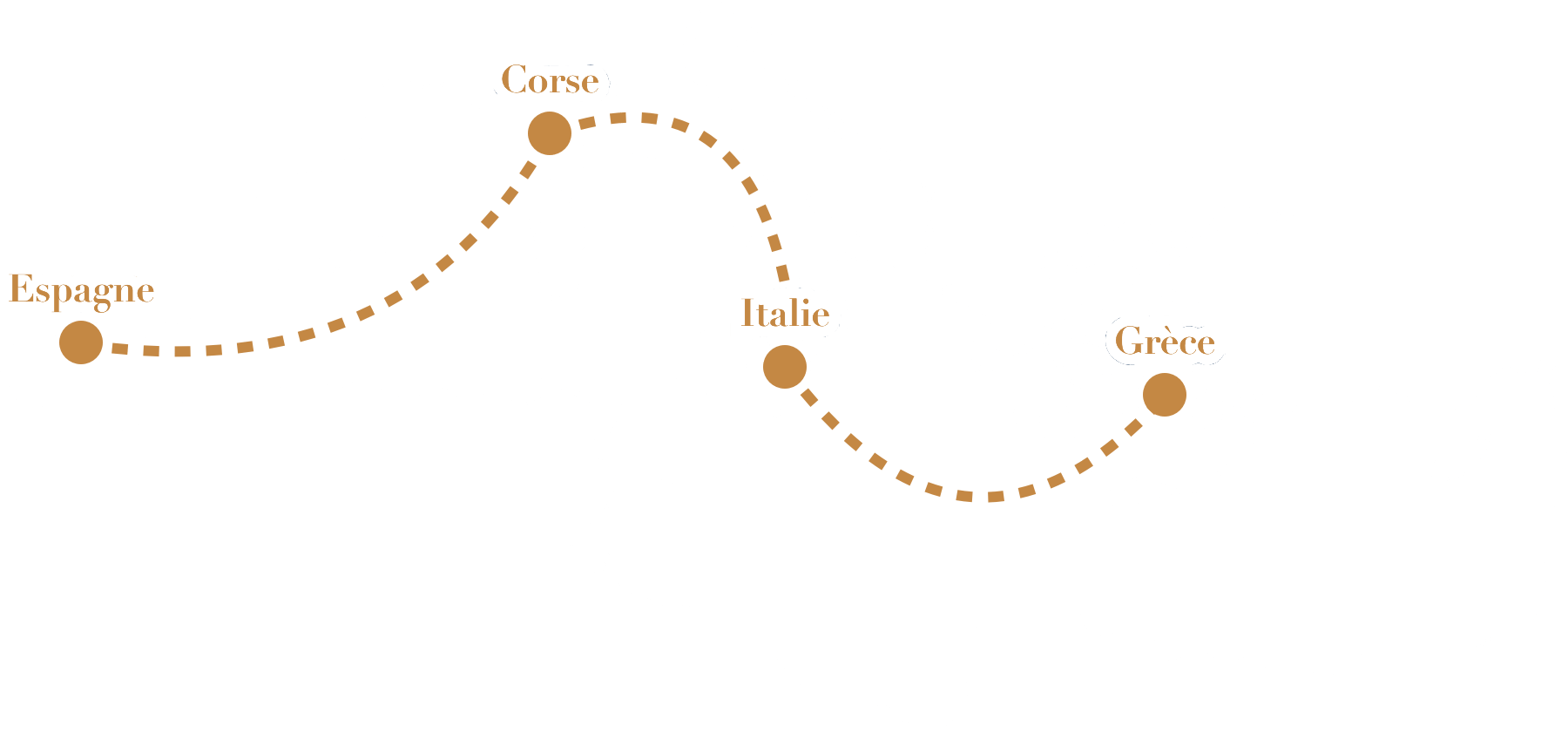 Nautitech 40 Open
The perfect balance between performance and life on board to sail and live fully.
"But I had total confidence in our Nautitech 40. Because I already had her tested in a blow and a rough sea. And though, God knows that after seven monohulls, I'd had a hard time to switch to the cat."
1
In half an hour,
the wind was unleashed.
For years, Marie-Claude and Gérald have been peering beyond the horizon, for months the trade winds have been blowing through their dream to circumnavigate the Atlantic. Covid 19 has just delayed their grand oceanic journey. In the meantime, this bold couple sailed from La Rochelle to Cannes, and then up to Greece on board their Nautitech 40 Open. Taking all their time. For want of touring the Atlantic, this round southern Europe trip has given them their first moment of truth. An ordeal which only strengthened their determination.
That day, the atmosphere on board was almost as heavy as the weather.
Gérald :"In half an hour, the wind went mad. When it stabilized around 40-45 knots, you can imagine the kind of panic which spread through the anchorage. During summer, the Lerins Islands Channel, at the Cannes Bay entrance, is one of the most crowded places of the French Riviera. It was early afternoon and for my part, I was not worrying. With our 50 lb Spade anchor and one hundred meters of chain, Harmony Two was ready to face everything...
But I had planned to leave at 3 pm for Corsica. And it was not a non-forecasted gale which could change anything. When you have been sailing for 40 years, when still a child, you have gone fishing and spent weekends in anchorages, when you have owned eight yachts, well, you have seen a lot."
Marie-Claude : "That's all Gérald. When he has decided to leave, he does it. On board, he is the sailor. Me? I don't do anything. I'm not afraid, I don't suffer from seasickness, it's just I can't help maneuvering the boat. Because I don't consider myself qualified. I trust Gérald entirely. But that day… I thought that sailing head on into a real Mediterranean blow yielded nothing good. There was more: were we supposed to stick to a timetable?"
While we had been living on board our catamaran for more than a year and had no more constraints, because the epidemic had upset our plans of an ocean journey? There was matter to grumble, was it not? I grumbled!"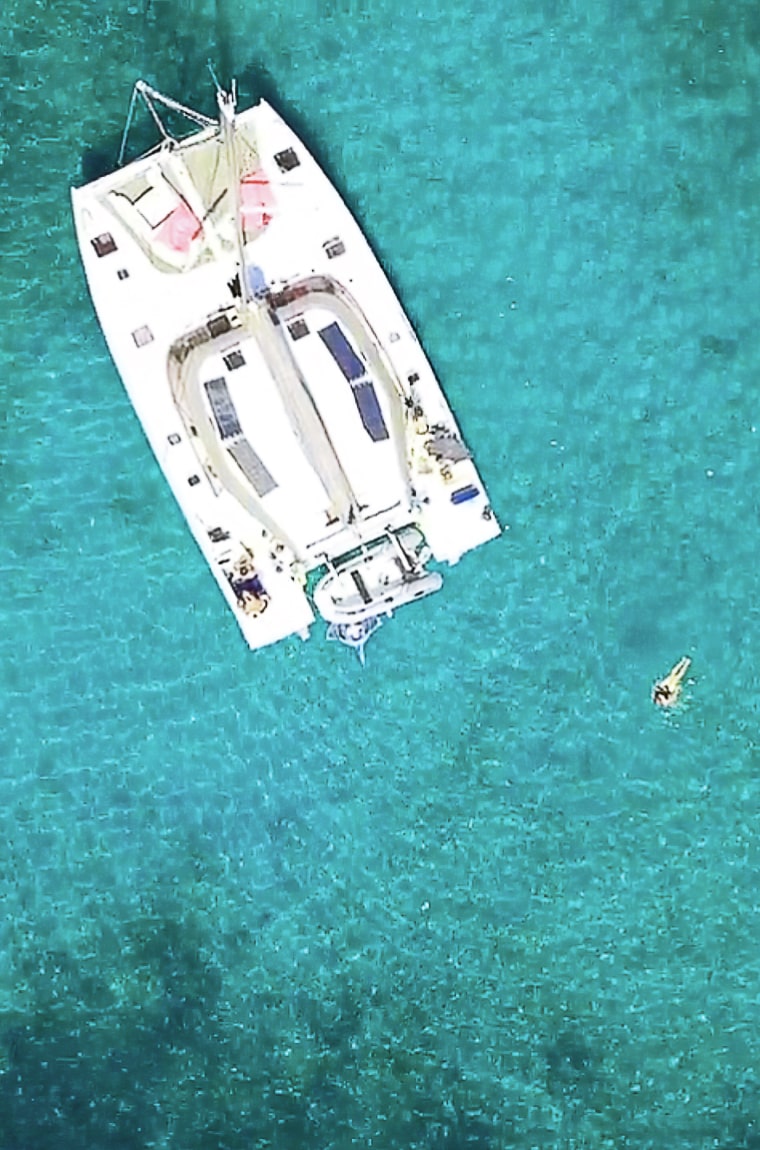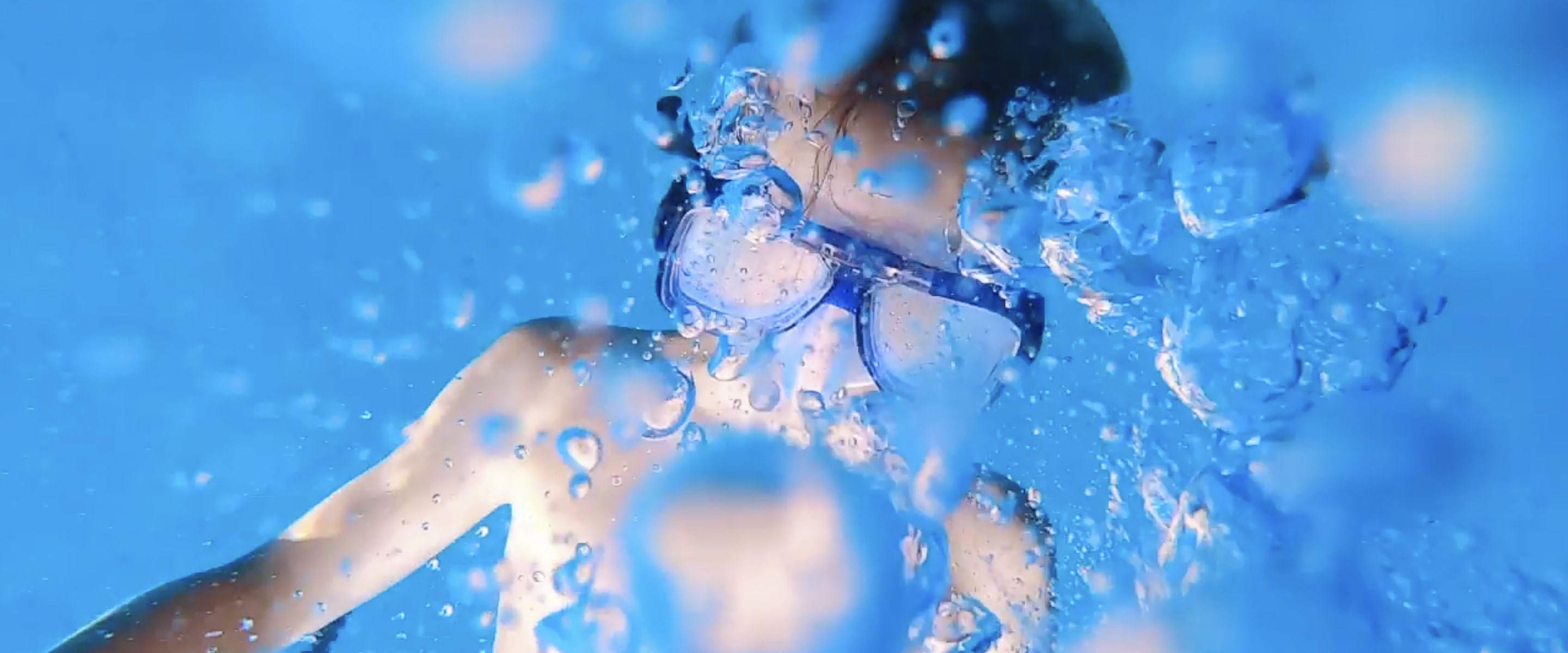 Gérald : "But I had total confidence in our Nautitech 40. Because I already had her tested in a blow and a rough sea. And though, God knows that after seven monohulls, I'd had a hard time to switch to the cat. I was afraid to lose all the good feelings given by a true sailing craft. And to deprive myself from the steering pleasure and the ability to sail upwind. It took me five or six years to make up my mind. I surfed and skimmed through websites, forums, magazines and testimonials. I was looking for a boat suitable for offshore voyaging and living on board. But this boat, I already owned it! It was a sturdy 40-footer, well equipped for round the world sailing. A monohull, needless to say. All we had to do was casting off the lines. I was a retired insurance broker and Marie-Claude had quit her hob in real estate financing. However, one day, on board this monohull, she fell down…"
Marie-Claude : "I was living in Paris and had sailed very little. I indeed had been invited by friends for short day sailings and one passage to Corsica, but nothing more. And then, I met Gérald.
I adapted to his way of life. A lot. And him to mine… a little!" She bursts out laughing. "Until that day, on board the monohull, I lost my balance, fell down and hurt myself. Gérald realized we needed a more stable unit. So, the catamaran stood first."
Gérald: "I discarded too heavy models as well as too sporty ones: the latter were too expansive and possibly too rough. That's when I happened to test the Nautitech 40. It came as a shock: so, one could enjoy steering a cruising catamaran? And as I'm used to maneuver by myself, particularly in harbors, outer steering wheels suited me perfectly. Should foul weather occurs, I put on my oilskin, that's all. So, we ordered our Nautitech and began planning our long journey."
Marie-Claude : "I immediately was smitten with this boat. Of course, she is very comfortable, and we're living on board as if we were at home. But above all, I trust she has character. She's eager to sail. As I often say, it feels like she always wants more… You can imagine our emotion, when we took delivery of her. We set sail to Brittany. Summer was here, the weather was fair, and we had a really good time. We dropped our anchor down in the islands bays of Houat, Hoëdic, Belle Ile, in the Gulf of Morbihan, in Le Croisic…
We had some of our best memories on board Harmony Two during this cruise. I loved our moorings. As a rule, Gerald keeps us away from marinas. He only goes there for refueling or provisioning. I have to say that the boat is adapted to on board life in full autonomy. It's what we've already been doing for almost two years, and we've clocked close to ten thousand miles…"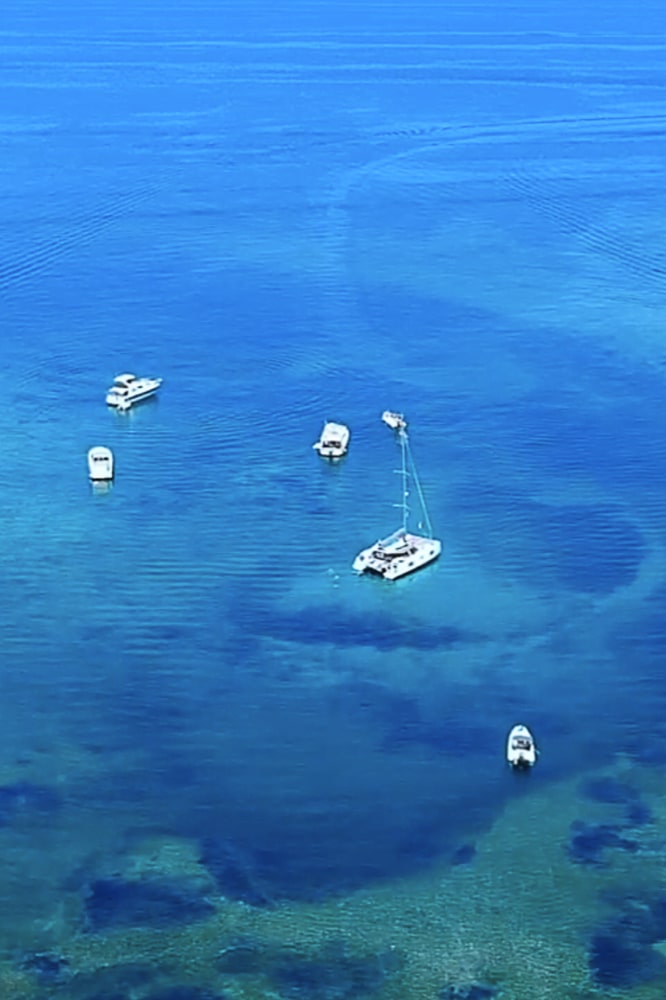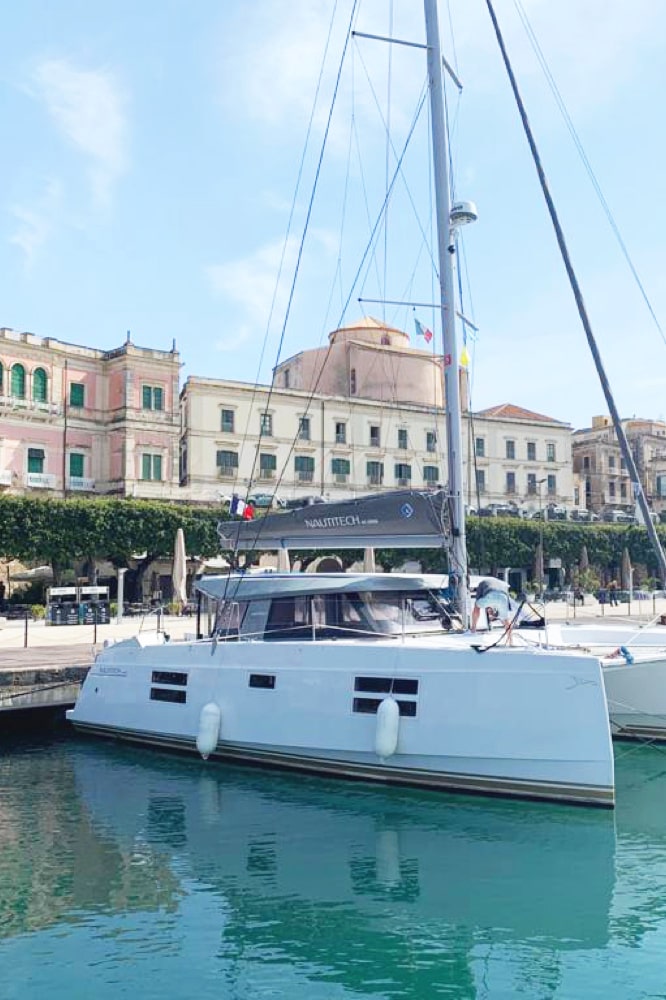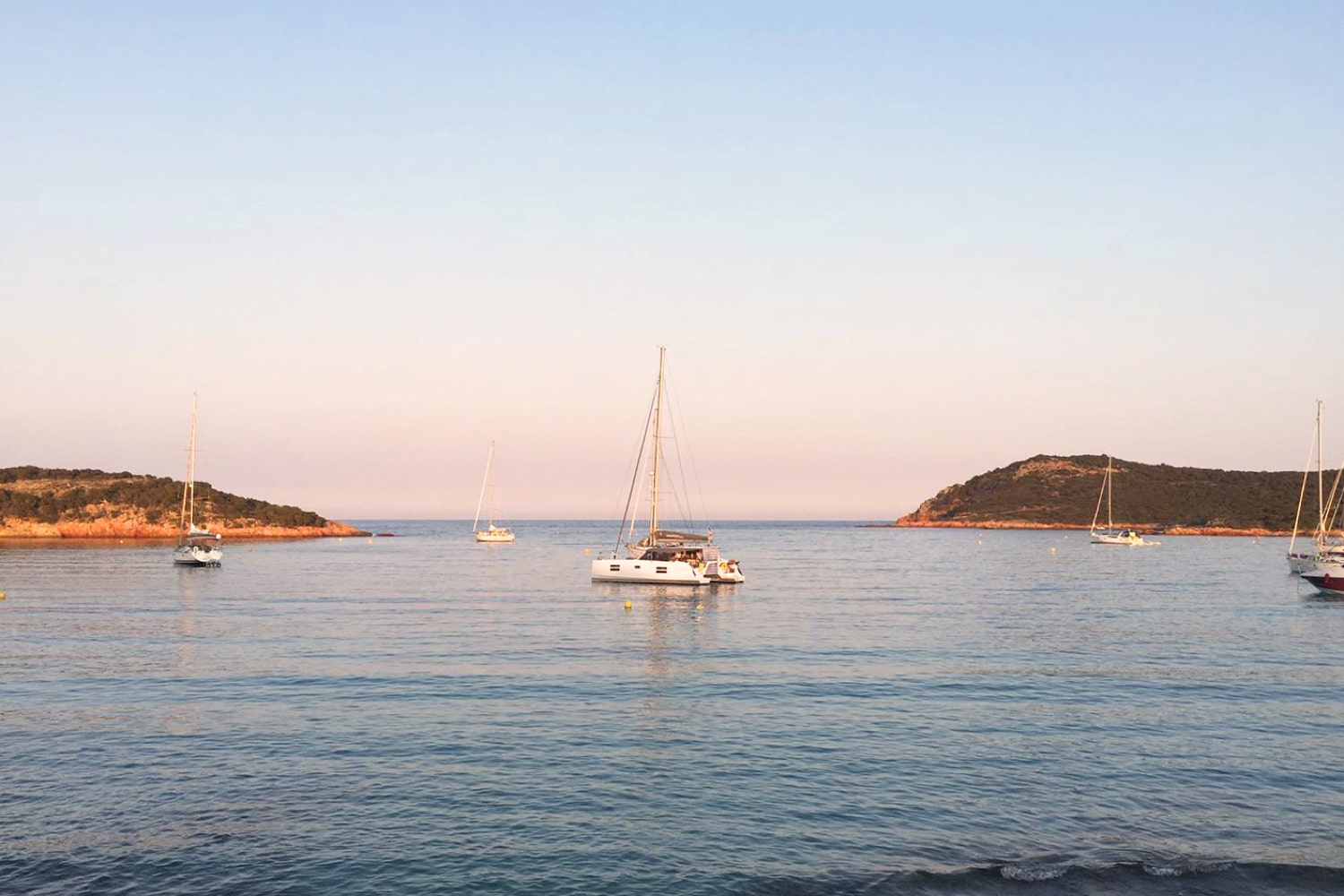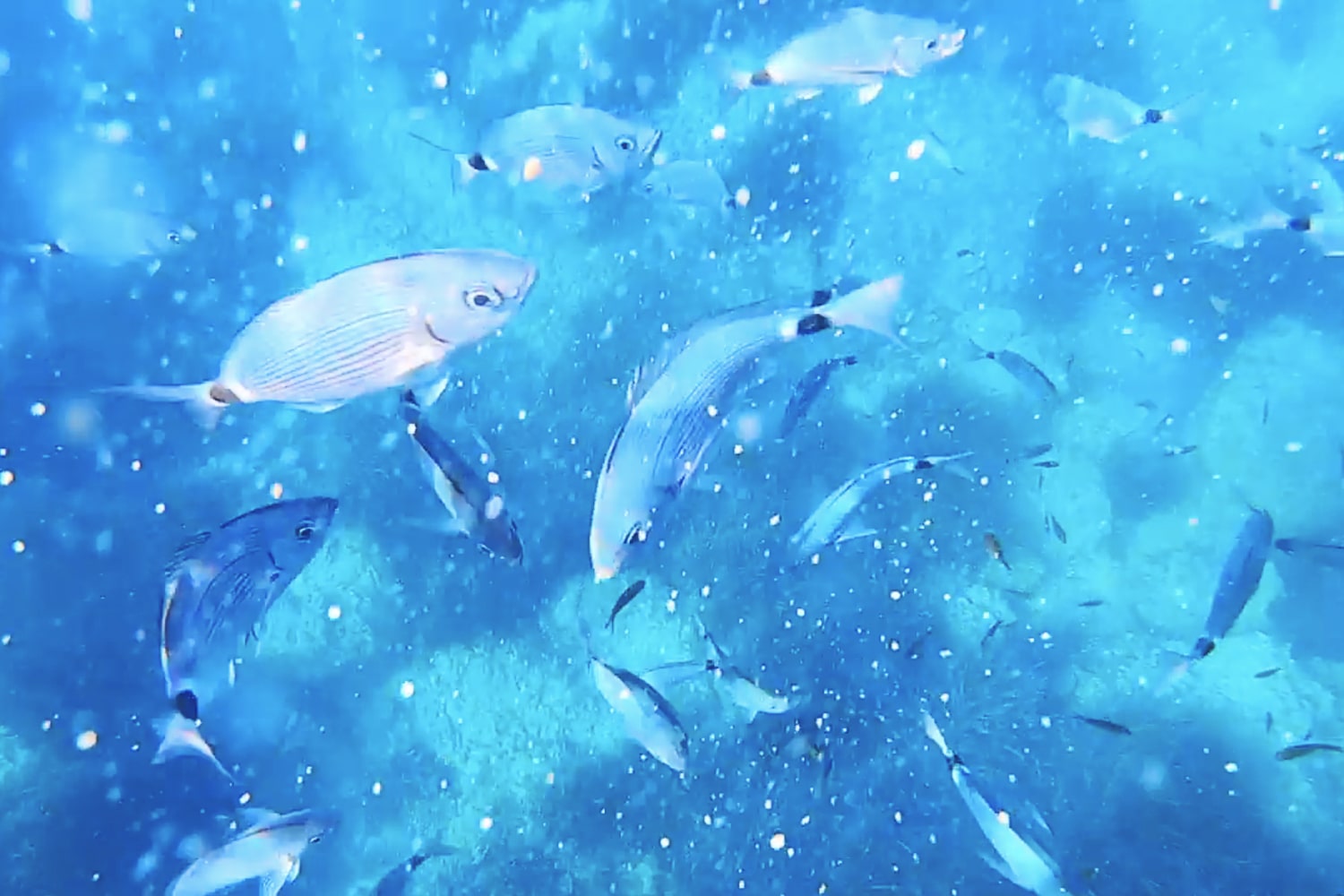 Gérald : "The virus forced us to postpone our first journey, circumnavigating the Atlantic with a stop in London on our way back. Why London? Because Marie-Claude's daughter is living there. For the pleasure of sailing near Tower Bridge and mooring in St Katharine Dock, I'm ready to infringe my "no marina" rule.
Because with our six 150 w solar panels, a hydro generator, a 6 Kwh generator and two additional lithium batteries our energy capacity is big enough to avoid stopping in ports… We've been able to install a watermaker, a big deep freezer, a heater… An electrical winch with its remote control allows me to reef by myself from the mast step. To the basic electronics, I added an alarm siren connected to the radar, the AIS and other devices. It beeps or howls when there is a boat near us, or when there is alteration in the wind direction or in the boat course. All that allows us to spend our watches tucked in our cabin, only to wake up and check our surroundings every hour, often less… But it feels weird to tell you all that from a… harbor!"
Marie-Claude : "Since last November, we're stuck in Argostoli, in the Greek island Cephalonia. Lockdown forbids us to sail away. A few days ago, the wind has turned to the north. We were moored along some derelict pontons -with no water or power- and it became very uncomfortable. So, we crossed the bay and are now staying along a quay in the old port, where there is no water or power either. But it's not an issue: we are living quite normally.
And at least, when there is a gale and the air is freezing like it is at the moment, Gérald is not tempted to set sail: the army is watching us and it's impossible to leave!" She laughs.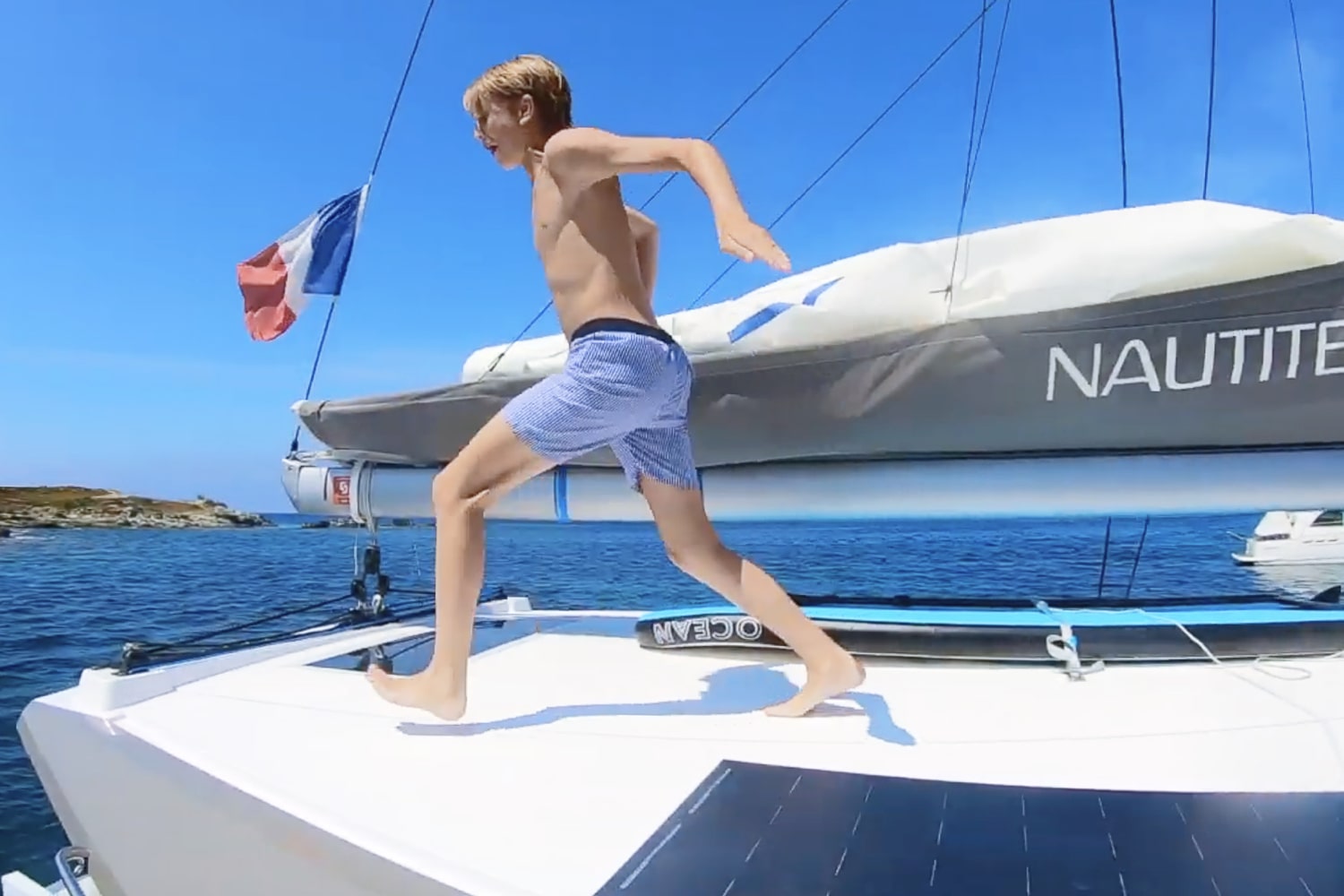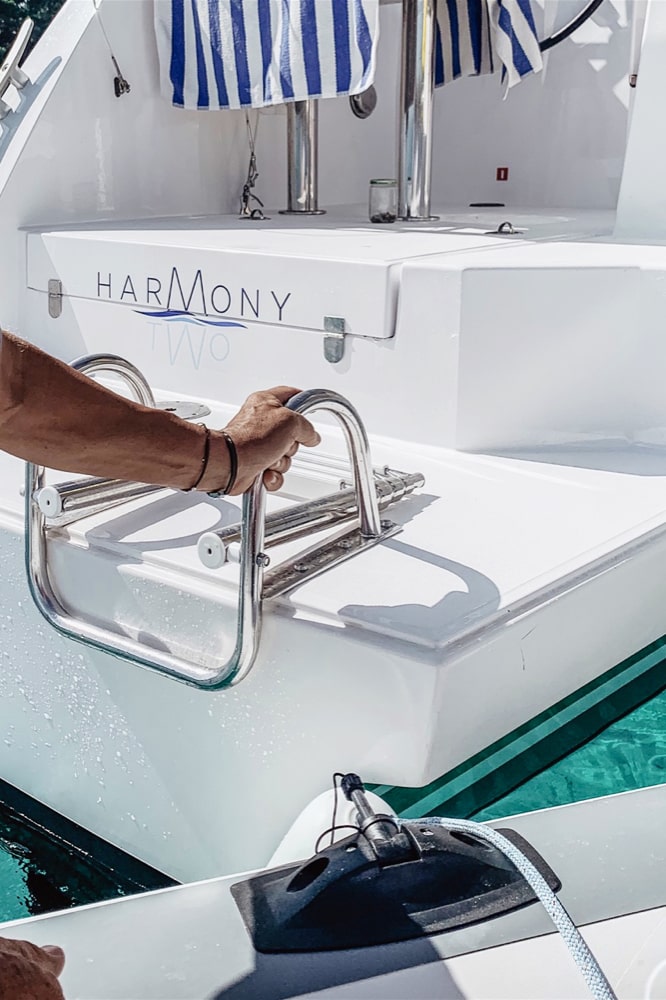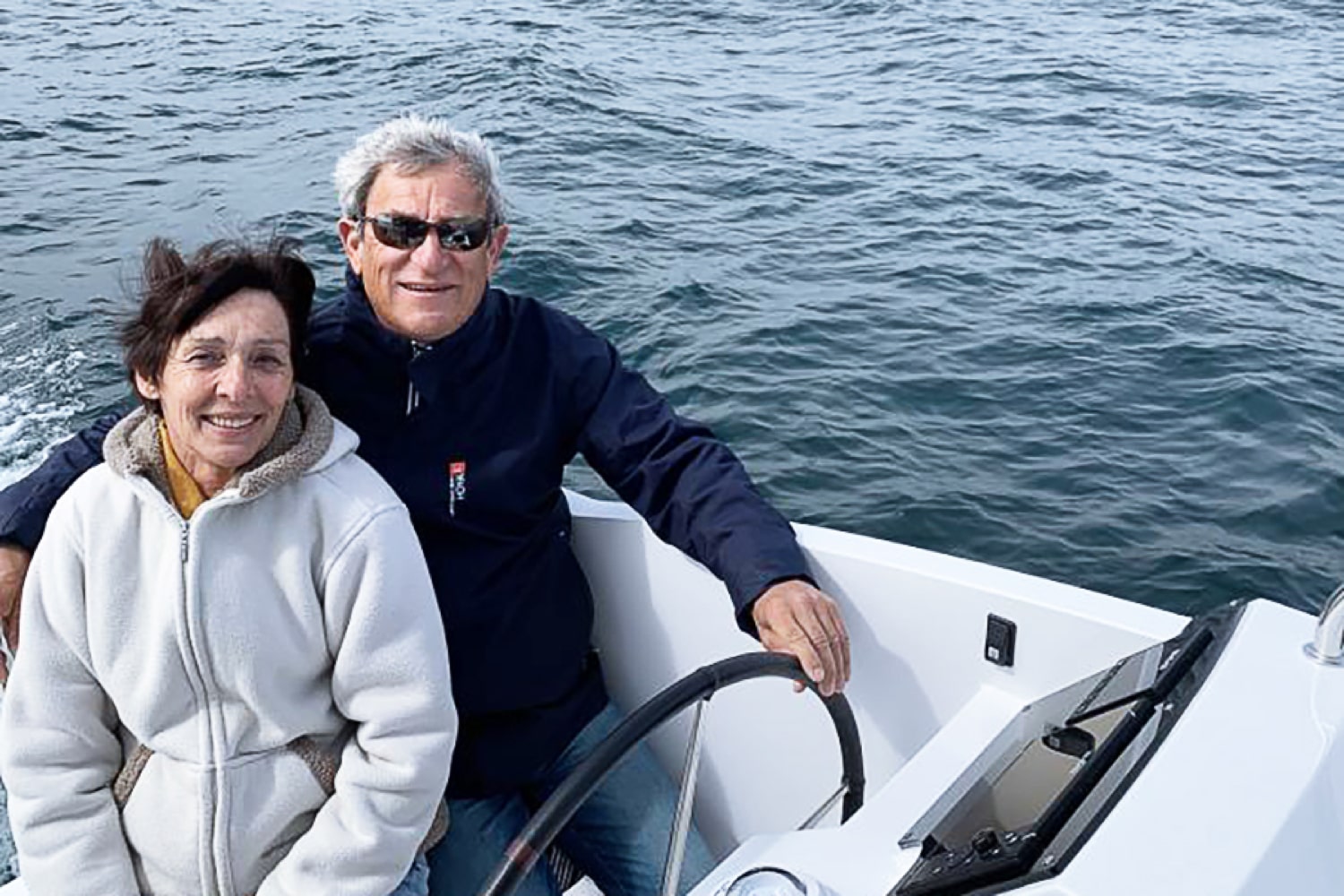 4
The tour of the
Mediterranean
Gérald : "After our Breton cruise, we headed to Cannes, our homeport. But first, we sailed back to La Rochelle to finish preparing the boat. Then we sailed round Spain with stops in La Coruna, Lisbon, Villamoura, and Tangiers… where we spent wonderful moments.
Then we needed to enter the Strait of Gibraltar, well known for its strong winds. We were lucky, it was not blowing over 15 knots and we were able to zigzag among the freighters without any worries. In Alicante, we welcomed on board Marie-Claude's daughter and her three months old baby. Later, when this baby began to speak, he called us "Mamie Bateau (Mummy Boat) and Captain GG…"
At dusk, we set sail toward Formentera. It was blowing a good force 5 or 6. In spite of these rough conditions, the baby and the adults slept very well. We sailed the Baleares for ten days. Marie-Claude's daughter and her baby flew back to London, and the two of us headed to Sardinia. The Tramontana was blowing steadily around force 7. On a reach, the boat was literally flying."
Marie-Claude : "I disovered that this boat loves these conditions. You feel that she is made for it. As I'm doing nothing on board -speaking about maneuvers and navigation- I have plenty of time to appreciate the surroundings, the sky, the sea, the swells. And in Harmony Two's saloon, one enjoys a 360° view, it's unique.
I love to travel, and I like this autonomy a-lot. However, I realized I must learn to sail. So, I've decided to take courses. But not on board, of course… somewhere else!"
Gérald : "During this Baleares to Sardinia crossing, our average speed was over ten knots… I was delighted. Since then, I can't prevent myself from racing any boat we meet! After Sardinia, we reached Cannes, enjoying Corsican moorings in the meantime.
And last winter, when the virus compelled us to postpone our round the Atlantic trip, we decided to sail to Greece and spend the bad season there. From Cannes, we sailed down to Corsica, Pontine Islands and Stromboli.
And from this island, we had to enter the infamous Messines strait with its 6 knots current. Fortunately, this current favored us. We were sailing together with a mass-produced catamaran. After having skirted the heel of the Italian boot, we must luff to reach Corfu, where we wished to land.
But I saw at once that or fellow cat could never do it. It was blowing hard, and for our part, we were able to sail close hauled at 35° from the apparent wind. He was far from that and had no other choice but to give up. So, we decided to bear away toward Cephalonia. It was useless to suffer for nothing…"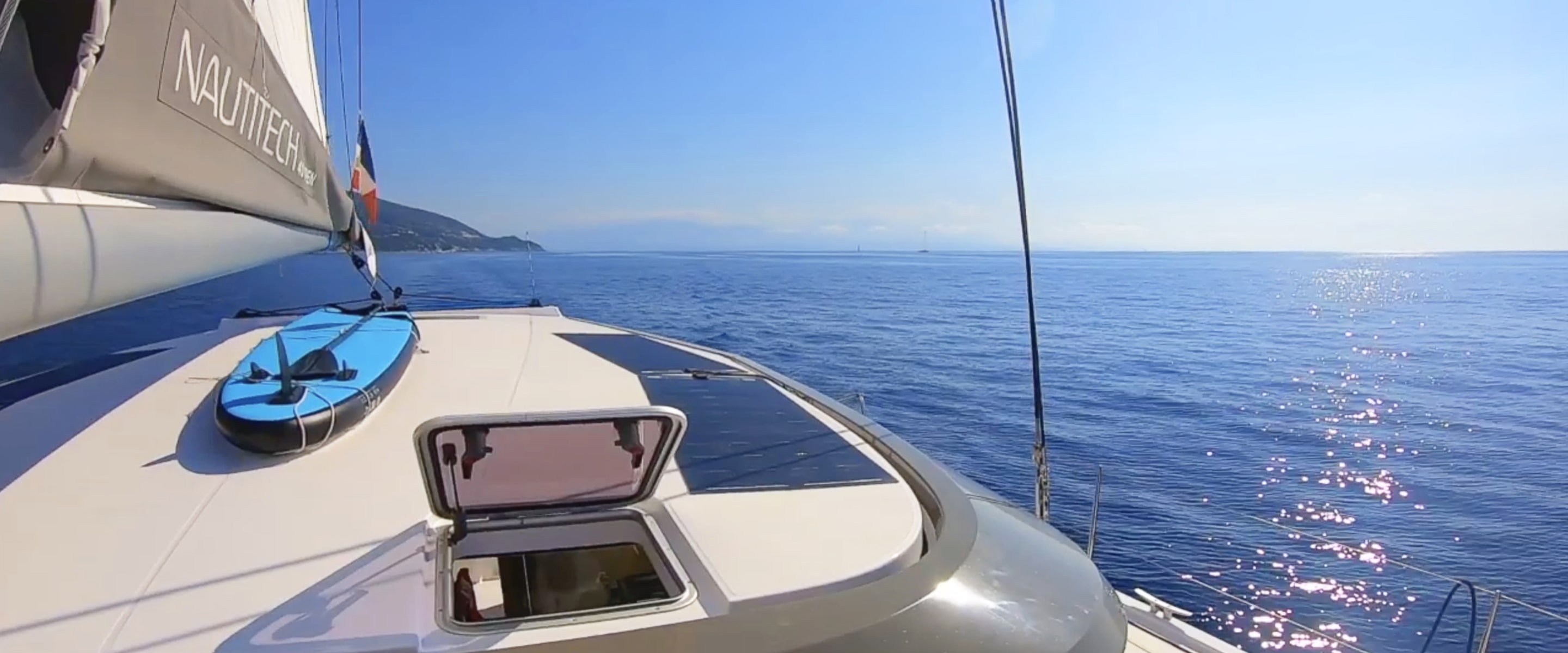 5
The violence of the gusts was
impressive.
Marie-Claude : "At the time, it was out of the question to grumble, on the contrary. But two months sooner, I didn't like at all this nasty gale near the Lerins Islands. I couldn't see the point of "suffering for nothing", as Gérald put it so well. I grumbled. I sat in the saloon, looking not friendly at all."
Gérald : "I took the third reef, hoisted the mainsail, raised the anchor from the steering wheel and set sail for the open sea. The gusts were very violent. I unfurled a bit of the self-tacking jib and kept on steering. It was out of the question to let the autopilot coping with the soon breaking waves. Nor to head directly toward Corsica. I was not reckless enough to imagine beating against a real easterly gale
Even with a monohull, I wouldn't have dared to do it. No : wisdom advised us to widely alter the course. We headed toward Porquerolles. As Cannes is my homeport, I know this place by heart."
Marie-Claude :"It was not the first time we were sailing through heavy weather with this boat. So, I was not worrying. Just upset. Why? Because until then, we had been adapting to whatever the weather was throwing at us. We never had voluntarily chosen to challenge bad weather.
And yet, if I'm honest, I must confess that all of a sudden, I couldn't prevent myself to marvel at the show. And at the fierceness of the rushing boat… It was scary and thrilling at the same time. I was reading in the saloon and from time to time, I was shooting videos of the breaking waves. It was so beautiful."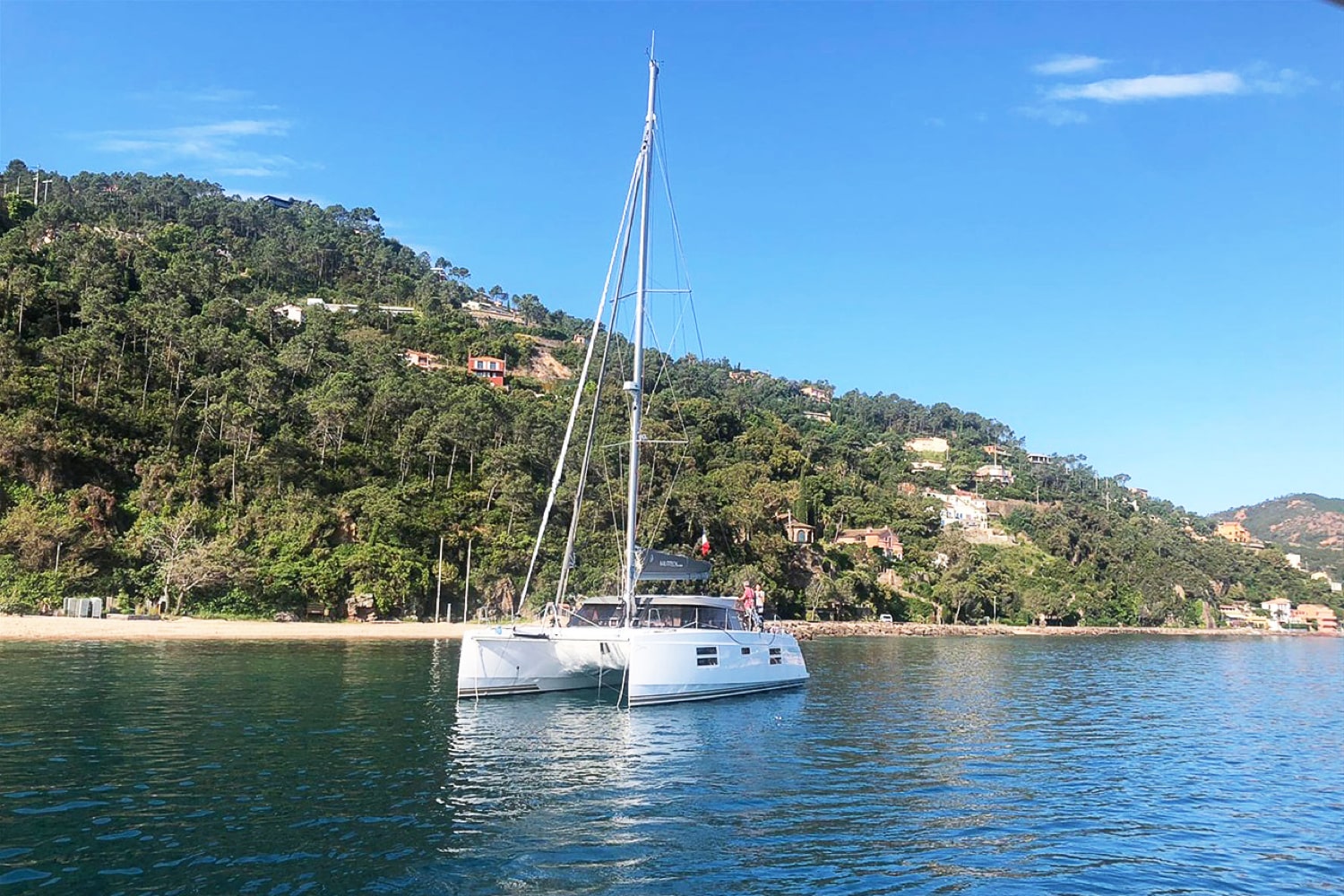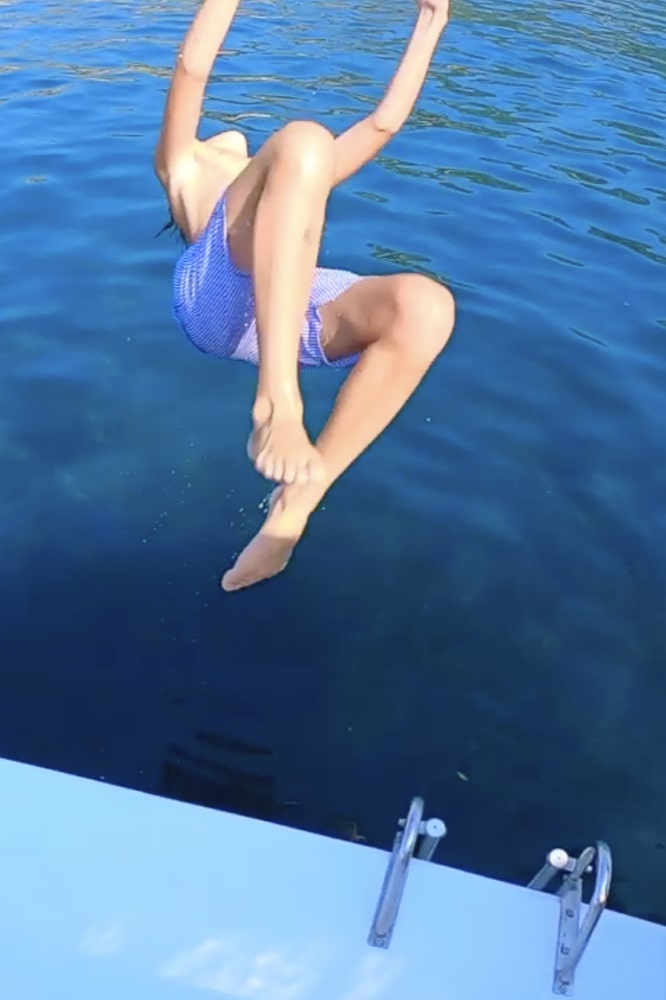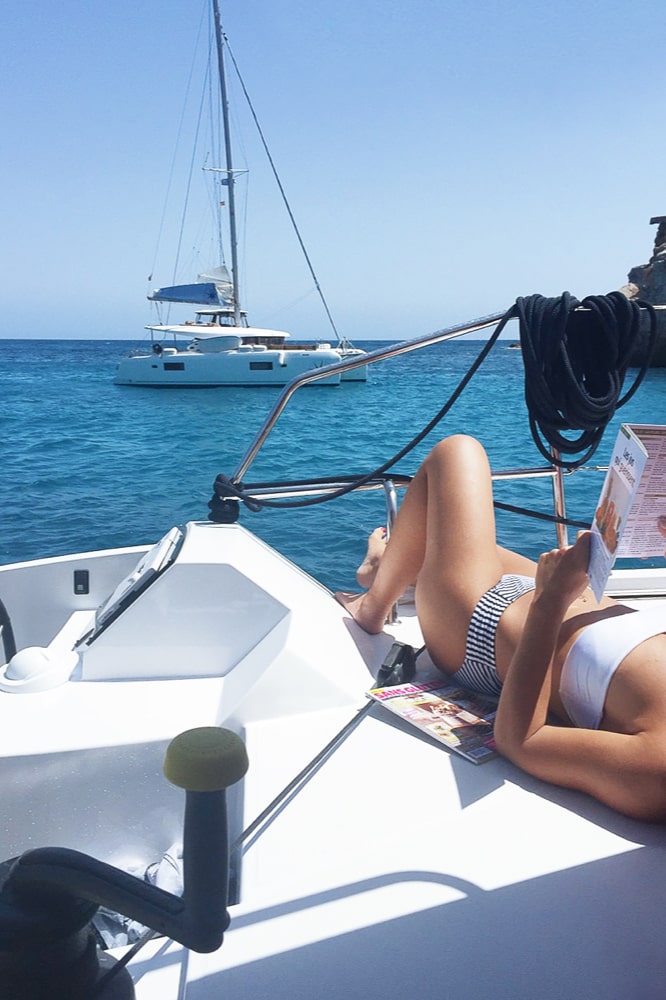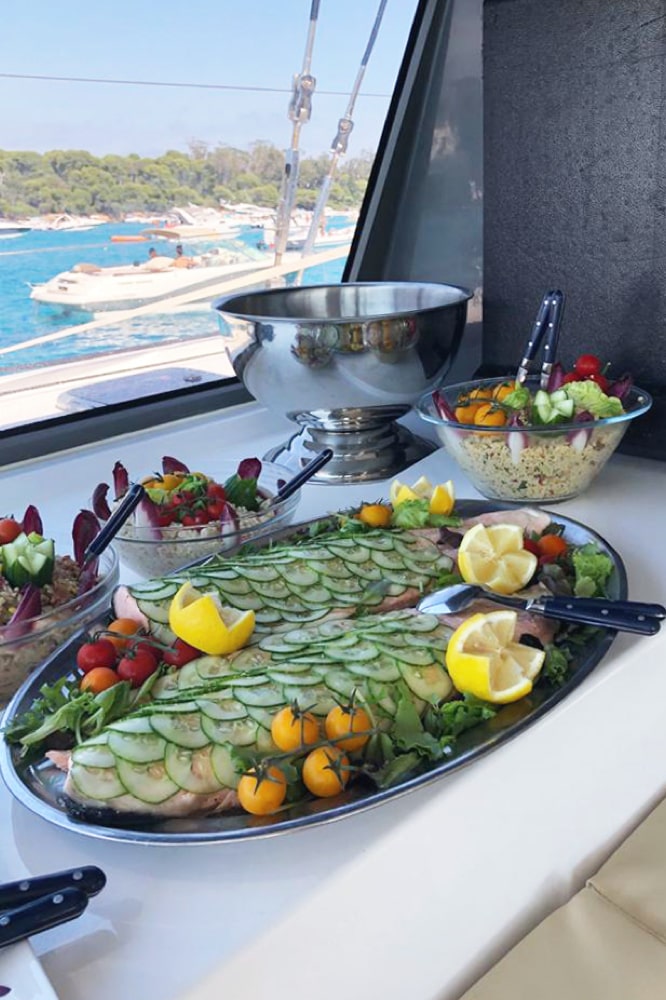 Gérald. "For four hours, the wind blew madness. A sea even broke over the roof! But our average speed was thirteen knots… What a treat! And then, the gale begun to weaken, the gusts to decrease. I threw off a fishing line and I caught a 20 lb tuna fish. We spent an almost quiet night, lying down in our cabin, with all the alarms on. Only the hydrogenator whistling, during the accelerations, was slightly scaring. But we will never forget this crossing: it was pure happiness."
Share their stories
Discover the most beautiful ocean crossings of the Nautitech owners and get away from it all.
The ideal partner for living on board and sailing anywhere on our planet.
Made in France
Expert in catamaran construction since 1994, based in Rochefort, one of the cradles of boating.
A unique experience
Elegance, comfort and equipment to offer you a welcoming living space.
Quality and performance
Our main concern is to offer robust and durable catamarans with recognized marine qualities.