Harmony Two
Catamaran "Harmony Two" is a 12-meter long Nautitech 40 OPEN, fully equipped for long-distance cruising that sails in the Mediterranean and the Atlantic (Corsica, Sardinia, Sicily, Greece, the Balearics, the Canary Islands and the Caribbean).
The Crew
Gérald
He has been passionate about sailing for more than 40 years and bought his first boat, a 7.50 m long traditionally-rigged boat built in 1947, in port Menton Garavan. Since 2019, he has been the skipper of the Catamaran "Harmony Two", a Nautitech Open 40 catamaran of 12 meter length, equipped for long-distance cruising.
Marie-Claude
Together with Gerald, we set off to an unforgettable journey in the Mediterranean and the Atlantic (Corsica, Sardinia, Sicily, Greece, Balearic Islands, Canary Islands and the West Indies).
Gérald
Marie-Claude
The journey
What was your initial plan?
The decision to live aboard for a long journey according to the wind, and especially our desire to be able to sail with a reduced crew (as a couple), given that we are now retired.
Why did you choose a Nautitech catamaran?
Quite simply, the captain, who has been loving sailing for more than 40 years, wanted to be able to feel excitement and thrill when sailing on a responsive, vivacious and fast boat, while also enjoying comfort on board: its thin water entry points and its windward helms (?) allow the boat to maintain the pleasure of sailing, yet providing the crew with the comfort of a catamaran. Our choice was also in favour of the architect, who has proven himself with other boats that are just as efficient. Another important point was to be able to steer the boat single-handed and to manoeuvre in ports alone without the need for assistance, which is possible due to the position of the helms. The shipyard has excellent reputation and there are many satisfied owners.
Strong points
+ a vivaciuous and rapid boat that has very good upwind abilites
+ the "Open" concept is very comfortable and eases life on board
+ the manufacturing quality
+ the rigging is well-designed and the foresail (a self- steering solent) is very handy when sailing single-handed
Our best experience
Cruising from Palma de Mallorca to Sardinia with a crosswind speed of 25/30 knots (Tramontana) at an average speed of 8.5 knots and 16.3 knots dash speed under gusts. We were never stressed out, we had hot meals and good sleep between the shifts. In short, a perfect combination of speed and comfort.
If you had to do it again, what would you change ?
The choice of a hybrid heating system
The hydrogenerator option
Some pictures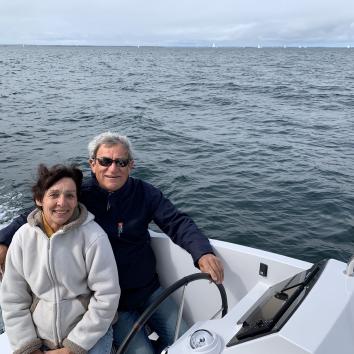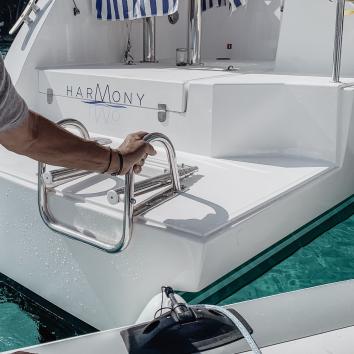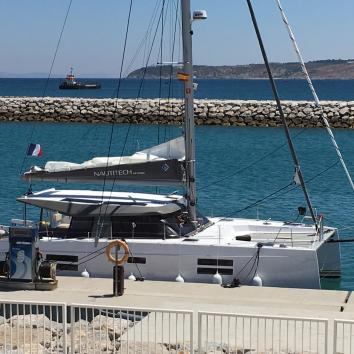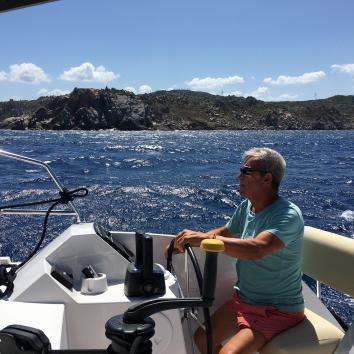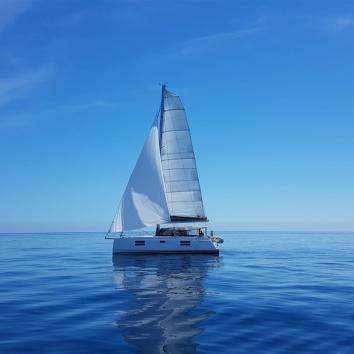 The boat we had for this trip