Pascal & Madelon
Mediterranean
Jewels so numerous that it would take ten lives to explore them all
Pascal and Madelon intend to take advantage of their new freedom to explore The Mediterranean aboard their 40 Open. From the acquisition of their catamaran to their design of the trip, everything is carefully thought out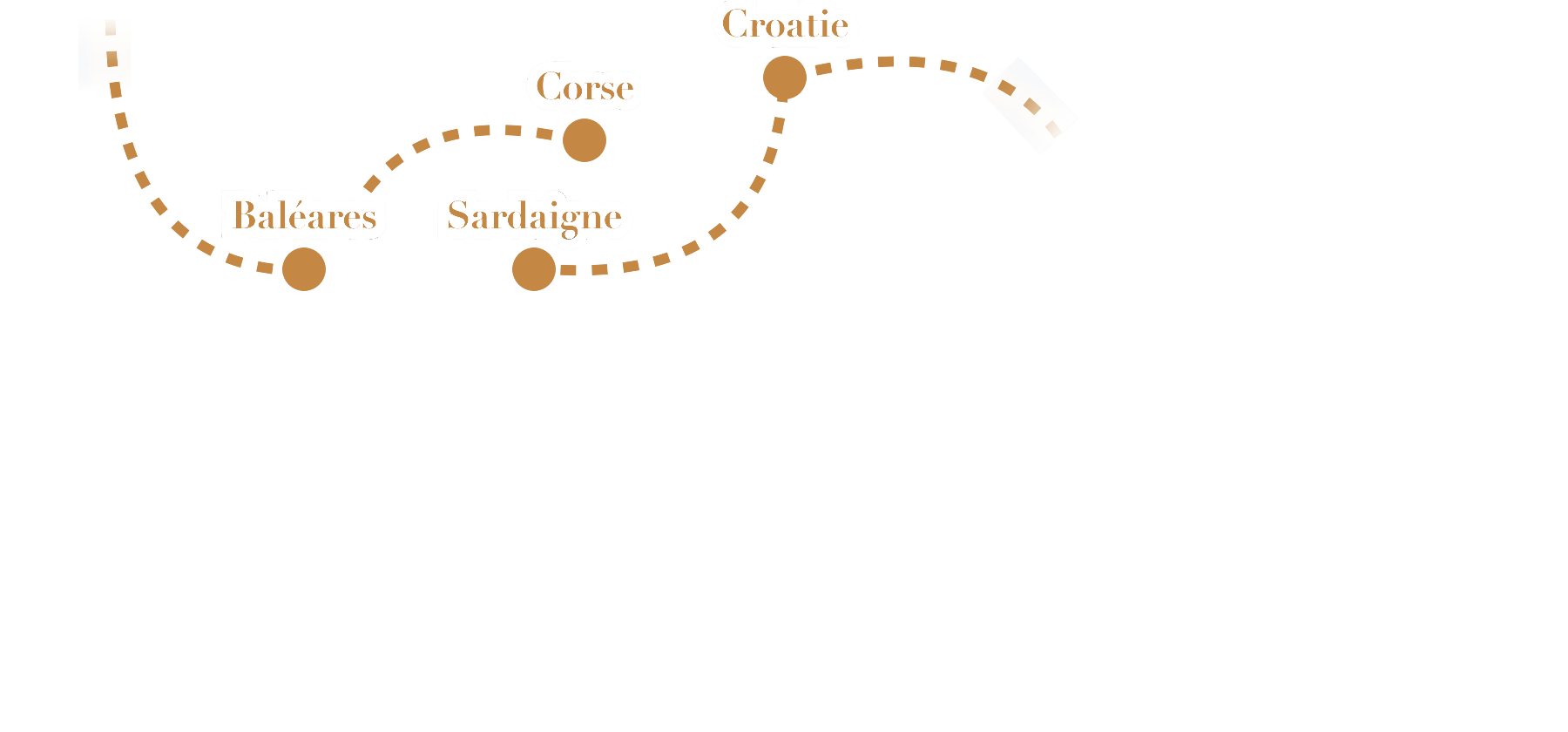 Nautitech 40 Open
A polyvalent catamaran, for comfortable getaways and challenging sailing
Why did Pascal and Madelon choose the Nautitech 40 Open?
It's obvious, everything seems to be closer, easier, more suitable for their way of sailing.
They sat in the hollow of the settees, the huge saloon-cockpit. They look at themselves without a word. They getup, take a few steps, crosses the large sliding bay window, immerses themselves into the sofas of the main saloon, stare again at themselves. The big catamaran is superb, it's not debatable. It only took them a glance to be seduced. With her sharp bows, compact nacelle, and impressive beam it exudes such an impression of power… they already see themselves on the other side of the world.
And yet, something bothers them. Pascal and Madelon don't need to talk to each other. They know. This Nautitech 46 makes them dizzy. But is this reasonable?vThis takes place in Cannes in 2017, on the eve of the famous boat show opening. When arriving at the Rochefort manufacturer booth, they discovered the Nautitech 40 and 46 moored side by side. Spontaneously, our two visitors boarded the largest of the two to sift through her. They have been crisscrossing the Mediterranean for more than eight years aboard a 40-foot catamaran, their first personal boat. Before that, they rented a model of roughly the same size in the West Indies.
They felt it was time for a change. For a larger boat, otherwise why change? However, after their first emotions around the 46, they quickly understand what is holding them back. This superb sailboat suddenly seems very large to them. Too large? They remember that from now on, they will most often be alone on board. It's not that the vast volumes of the 46 intimidate them, it's they are… vast, very vast!

So, it's not a matter of intimidation, rather intimacy.
Then they think maneuvers, maintenance, insurance, berth etc. Thoughtful, the couple leaves the palace. What to do? Pascal and Madelon decide to visit the 40 Open. Since they are there, they might as well take the opportunity. This boat escaped their radar, it soon will become obvious. Everything immediately seems closer, easier, more adapted to their style of navigation. Especially since the Nautitech is much more modern than their brave companion of the last eight years.
It is wider, roomier -it offers 30% more volume in the same hull length- smarter, too. If only with this well protected saloon-cockpit. So, wisely, they let the 46 sailing in their dreams. Rather than getting carried away by excitement, they listen to the voice of reason.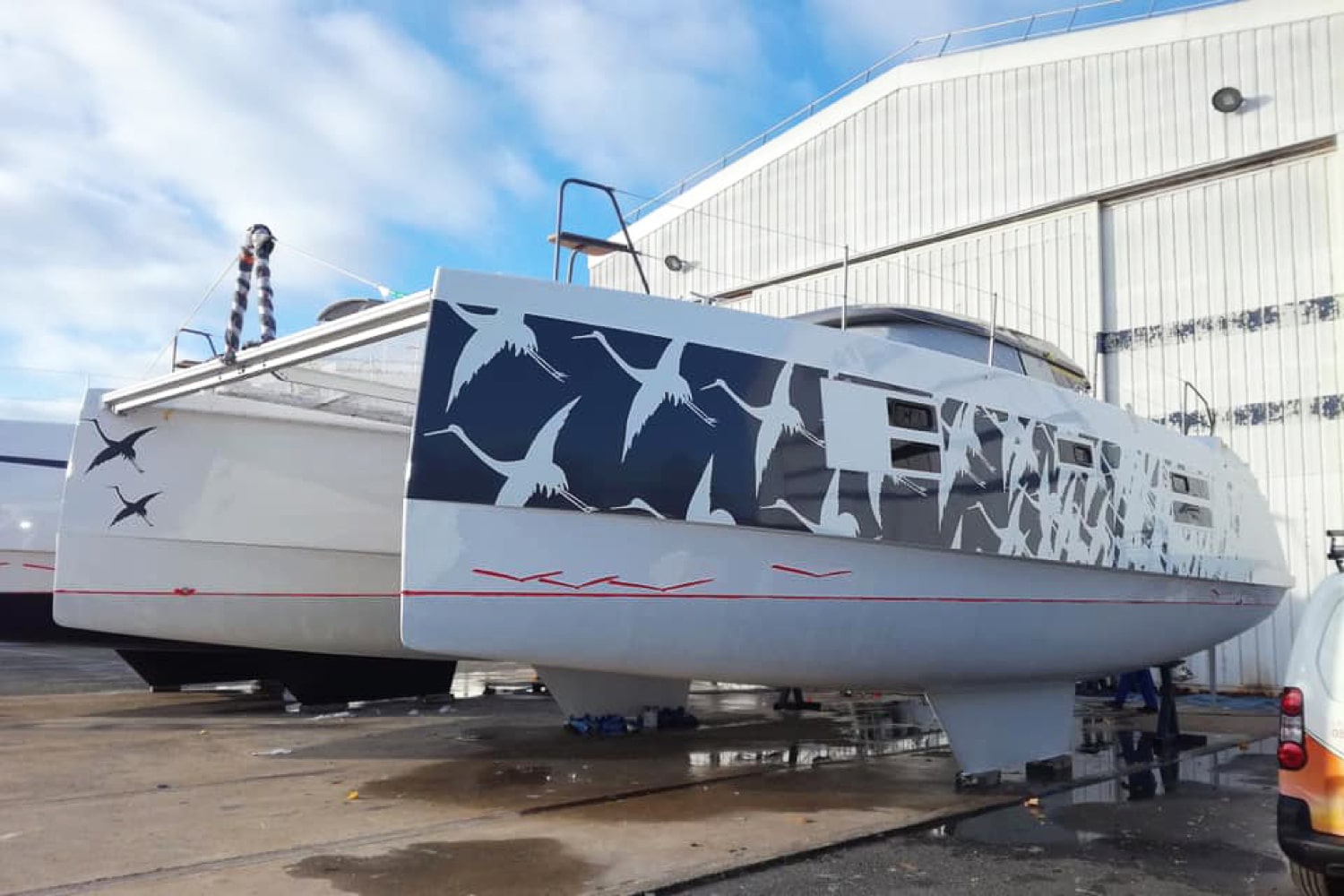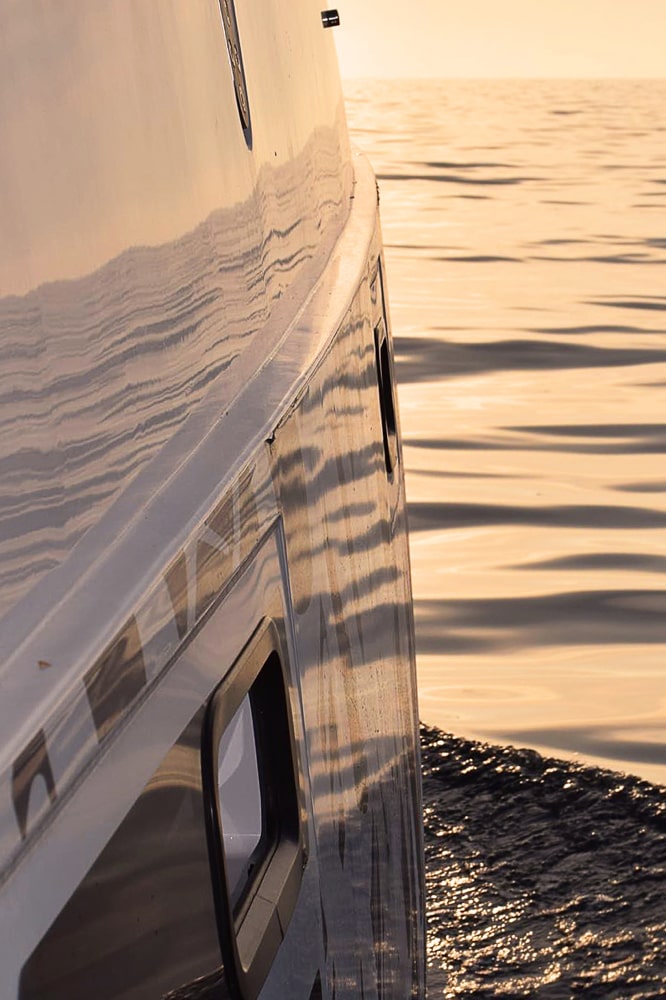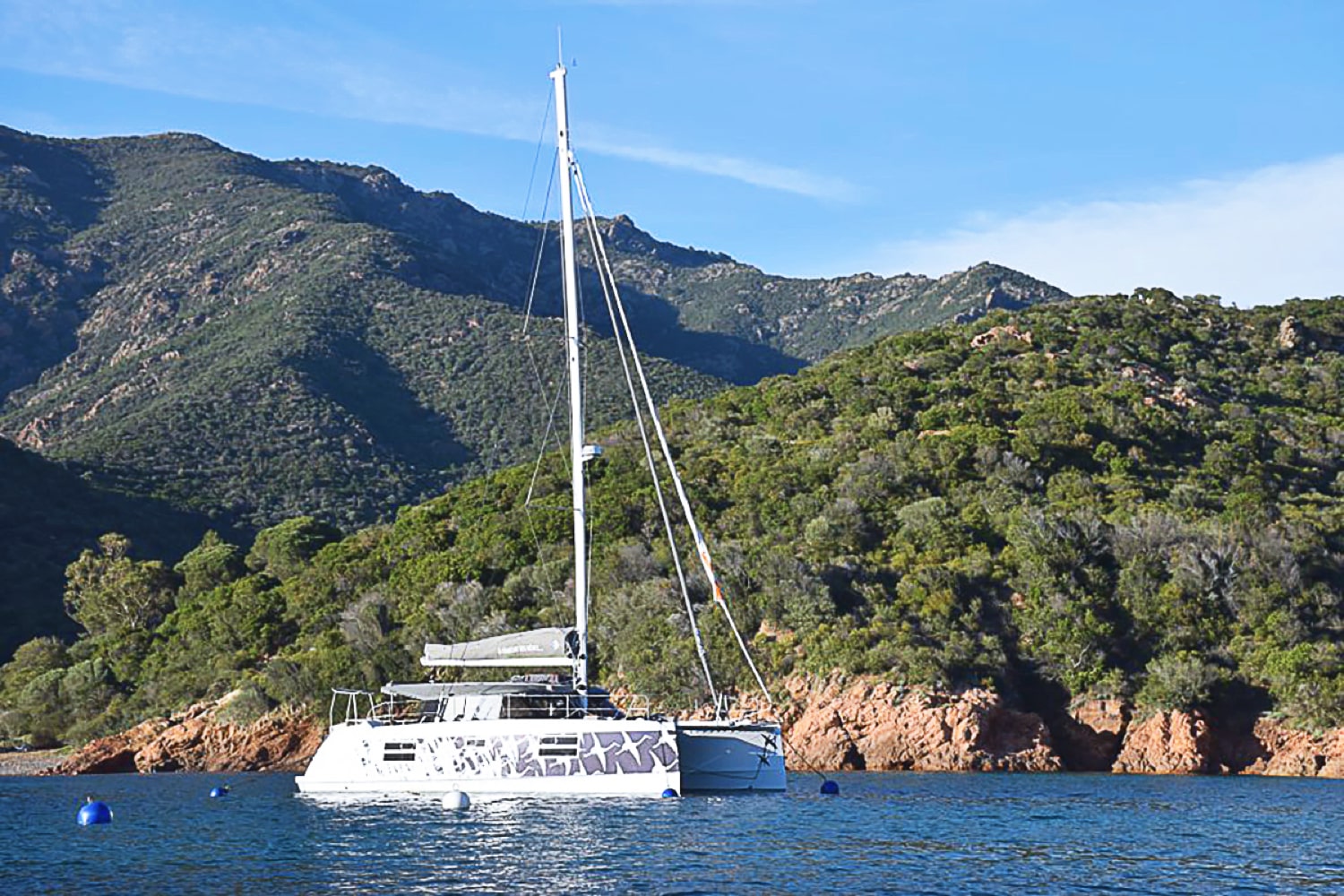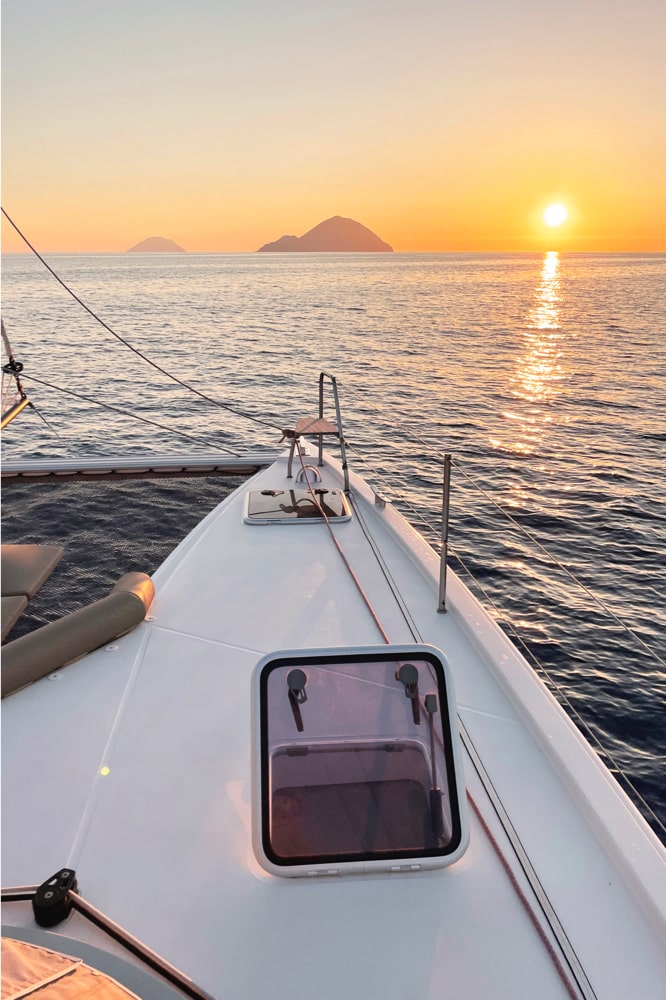 This two are not the type to procrastinate. The next morning, they return on board to sign the order form. Without any apprehension. Because, they have developed a system that has so far allowed them to sail without going into debt, nor even to erode their savings.

Their recipe is simple. Owners of a caravanning campsite ideally located in Bédoin, at the foot of Mont Ventoux, they have a very seasonal activity. Which means they can't sail in the summer.
Throughout the high season, the most profitable, they rent out their catamaran to family, family friends and friends of friends, under the responsibility of a skipper in whom they have full confidence. They never wished to register on a rental platform, even less entrust it in management to one of the majors of the specialty. They market their boat themselves. "We apply the same method for our campsite, they explain. We have a very loyal customer base. We've had barely 20% turnover in all these years." And these loyal customers have seen with a very good eye their project to change boat.
Why the "Mare Nostrum", they who love the Caribbean where they have spent three weeks to a month every year since 1978?
"This is carefully considered choice, Pascal replies. Before we even think to distant journeys, we prefer the Mediterranean. Because it is very close and easy to access. Because it contains geographical, cultural, heritage and gastronomic treasures, jewels so numerous that it would take ten lives to explore them all."

In short, because it is there, and it is beautiful. And because their tenants feel themselves there as comfortable as they do. Moreover, it is also the latter who partly influenced the program of this well-headed couple. The day after our interview, these happy owners of the Nautitech 40 Open called Zebulon fly to the Baleares Islands.
Their summer customers wanted to travel the waters of Mallorca and Minorca. Pascal and Madelon intend to take the opportunity to set sail for Ibiza and Formentera. They believe, not without reason, that they will find in September a weather at least as mild as in July and August and less congested anchorages.
Then, they intend to set sail for Corsica and Northern Sardinia. They plan to leave their boat in Bastia and return in early October for three weeks of cruising around the Island of Elba. Zebulon has no year-round berth. It is moored in Bormes-les-Mimosas in winter. As soon as spring returns, it takes off and sails from wild anchorages to small forgotten ports.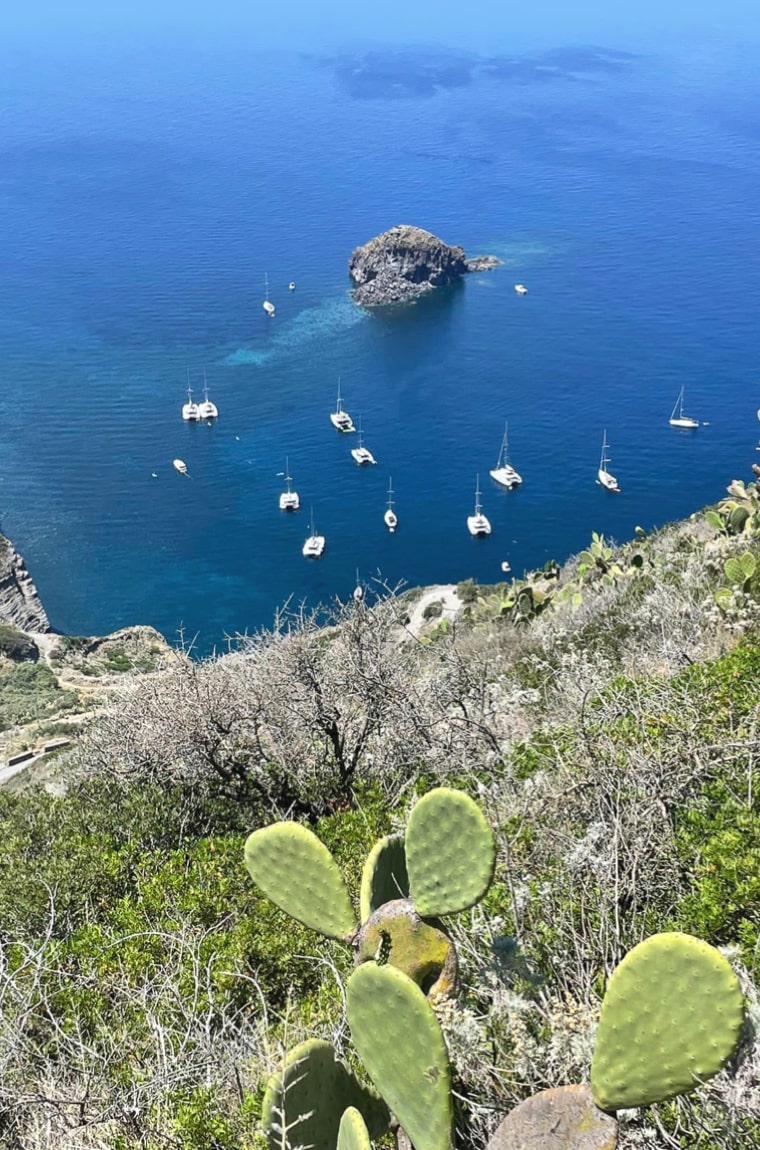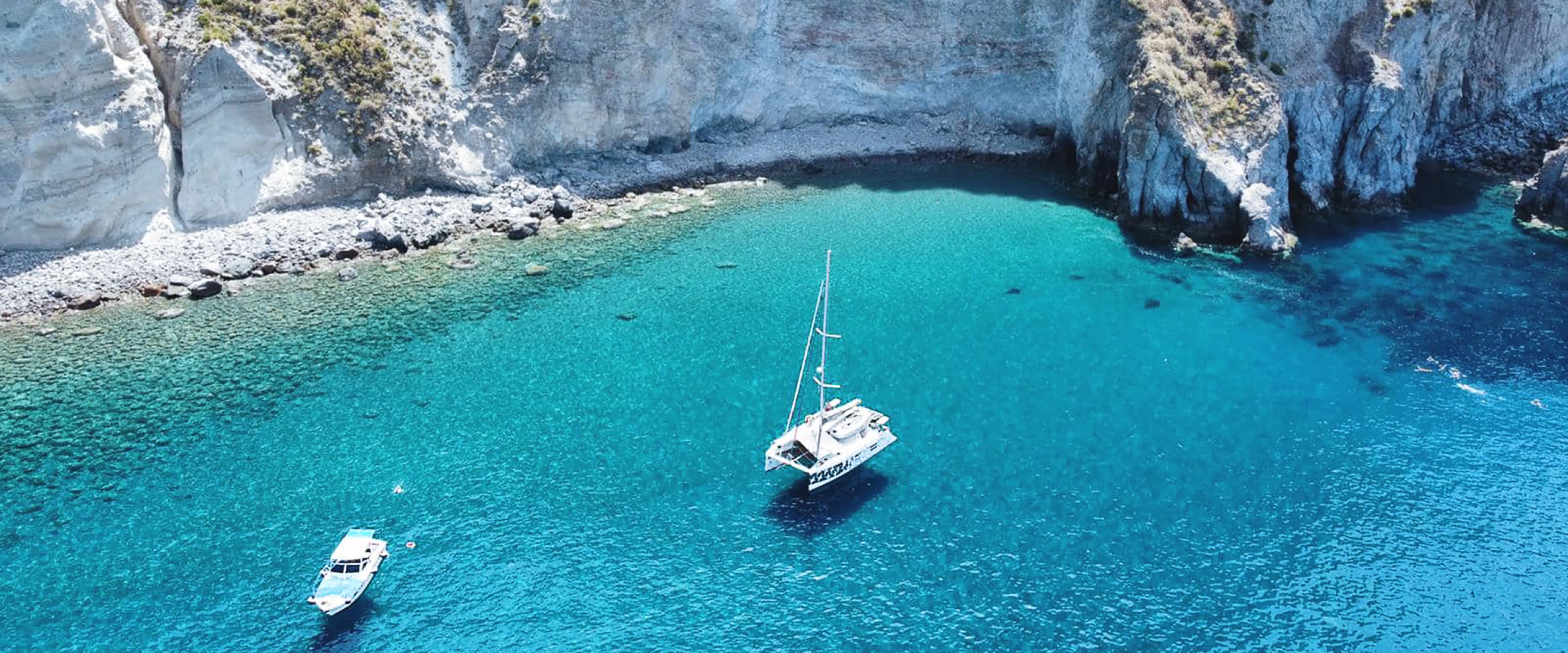 Why the name Zebulon?
Their previous catamaran being so named, they didn't find a good reason to change its name. This goes back to the pregnancy of their first child. Since they didn't know his or her sex, they had given this code name to their little one to be born… Name which they then wanted to give to their own first boat. It was when they found themselves parents of two young children that Pascal and Madelon switched to multihulls.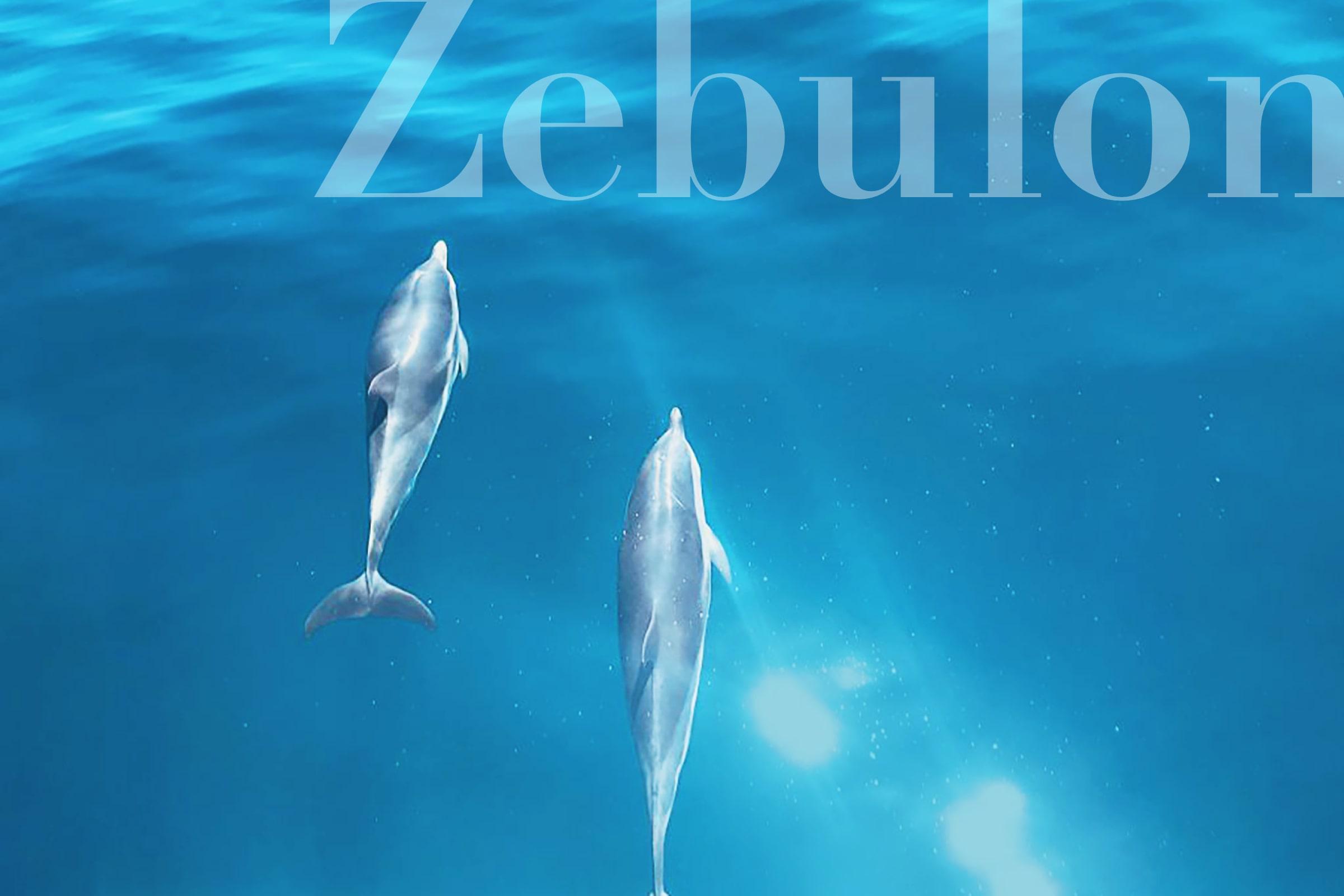 Pascal seems to have fallen very small into a cauldron of salt water.
His parents owned famous French monohulls, on which he discovered offshore sailing: a Corsaire (5,50 meters), a Samouraï (7,40 m) and a Romanée (10,20 m). But before that, Pascal had discovered the wind aboard a tiny wooden Optimist.
When he took Madelon on the family Romanée, she was 20 years old and had never sailed. He managed not to disgust her. Quite the contrary.

"The monohull was my youth and my culture, Pascal admits. So when we started renting boats, the multihull option never fit into our specifications. And one winter, the children being 3 and 6 years old, we rented a 40 ft catamaran in the Caribbean. And we were literally stunned. In terms of comfort, volume, velocity, stability at sea and at anchor, and therefore safety for our children, there was no comparison: the catamaran came out a winner everywhere. Then the "venom" worked. We never thought of sailing a monohull again."

So, for years, they rented catamarans in the West Indies. And inevitably had the idea of buying one, one day. From their first thought, they consider the possibility of reducing the costs of acquisition, use and maintenance by renting their boat. "It didn't scare us: our job is tourism. And then I waited 40 years before owning my first boat. I had some time to think about all of it."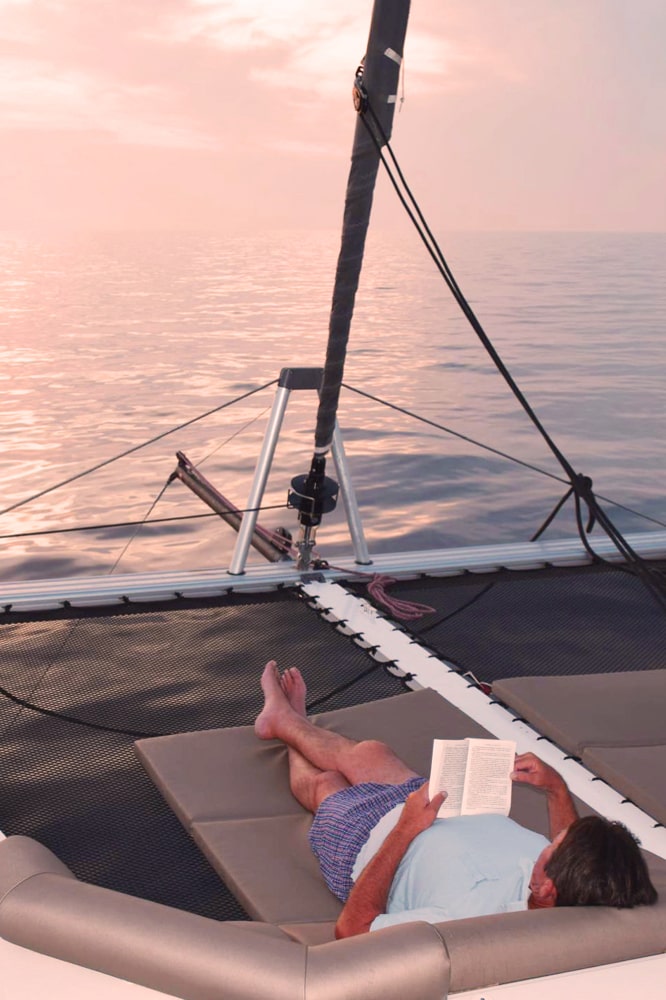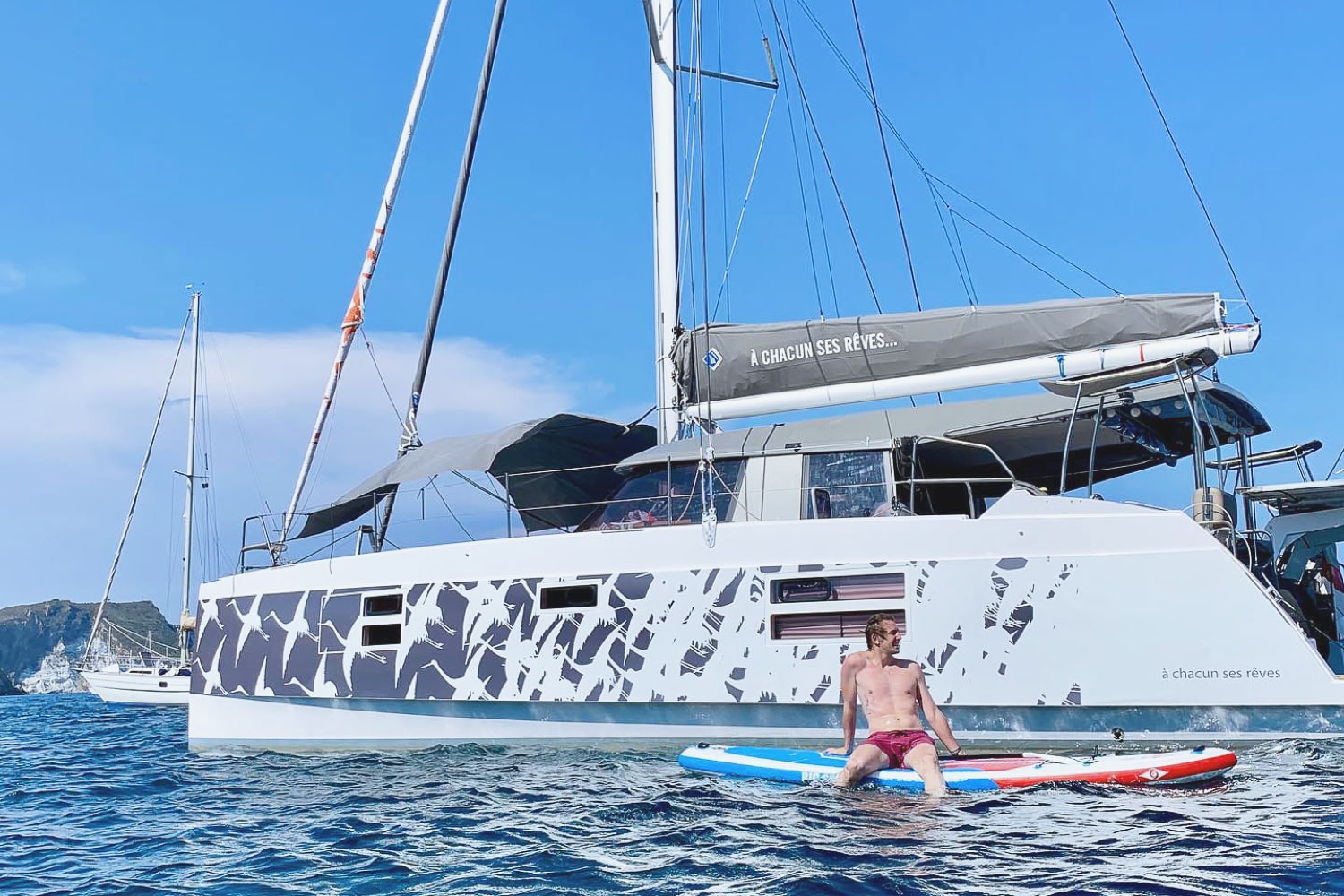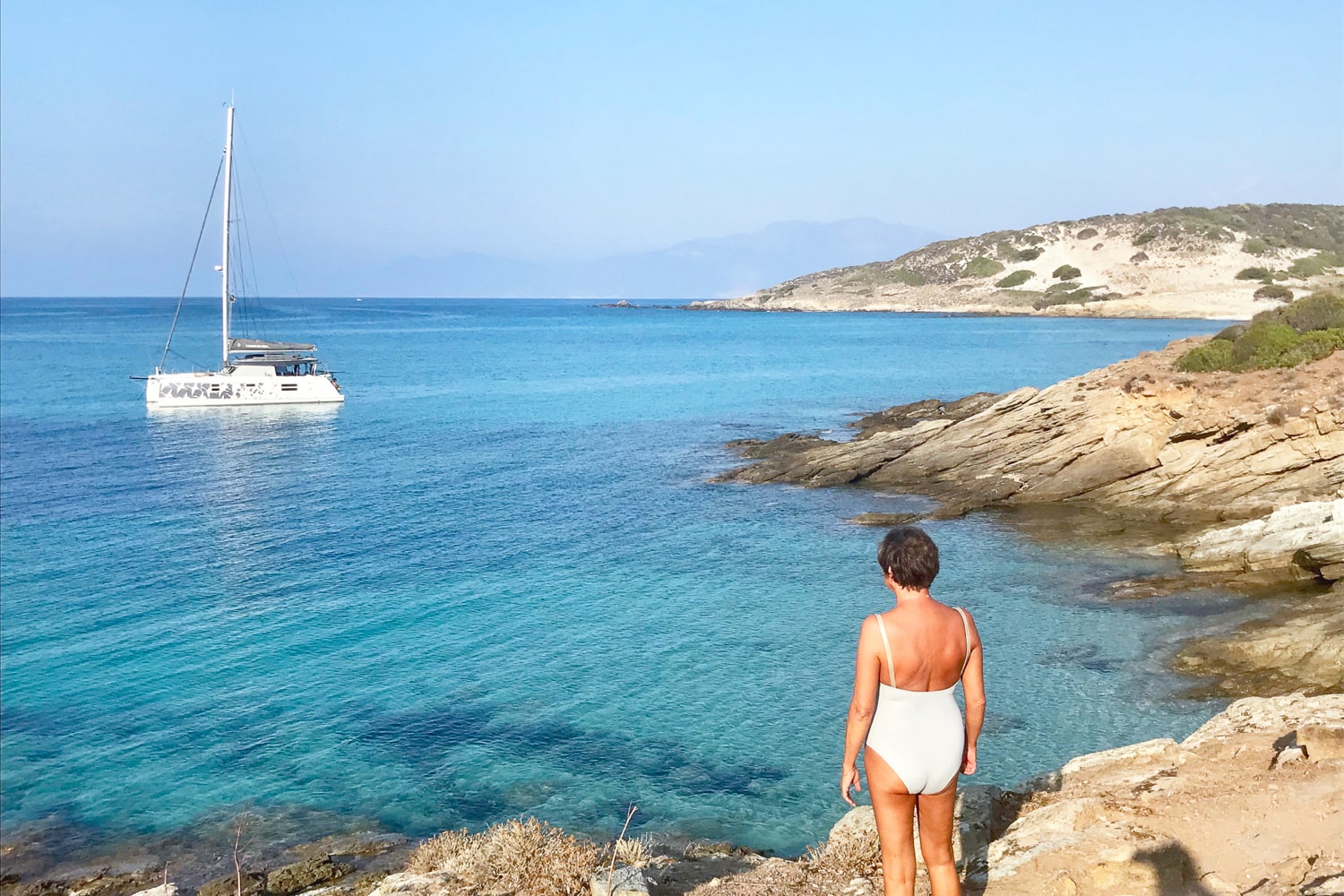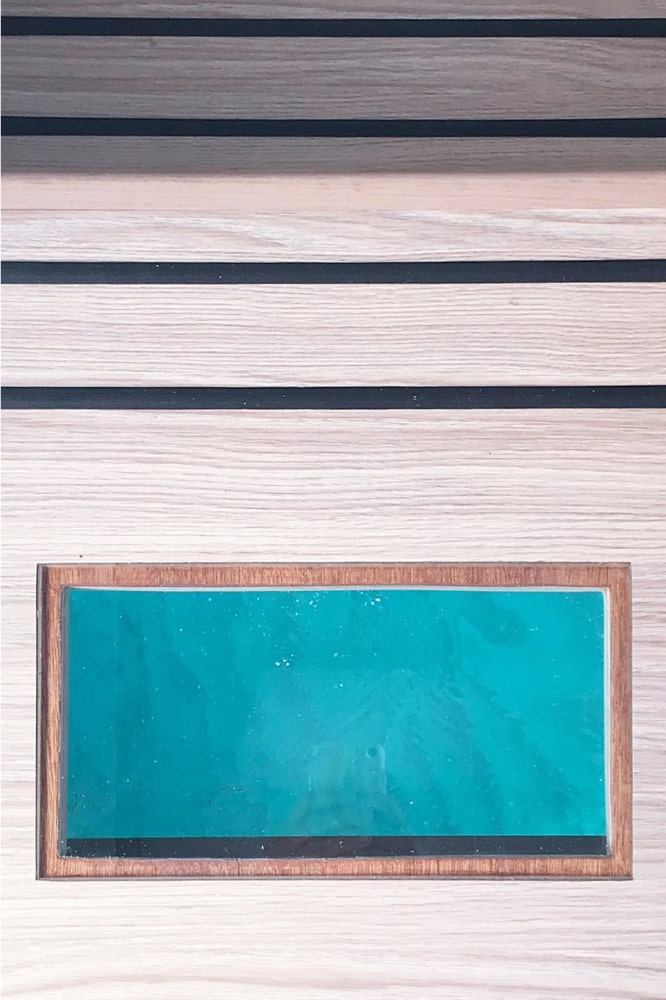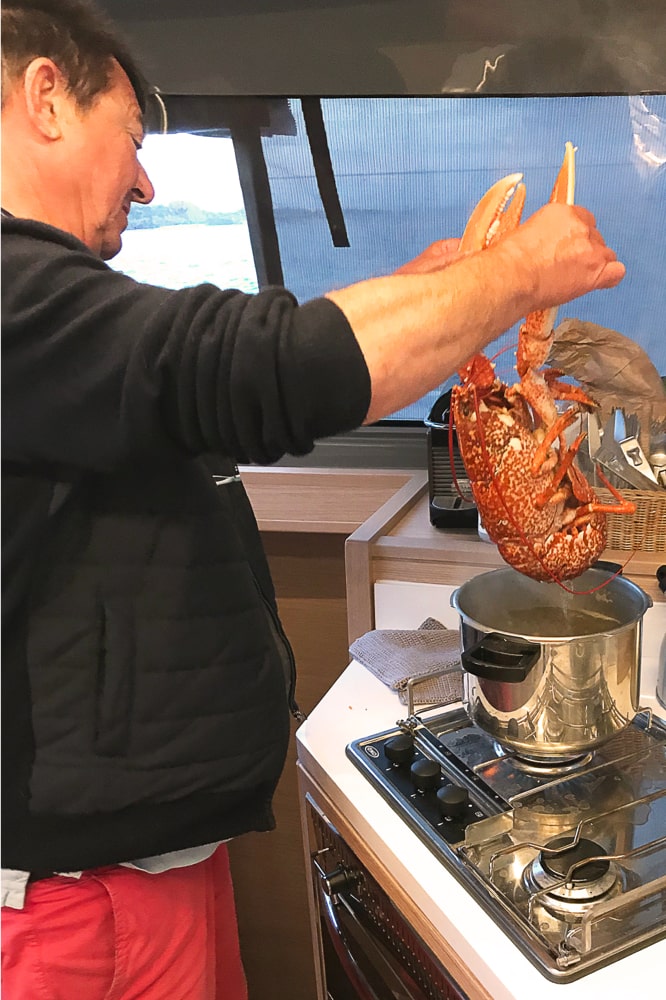 Ten years and 80 000 miles (for the boat) later, Pascal and Madelon go to La Rochelle to take possession of their new catamaran. It's February 2019 and their 40 Open Zebulon has just been launched.
A preliminary survey reveals that the autopilot installation can be improved. Why such an assessment prior to launching, for such a well-built model, as the new owners themselves point out? Because Pascal and Madelon prefer to take two precautions rather than one. Their boat being partly intended for rental, it will sail much more intensely than an ordinary owner's unit.
Wisely, they therefore believe that an exhaustive control of their new spaceship must allow them to eliminate at the source the possible causes of hassle. Again, this is the reason that speaks. Reason? But planning to deliver a sailboat in the heart of winter from La Rochelle to Port Camargue, moreover with the crossing of the formidable Bay of Biscay, does it really make sense?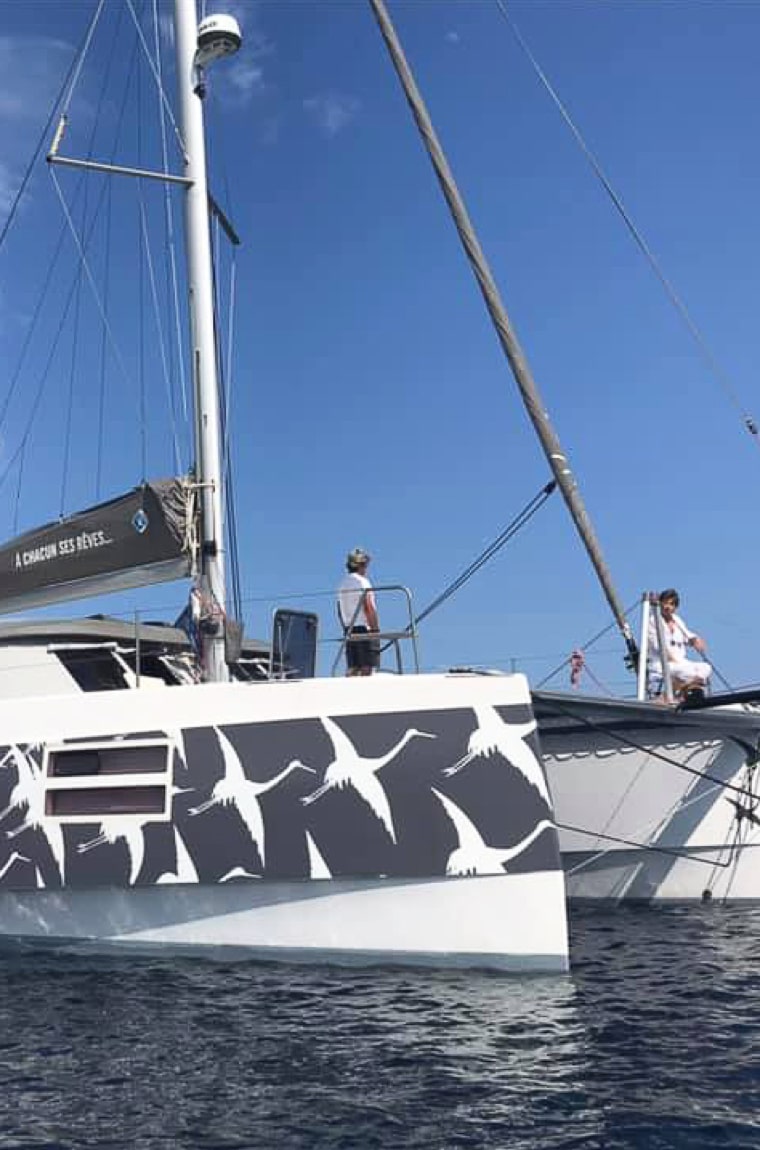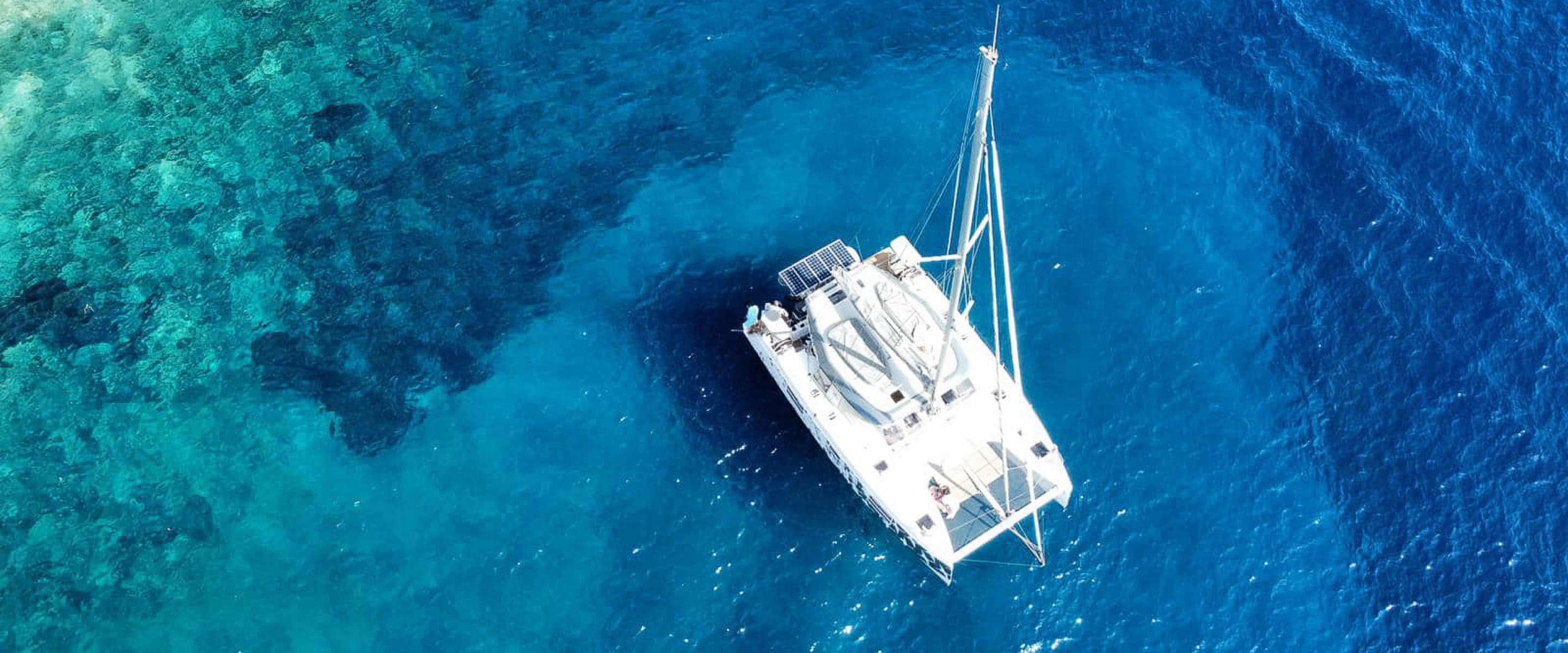 Pascal is not worrying. He gathered a crew of seasoned friends. He took on board his professional skipper, a fellow he has known for years, who spent all his childhood and adolescence aboard a catamaran in Polynesia, and who is a qualified marine carpenter. A man who can be trusted. And the heavens are with them.
The weather is perfect from one end of the crossing to the other. The Bay of Biscay is benevolent. If, from Lisbon to the Balearic Islands, the wind regularly blows between 15 and 25 knots, the passage of Gibraltar is done like in a dream. "I was super reassured when I arrived, says Pascal. I had every confidence in our new boat."

This confidence will only grow during a crossing to Corsica from Bormes-les-Mimosas. A strong Mistral has been blowing for days, and Pascal and Madelon wait serenely for the wind to abate. But, when they cast off their mooring lines, the weather forecasts are slightly optimistic. They are about twenty hours ahead of reality. A raging west-northwest wind shake them throughout the passage. It blows on average between 25 to 35 knots, with some even more powerful gusts. The sea is rough, the waves huge.
Pascal knows that his wife doesn't enjoy these conditions very much. But with his seasoned crew and the certainty to sail a good boat, he himself is not worried. The crossing is completed in 14 hours, at twelve knots on average, with a top speed of 21 knots. Amazing. "The boat turned out to be extraordinary sound and safe. Not once did the bows buried themselves. We felt perfectly safe."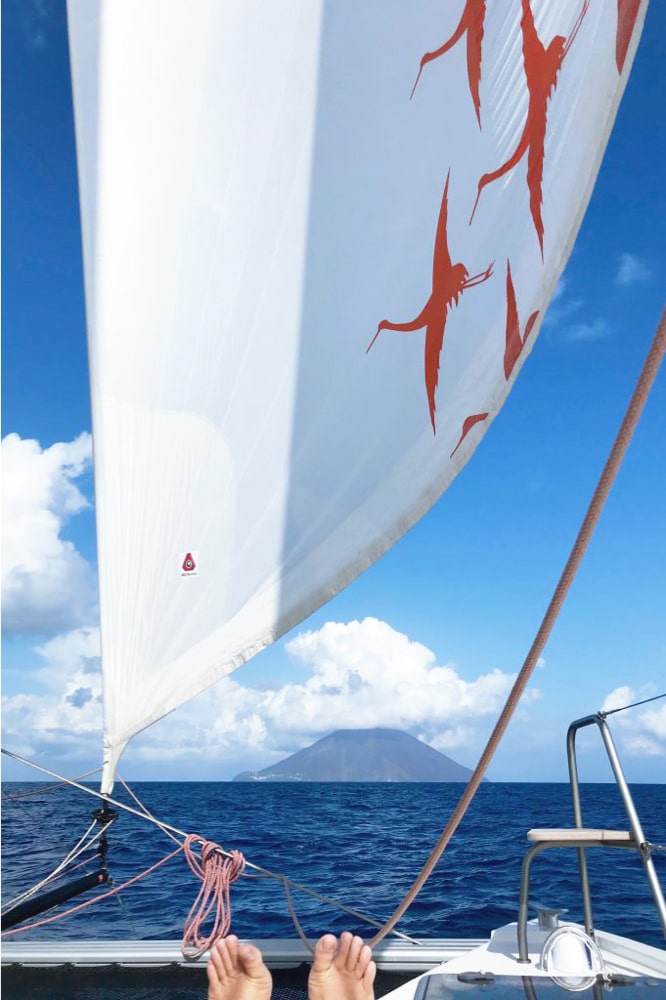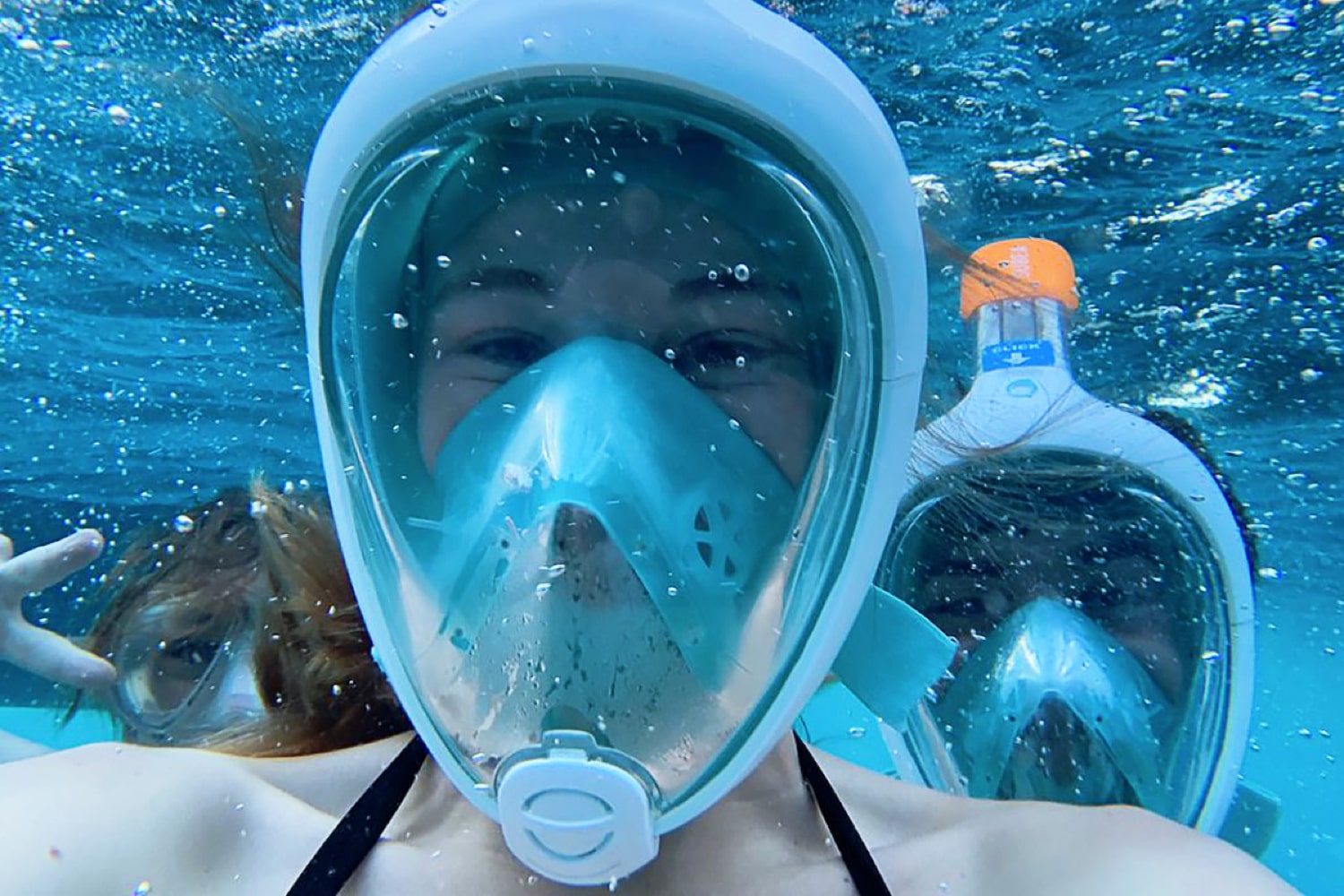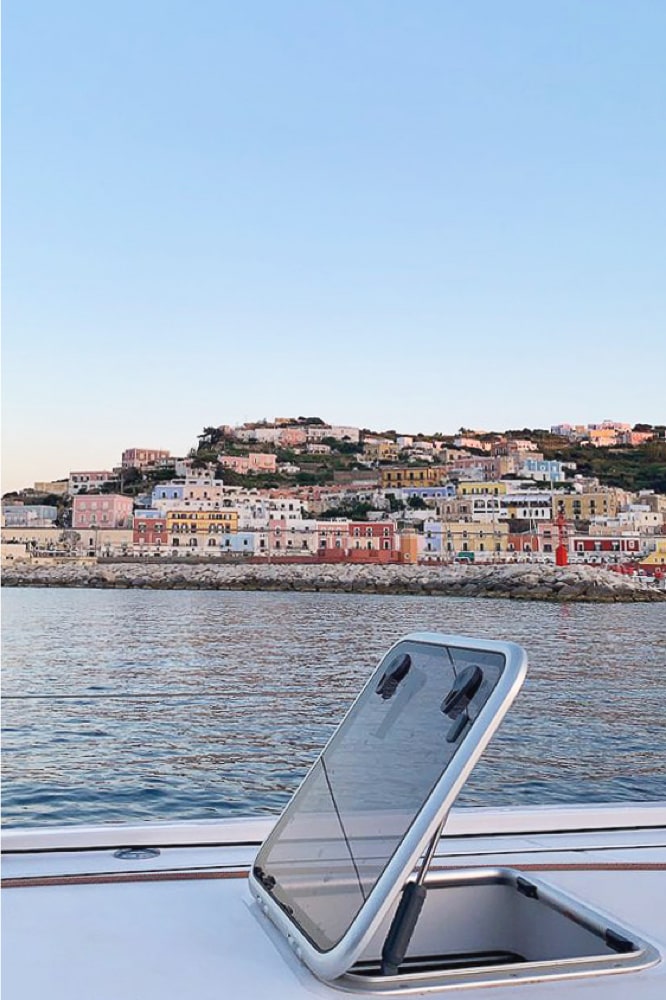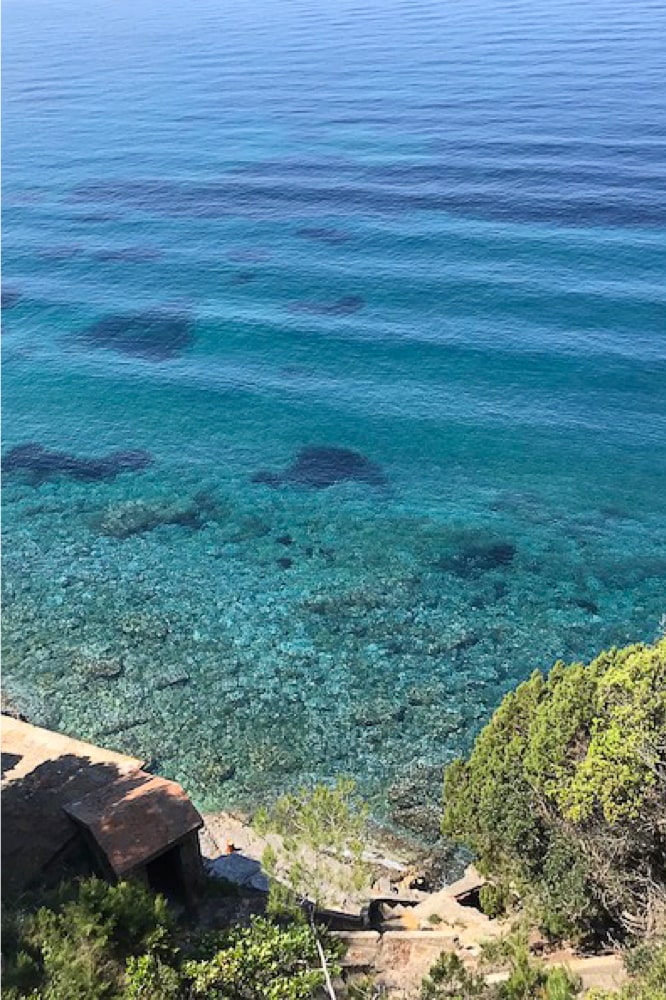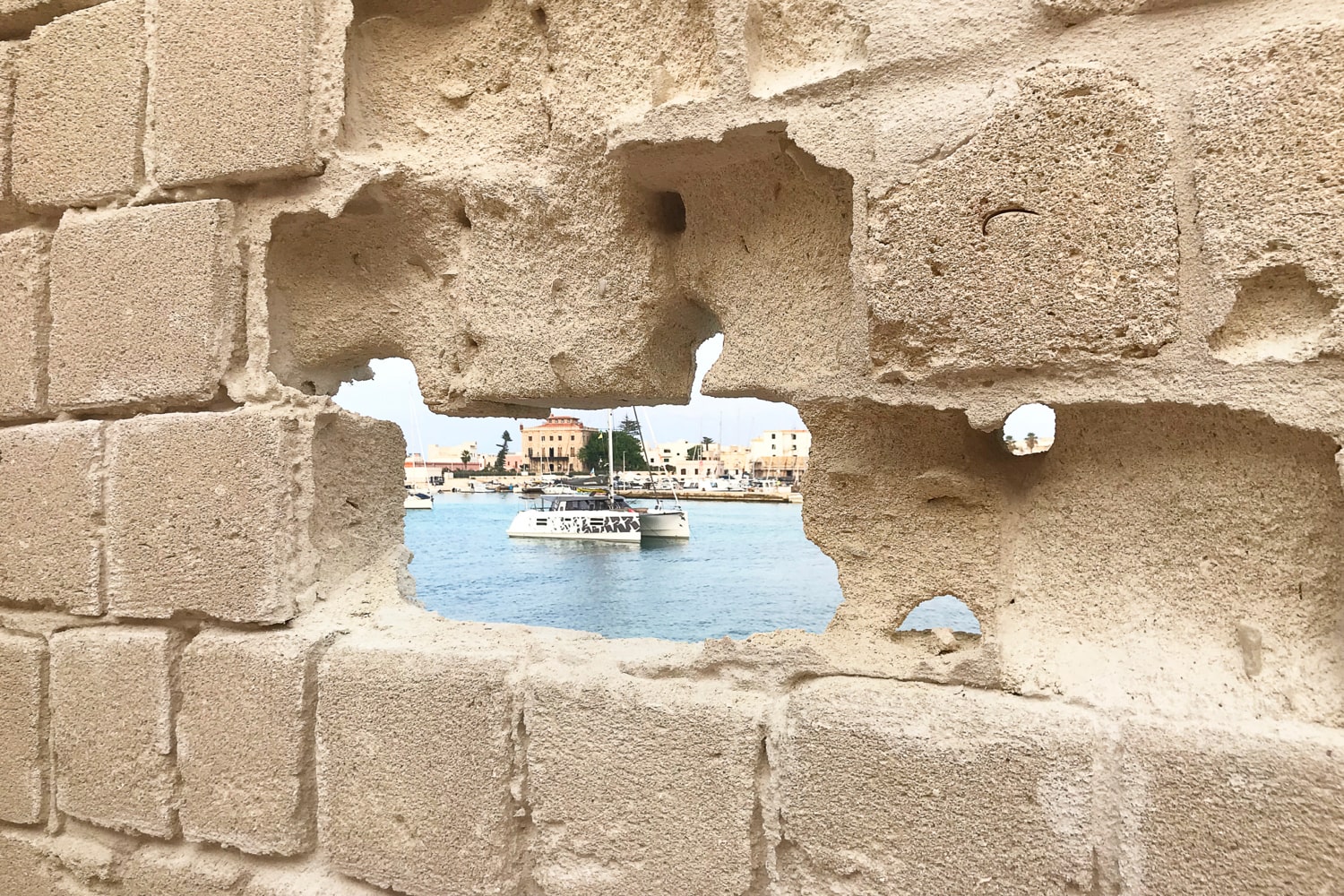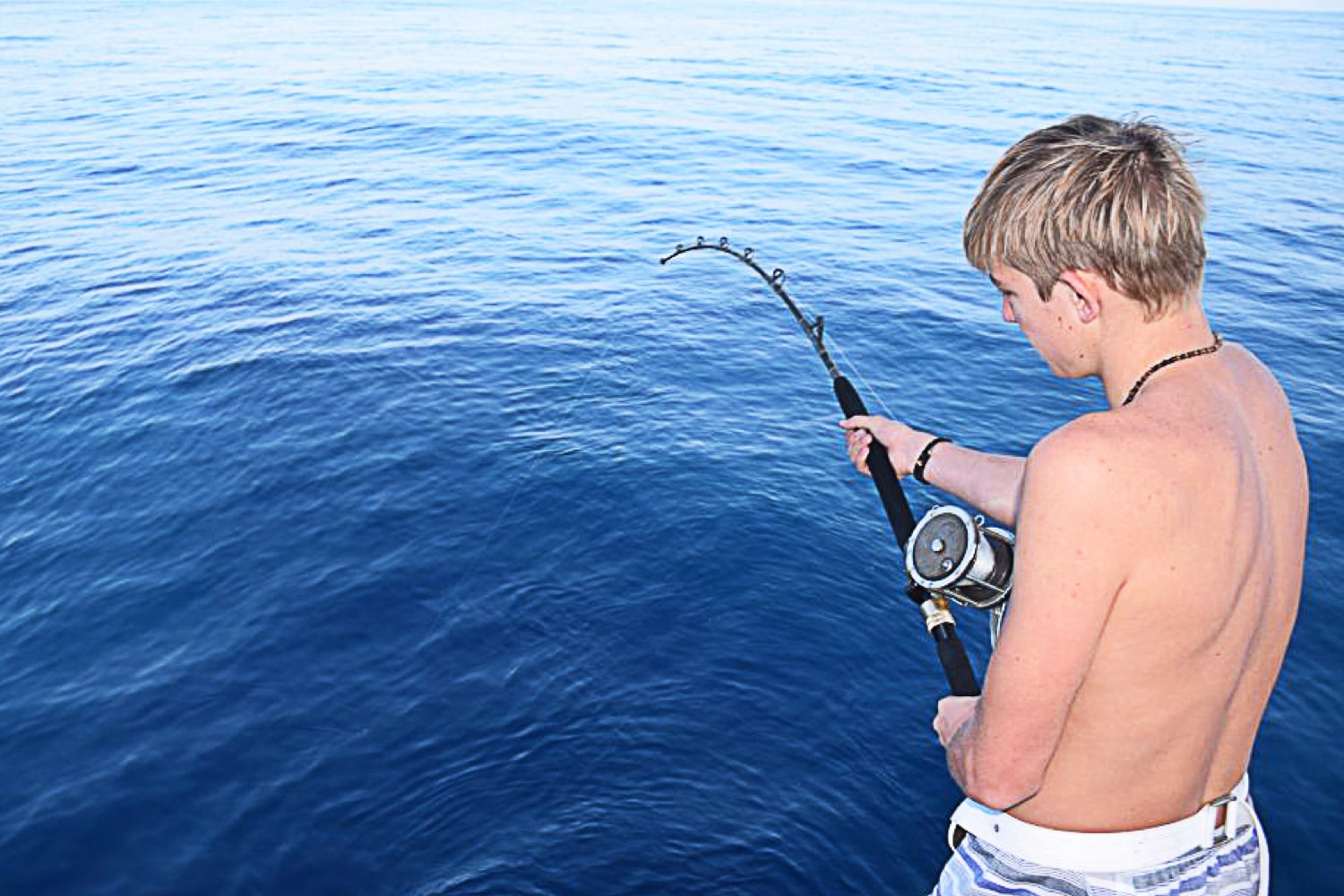 In April 2022, our wise couple plans to set sail for Croatia. Their 40 Open will spend there the entire season. When they're back on board after the summer rentals, they will reach the mythical harbours inscribed in the Zebulon ports of call book: Venice, Athens, Bodrum… But nothing is set in stone. What is certain, however: they will follow the path of reason.
Share their stories
Discover the most beautiful ocean crossings of Nautitech's owners and fill up on escape
The ideal partner for living on board and sailing anywhere on our planet.
Made in France
Expert in catamaran construction since 1994, based in Rochefort, one of the cradles of boating.
A unique experience
Elegance, comfort and equipment to offer you a welcoming living space.
Quality and performance
Our main concern is to offer robust and durable catamarans with recognized marine qualities.