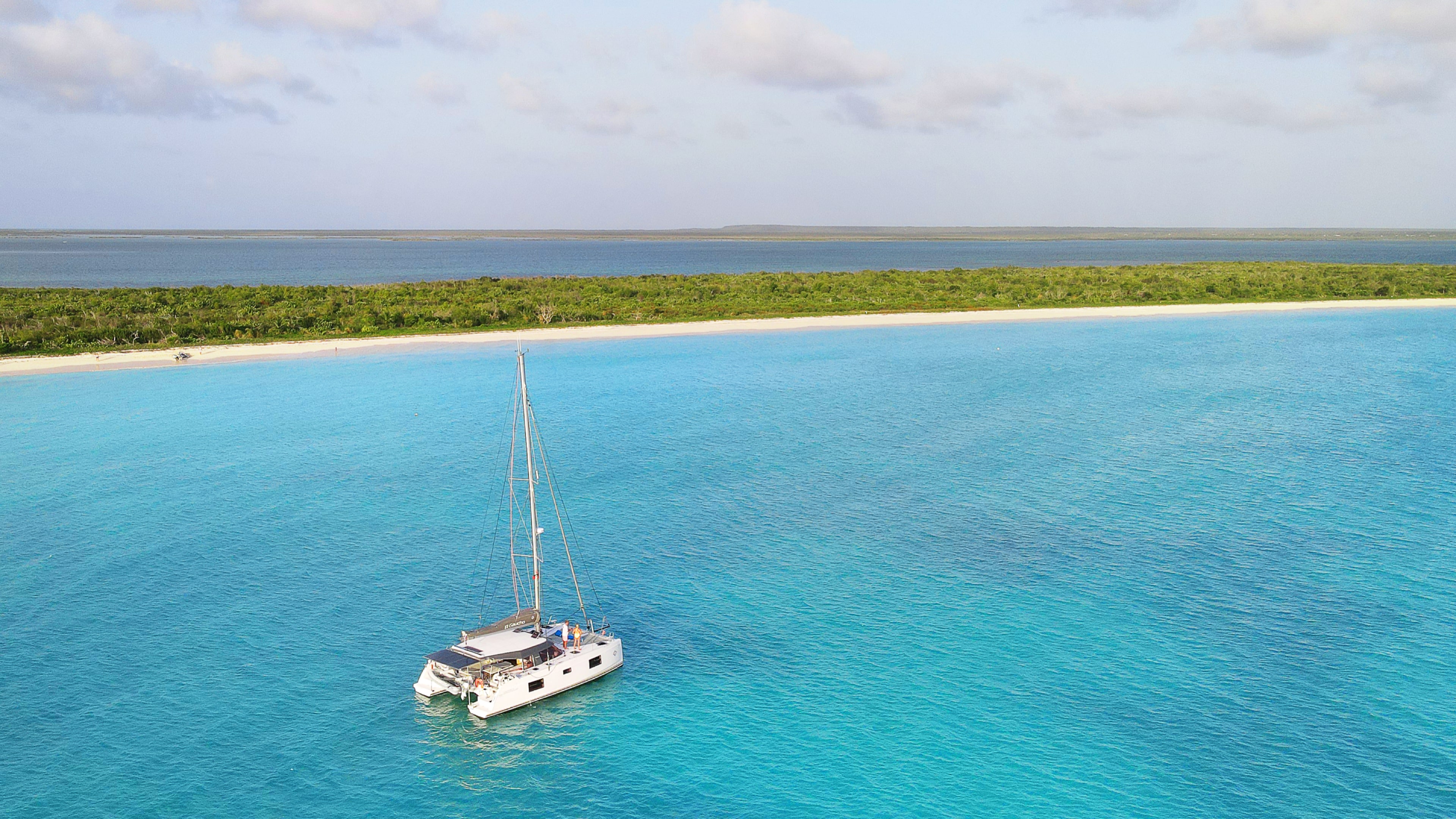 Silvina & jacques
EL Gaucho's lovely stories
World tour
What if we circumnavigated the world
Silvina and Jacques went sailing around the world on board their Nautitech 40 Open El Gaucho. With a limited experience, a true modesty and a stunning boldness
Nautitech 40 Open
The perfect balance between performance and life aboard to circumnavigated the world
"We immediately knew this boat was made for us."
"And what if we circumnavigated the world?"
They looked at each other. They recognized the spark in each other's eyes. And they knew they had to do it.
With the wave of a magic wand, they find themselves moored in the Tobago Keys, on board El Gaucho, their brand new Nautitech Open 40. Suddenly, they're swimming among stingrays and turtles, closely watched by frigates. Because of the pandemic, the lagoon is almost deserted. Normally, this enchanting mooring in the Grenadines is close to overcrowded.
At night, under the stars, they're telling themselves they were right not to wait. Except there was no magic wand. Only a fierce will to achieve their goal.
It seems this couple only has one philosophy in life: disprove the saying "Happy people have no stories".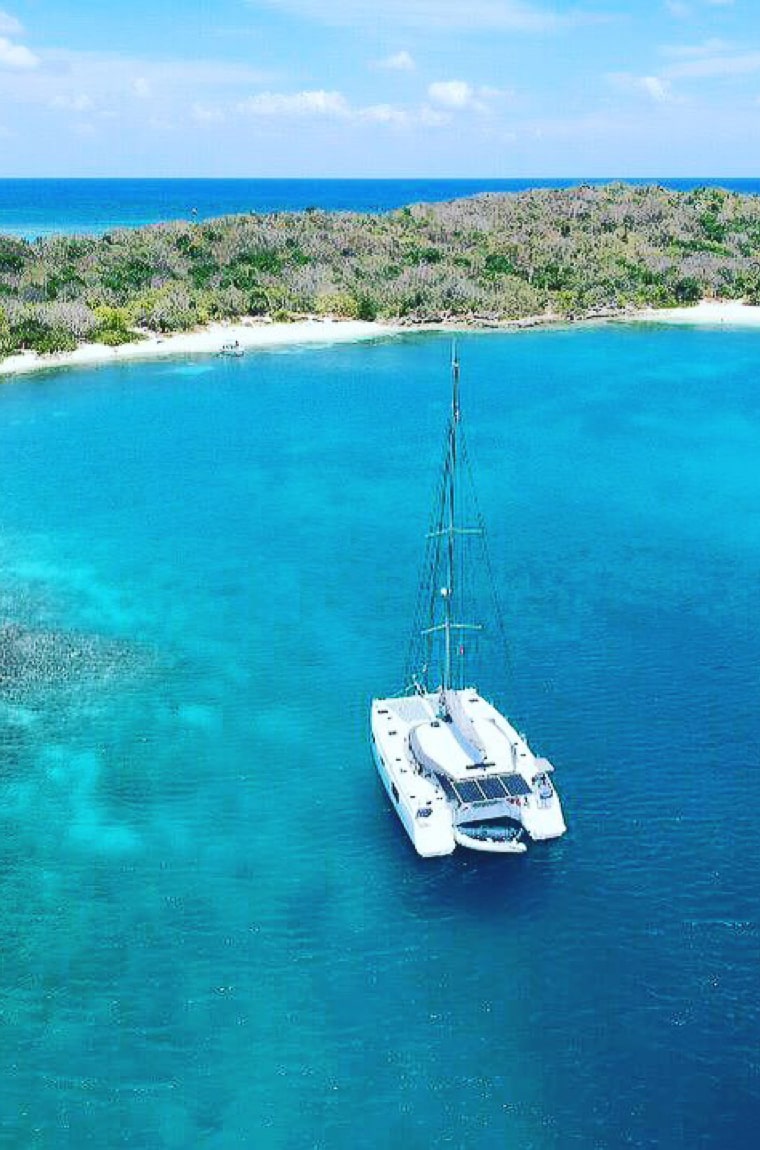 Silvina and Jacques are happy people with a duffle bag full of stories, the size of a sail locker.
This spontaneous couple doesn't hesitate when they set themselves a new challenge. From piloting light passenger aircrafts to flying paragliders, from parachuting to kitesurfing, their first reaction is always: why don't we try it? In a flash, they are thrown in an unknown universe where there is only one tiny detail to work out: learning everything!
2
A sudden round-the-world trip
Don't be surprised if, after all that, they made up their minds, literally in a second, to leave and sail around the world. Because, for Jacques and Silvina, sudden impulses are new ventures to be met without procrastinating.
In that case, there are no excuses, including the pandemic and its troubled economy, travel prohibitions, mandatory tests and quarantines everywhere. You can add ingredients to this tricky recipe, like discovering offshore sailing, training to cruising and twohanded sailing, choosing the perfect yacht, financing it, learning how to handle her, and getting through all the administrative jumble the grand journey requires.
Last but not least, adapting to a merciless countdown when it comes to making the trip fit inside the seasons calendar.
And finally, you have to overcome the Yacht Master and the various trainings in engineering, electricity, plumbing, ropework, first aid, survival and the likes.
And don't forget you only have eight months of frantic endeavor to succeed.

Jacques and Silvina did it. They make it seem easy, where the possible is already done, the impossible is in progress. And all that in a permanent good mood and a deeply rooted conviction: we know nothing but we're going to learn. And when we've learned, we won't behave as if we know everything. So, for the miracles, let's wait five minutes.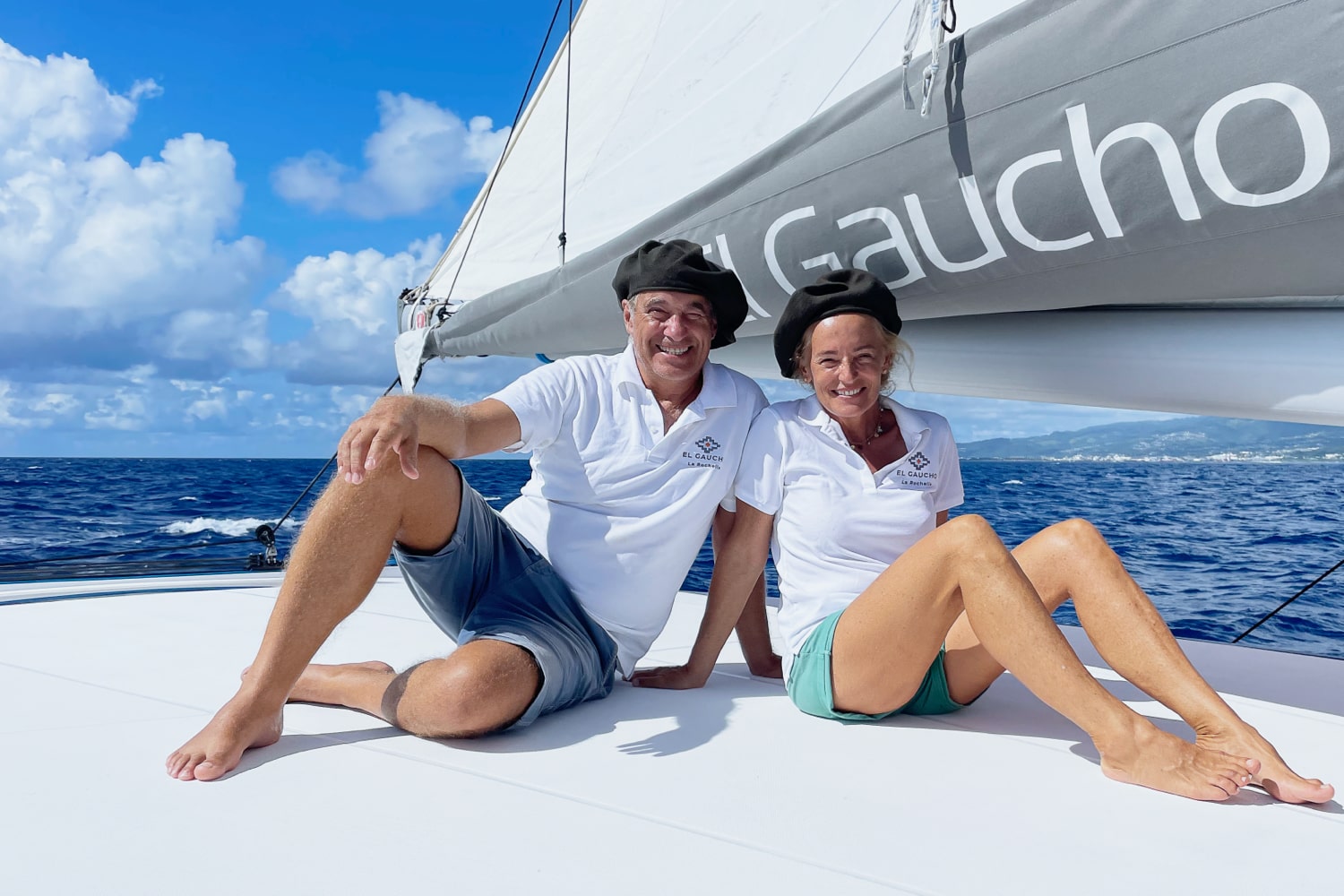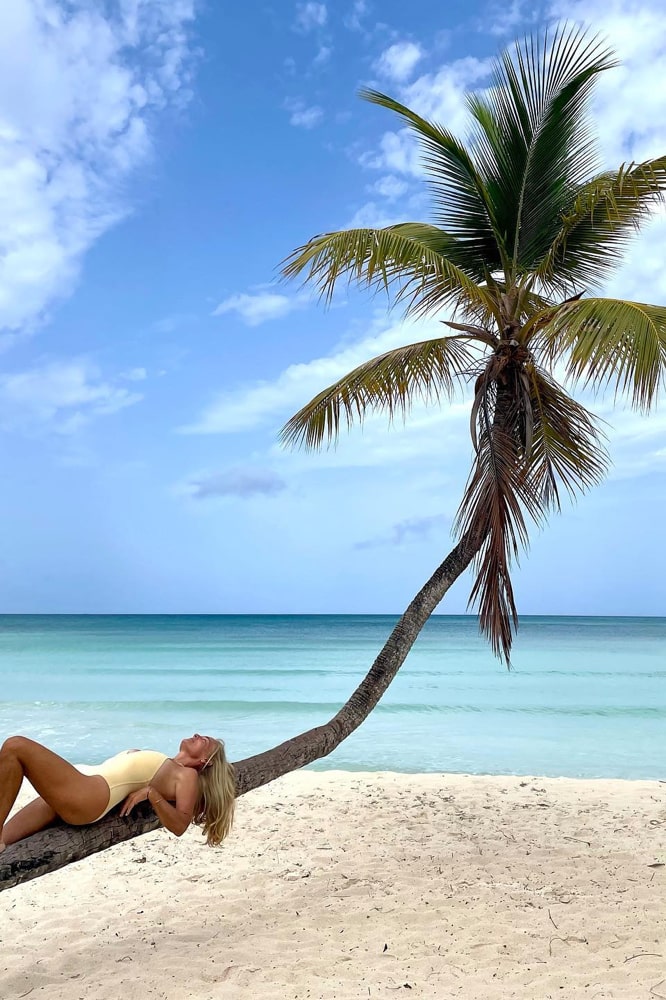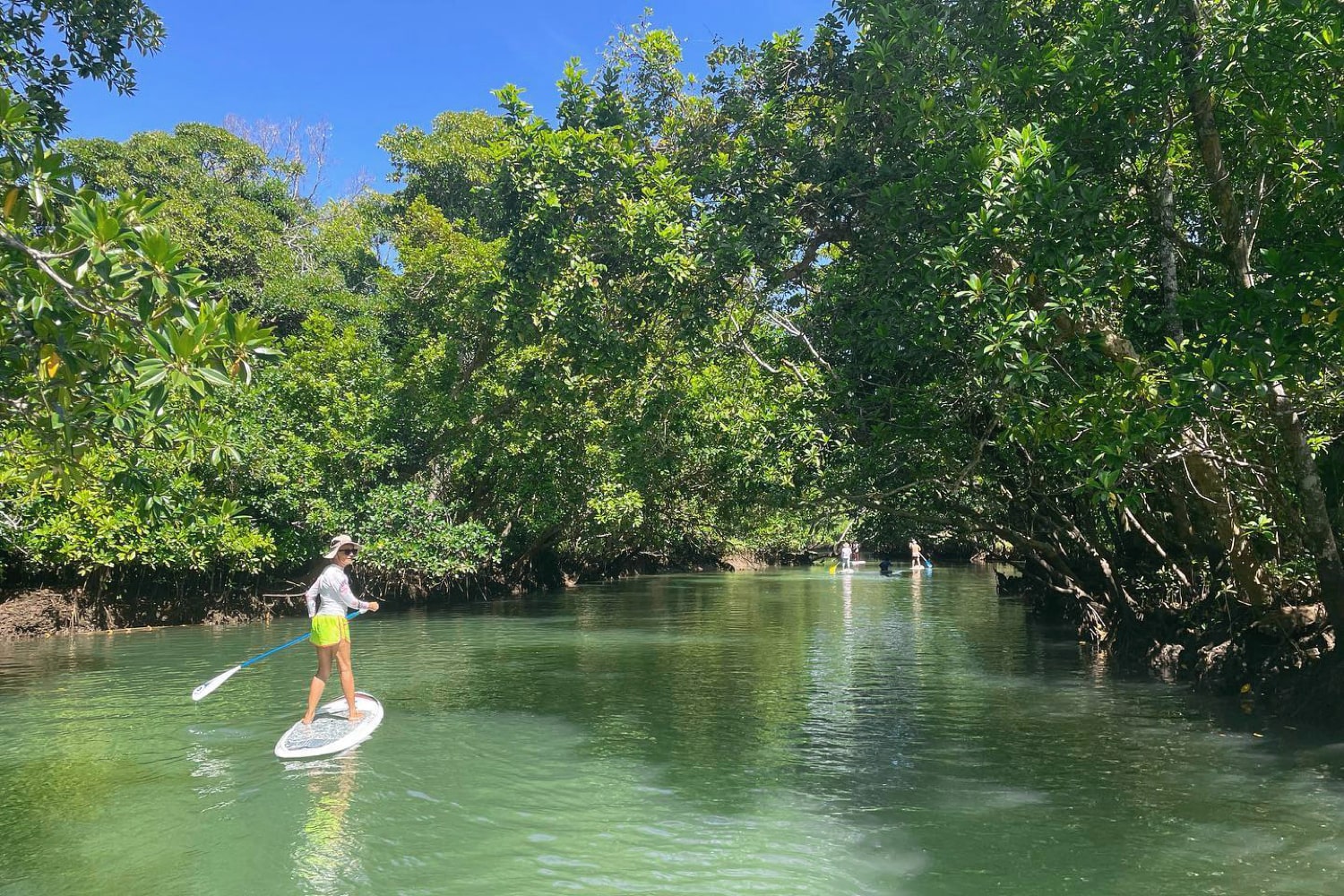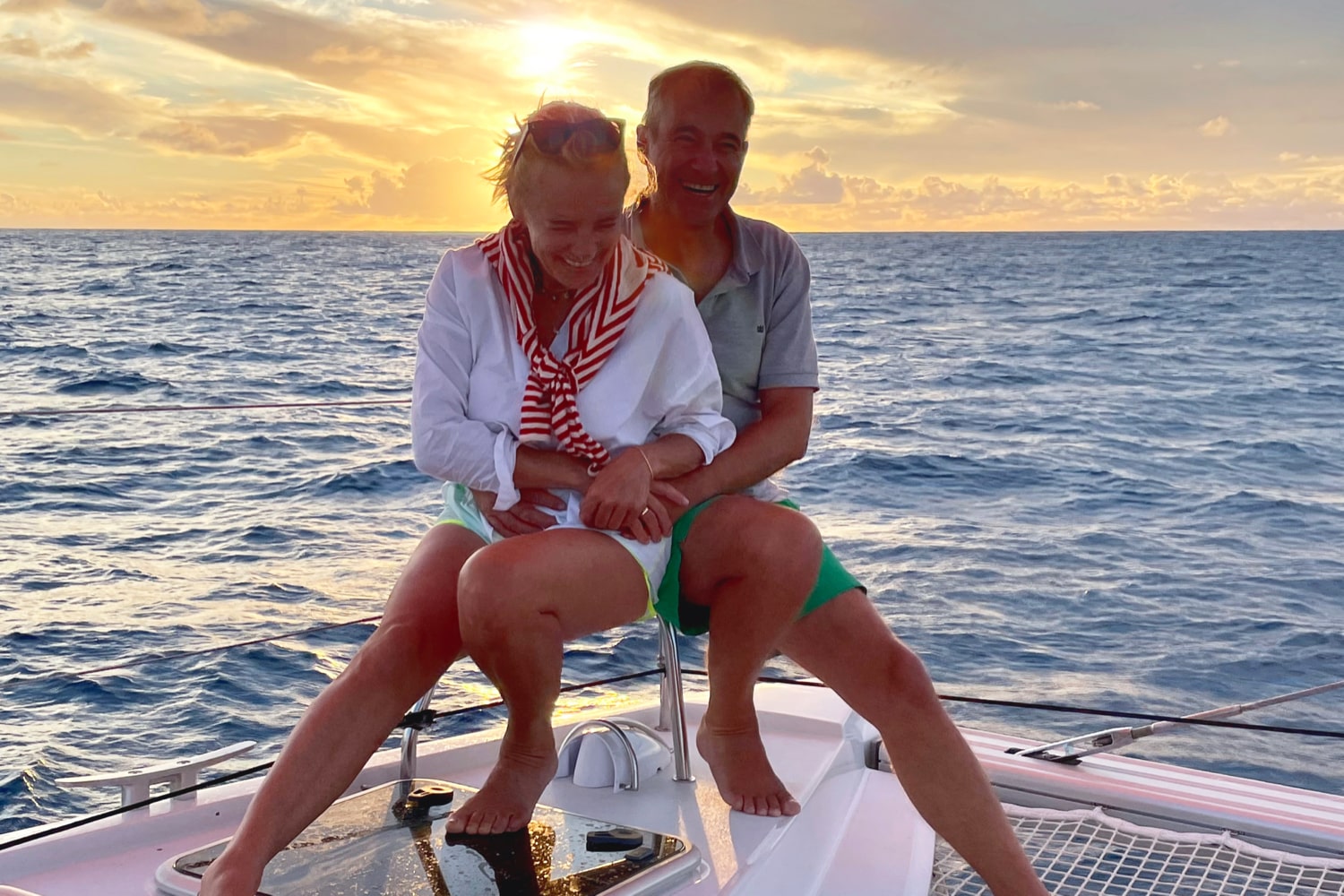 Did we mention that this optimist couple married after having lived other lives? As a result, they count between them nine children, several grandchildren, and it goes without saying, more to come. Which means above all that their round the world trip includes several flights back home for marriages or births…

It looks like they are flying above Covid nests, controls and constraints. "But you know, there are many false ideas about what is possible or not. Don't believe the rumors. You have to get in touch with the authorities of the countries where you wish to stop. And adapt."
3
Navigate under quarantine
In Saint Vincent Island, in the Caribbean, they were obliged to remain quarantined for ten days at their mooring. Setting a foot on land was prohibited. Perfect! What better opportunity to fill one's days with swimming, snorkeling, stand up paddling, doing puzzles and sunbathing?

But don't go thinking that sailing around the world was a childhood dream.
On the contrary, on this point their paths threatened to split. Silvina, who is half Belgian, half Argentinian, fantasized of crossing the Atlantic. But Jacques was a mountain addict and only thought of conquering the useless.
His few attempts at sailing had convinced him that he was not fit for deep sea cruising."As a child, I sometimes sailed Lasers. But I was afraid of going offshore. I felt so small in front of the ocean. When climbing, if there is bad weather, you simply have to walk back down to the valley." But Jacques is not stubborn. When Silvina suggested they enroll in a training course in the famous Glénans Sailing School, he agreed. Just to have a look. "And there, says a thrilled Silvina, I saw Jacques change completely.
As a matter of fact, for the past three or four summers, a friend had invited us to cruise along Corsican and Sardinian shores. He was teaching us a few basics. But nothing like a real training. Hence our fifteen days at the Glénans School in Paimpol (North Brittany), including a week's cruise on board a 36 footer monohull, were invaluable." Their skipper was as good at explaining as he was friendly. Our sport parachutists have "tremendously liked their first steps".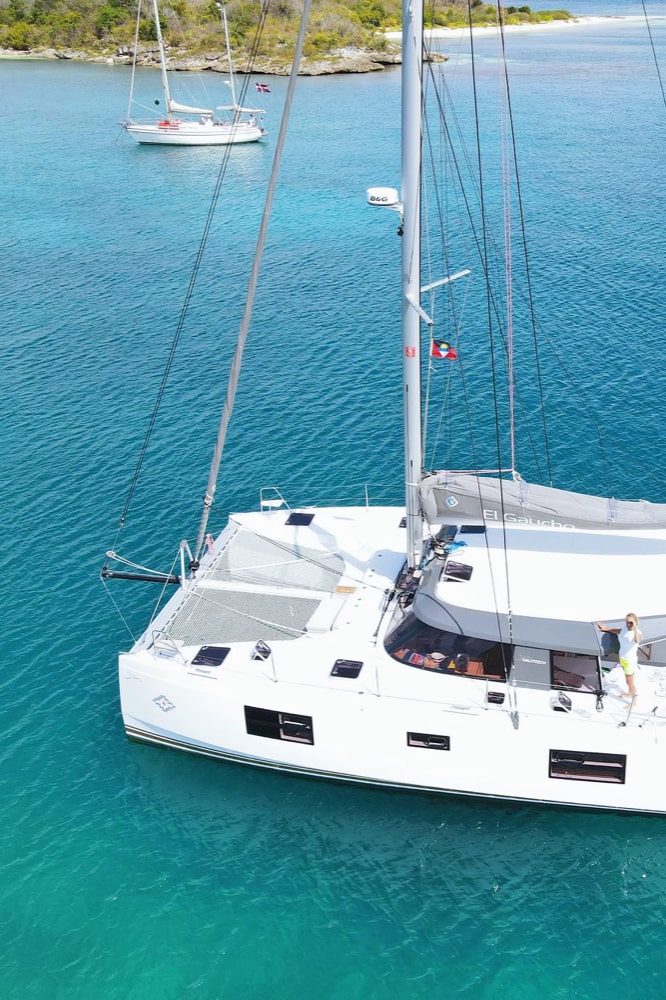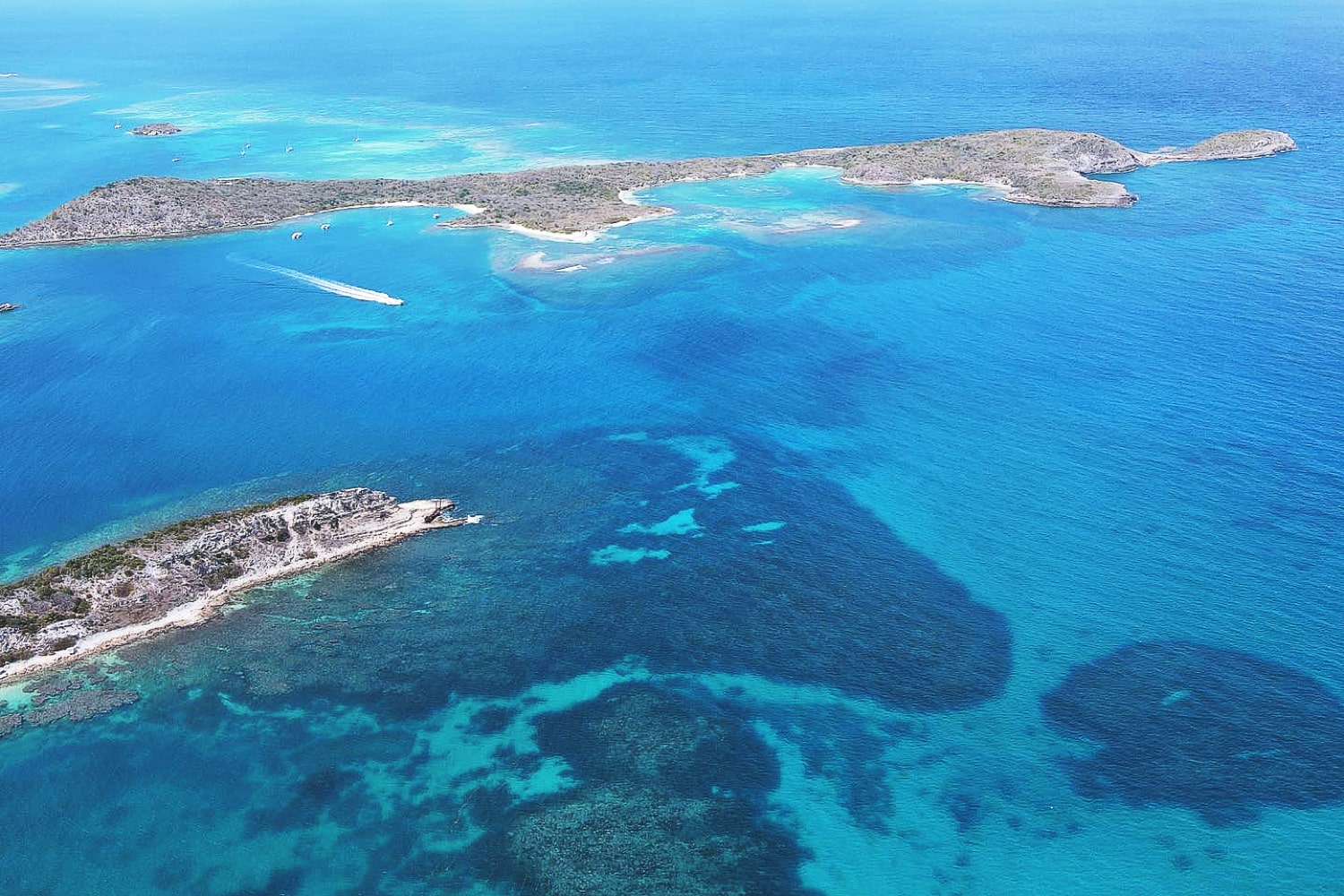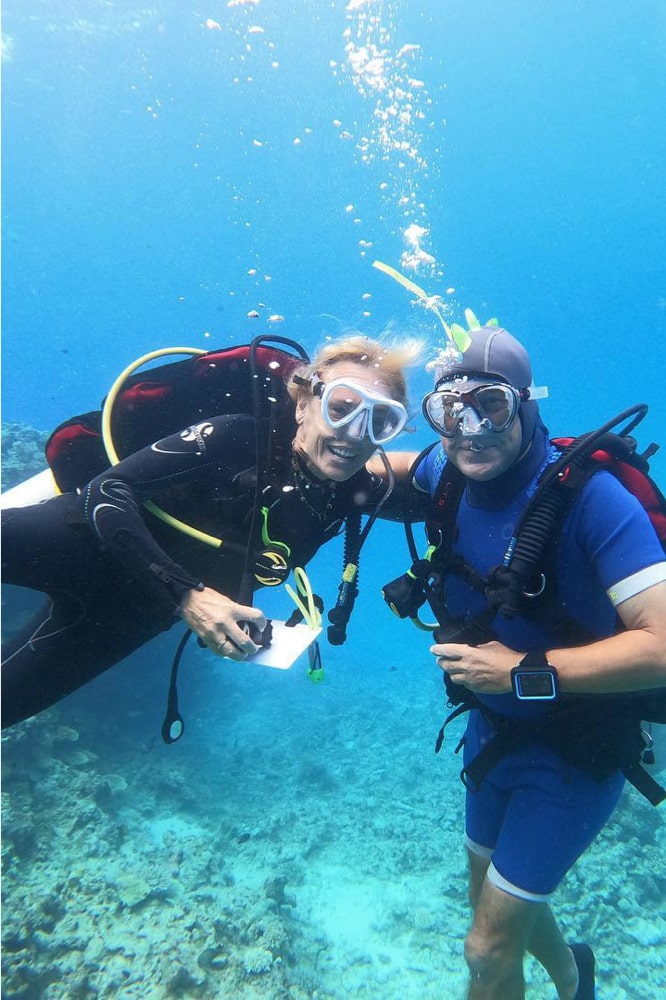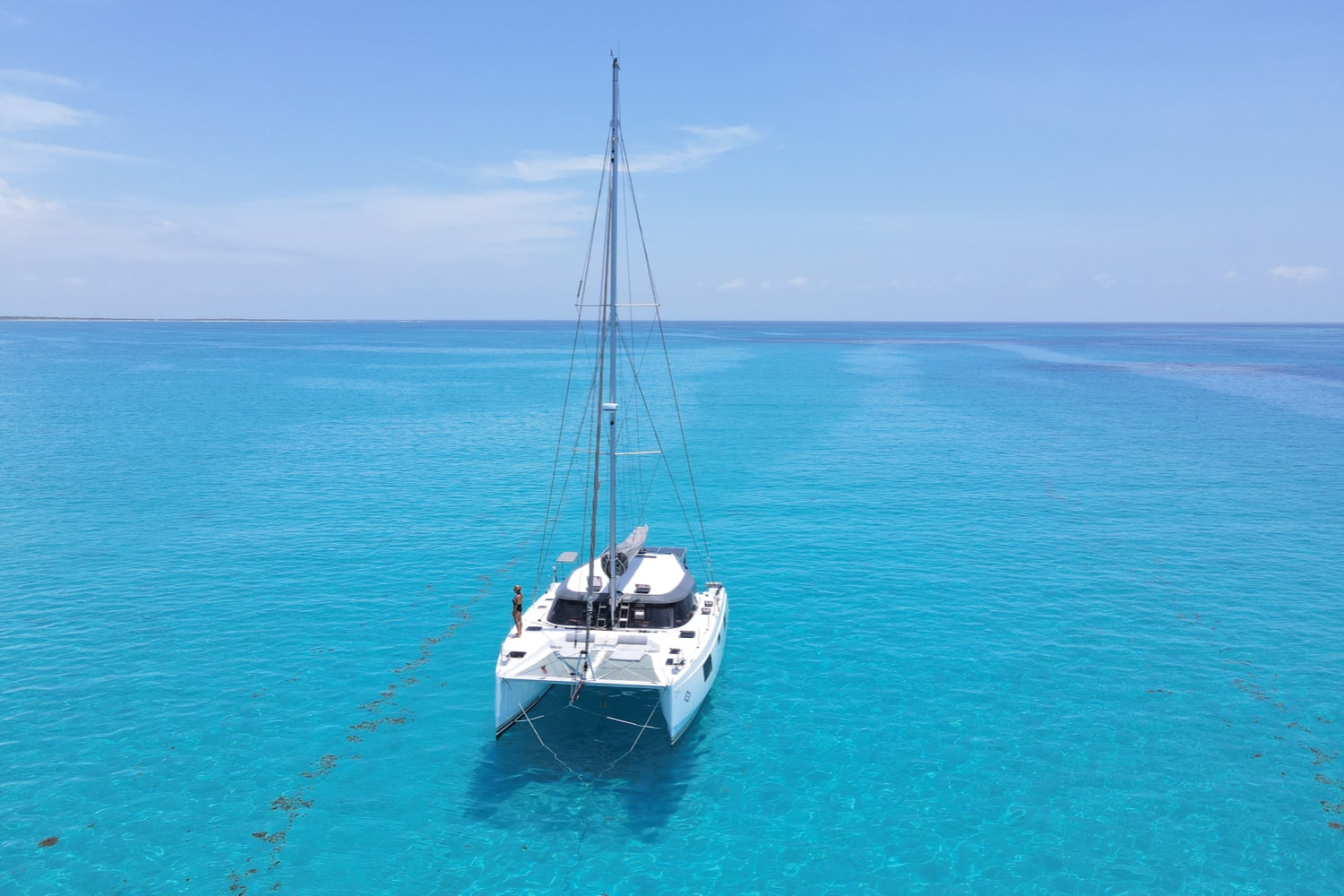 And then? Everything happened very quickly. In February 2020, both of the adventurers met up with Silvina's daughter and her husband in the British Virgin Island. For three years, this young couple had been ocean sailing a 40 footer. "We realized it's possible to sail far away when starting from scratch. We spent a week with them. Then another week on board a cruiser-racer catamaran." And then they dared: they rented a 40 feet monohull in Tortola.
It was the first time they ventured sailing by themselves. Of course, the Sir Francis Drake Channel, in the middle of the Virgin Island, offered an ideal and well sheltered expanse of water. But a rough passage toward Anegada atoll showed them they were capable of taming a yacht in a force 6 trade wind. It was like a revelation.
4
Step out of the
comfort zone
All of a sudden, they began to dream about something much more demanding: circumnavigating the world! "When we took on to sport parachuting, Silvina was 48! We have been paragliding for three years. We told each other it was time to get out of our comfort zone. And there, we were exactly in the same spot."
But "getting out of the comfort zone" on the great ocean meant that they first needed a yacht.
The catamaran was the obvious choice. To spend full time on board, they thought that a good stability, plenty of volume and gears guaranteeing a full autonomy were vital. "We knew for a fact we were not seasoned sailors. For people like us and for circumnavigating, a catamaran has only advantages."

There was just one tiny detail: having returned to Belgium at the end of February 2020, they intended to leave during the coming fall! Literally starting from rock bottom. They were not at liberty to waste time choosing the proper yacht. 40 feet seemed the appropriate overall length, given their knowledge. Happy coincidence, they'd met a German fellow in the Virgin Islands. The guy had sifted through the global production with eighty criteria! For him, the Nautitech 46 checked all the boxes… "But she was a little too big for us. What's more, we had no idea what she looked like."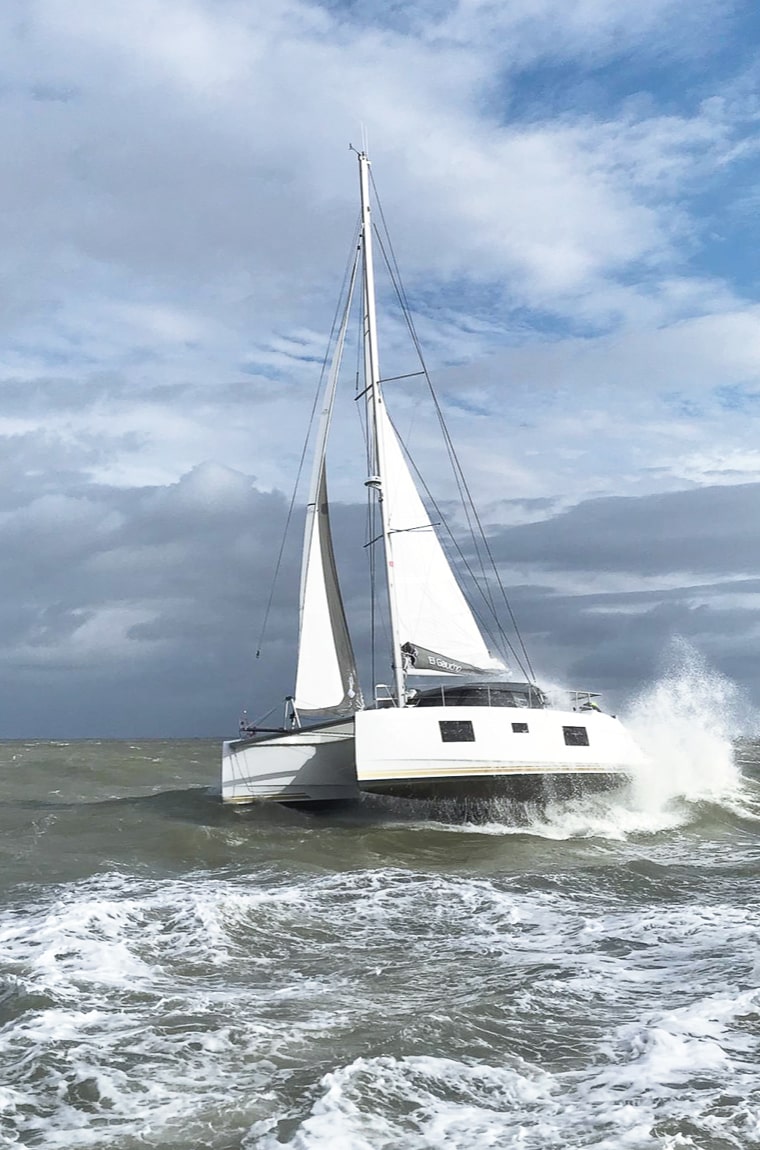 On their way back to Belgium, they got in touch with the Nautitech dealer in Martinique and visited a 40 Open. "As well as the warm welcome we were greeted with, the boat herself conquered us. The Neomarine's people were as frank as competent. We immediately knew this boat was made for us. We told each other that ideally, we were to buy her in 2021."
Bud the Covid, and the lockdown in Belgium as well, have sped up everything. They had to leave. Quickly.
In the beginning of March, they got in touch with the dealer's La Rochelle branch, visited the Nautitech shipyard in Rochefort and set up a schedule. They aimed for a 15th of September delivery, leaving Europe for the Caribbean, the first leg of their round the world journey, before the Bay of Biscay winter gales. If Nautitech couldn't meet the deadline, they preferred to start twelve months later.

Jacques: "I have been a manager. I thought I knew almost all the constraints of this operation: financial health of the shipyard in a middle of a pandemic, delays in supplies, bank supplements etc. But all went well, like in a dream. We signed the order in the beginning of May. And the builder succeeded the amazing feat to meet the deadline. The dealer team was wonderfully helpful. These people know how to suggest optional extras suited for their client's project. Their advice regarding financing or insurance was invaluable. You have to realize we'd never insured a boat and we were beginning with sailing round the world… Finally, it's very comforting to know that the Nautitech dealer is located in La Rochelle as well as in Martinique. We would meet their technicians again after crossing the Atlantic and they could survey, service and fix everything on board. Moreover, social networks are a goldmine of information. We got in touch with Nautitech owners, particularly the Canadian Martin D'Amours or the 46 family of Kumbaya, who gave us great pieces of advice."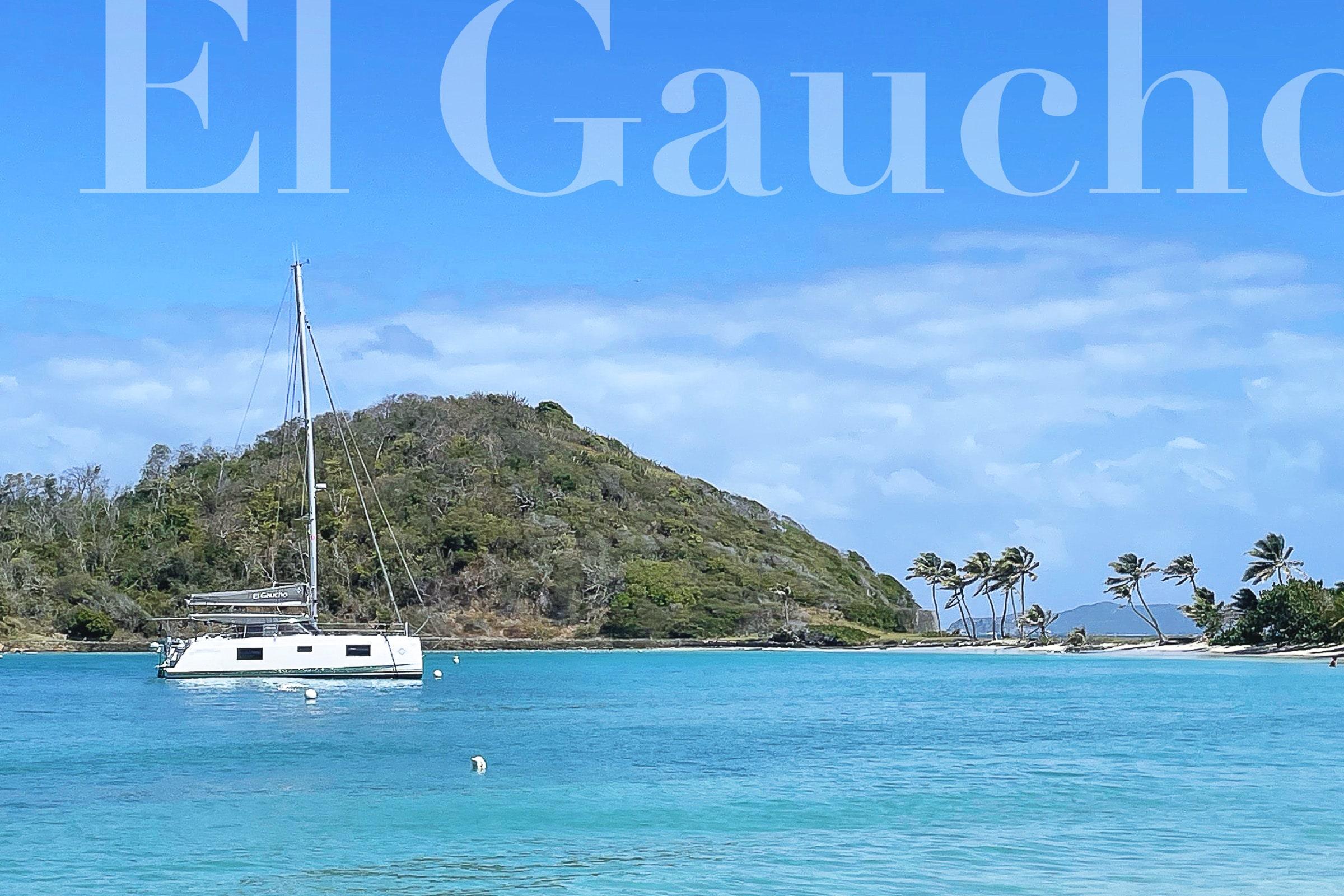 6
The 15th of September
was upon them
With a pounding heart, they caught sight of "their" Nautitech 40 Open for the first time. They christened her "El Gaucho".
After 48 hours to get acquainted and a thousand items to memorize, after a first sea trial using the engine only, it was time to get down to the nitty-gritty: sailing by themselves in La Rochelle Bay. The wind blew between 25 and 30 knots. Many would have given up. Not them. A couple of hours later, they sailed back to the Minimes Marina. They were elated. They now knew two things for certain: in a strong breeze, their catamaran was easy to sail and forgiving;
and they themselves were up to the task. "It's one of the many advantages of doing sport parachuting: we've learnt how to stay calm."

Three weeks later, they were already on their way to Porto which they reached in three days. Their friend Gilles, their skipper on their coastal cruises along Corsica and Sardinia, was their crew. The Bay of Biscay? Their first steps in offshore cruising? Sailing at night? Their smiles say it all. "What's striking is moving along in complete darkness. It's an act of faith.
We take our watch in the saloon, where we're completely sheltered. And if we'd like to drive following the stars, we'd simply take the helm and enjoy."They discovered the pure joy of reaching an unknown harbor under sail, the endless pleasure of moving forward pushed only by the wind. After a "pit stop" in Lisbon, where Gilles disembarked, the happy couple stopped in Portimao. In order to practice some parachuting, what else? And to admire El Gaucho up from the sky…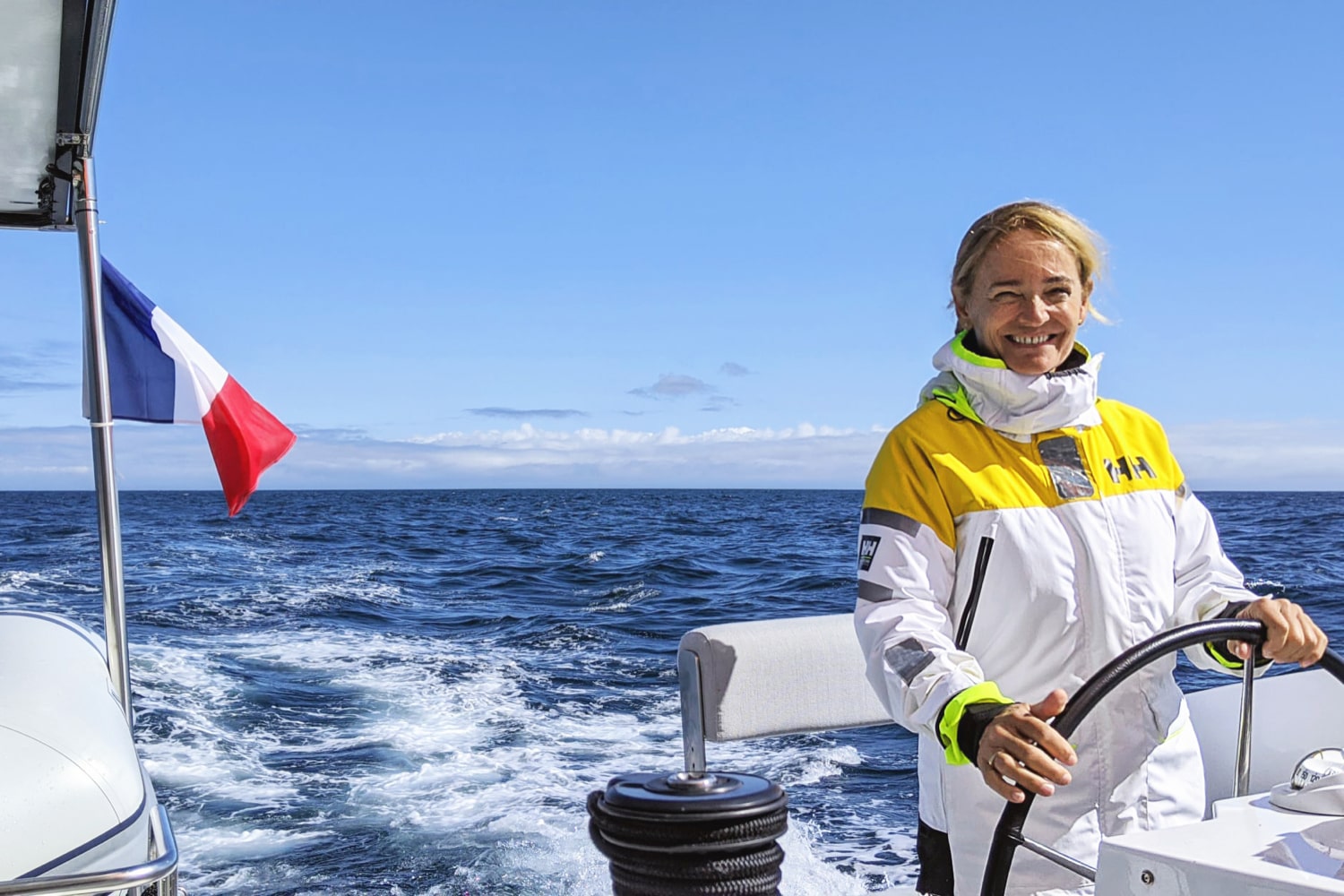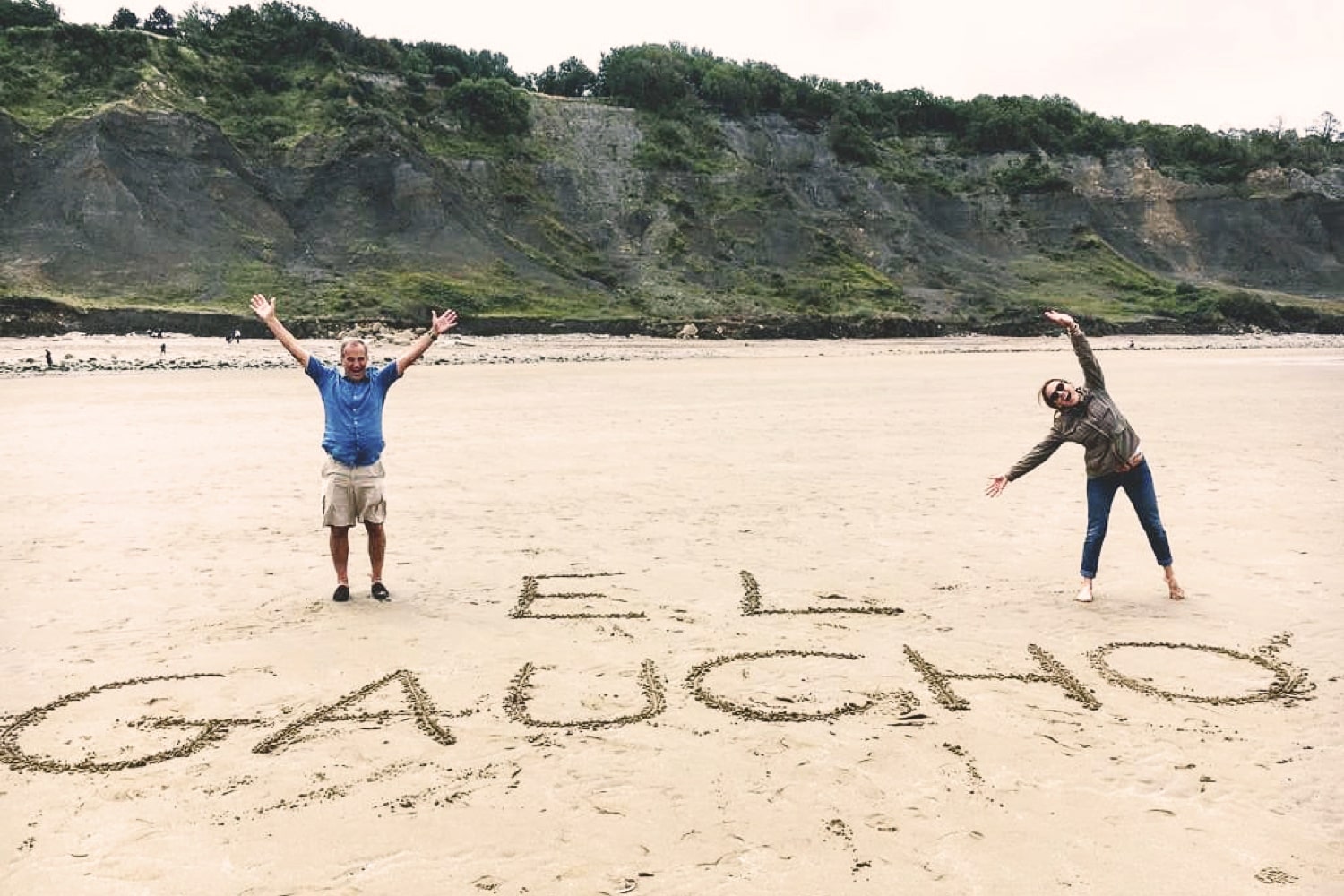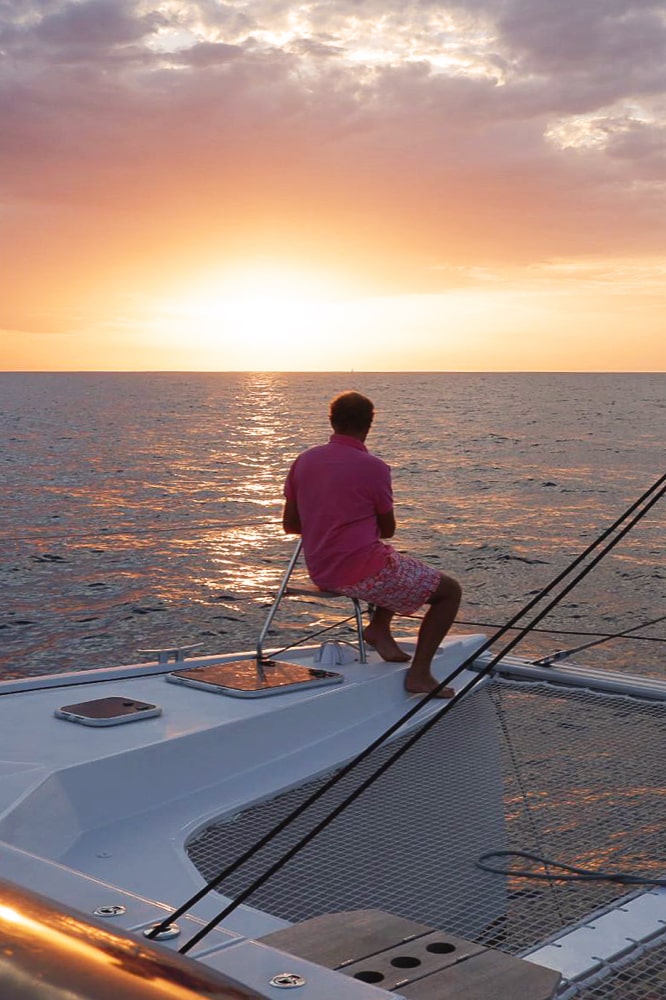 7
The crossing towards
Canary Islands
Then came the first Atlantic leg, a crossing toward Canary Islands, by themselves.
"There were amazing four days, recounts Silvina in wonder. Night watches, when you have to handle the boat without waking up Jacques uselessly, to act like you're solosailing…"
They couldn't help themselves from racing against a monohull which left Portugal at the same time as them. And they were slightly delighted when they dropped their anchor in the calm water of a bay in Graciosa. Their rival monohull was still fifteen miles behind…
Only warning during this crossing: a cargo ship which materialized eight hundred meters behind them. They never spotted it on the AIS.

They made short stops in Lanzarote, Fuerteventura, Gran Canaria, la Gomera, Teneriffe. And then, they were on their way to crossing the Atlantic in seventeen days. Two friends joined them. Everything was magic: peace of the open sea, the three o'clock am squall which set the radar display on fire before hammering them in a middle of a reefing manoeuver, the miraculous fishing, the surfs on the back of the big swells, the limitless sky and the trade winds cumulus, the gennaker you have to tie with wool like a racing spinnaker because it went loose…
In the middle of the ocean, they bumped into a sistership they had met in Canary. "We fought like dogs to arrive before her." Such a surprise! Their north path was a good one. And then, one morning, the emerald hills of Martinique rose from horizon…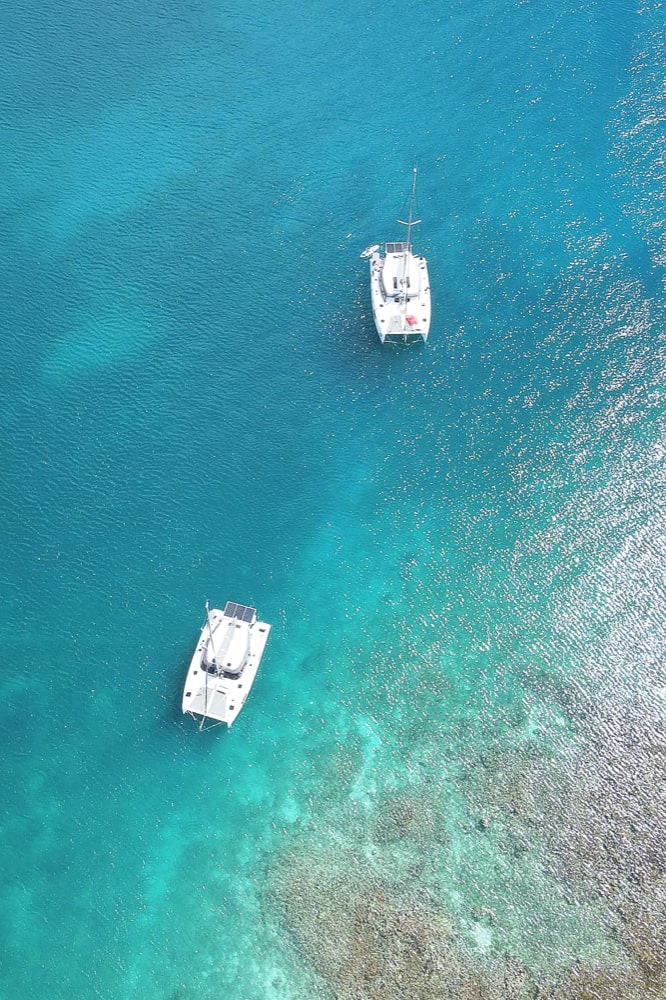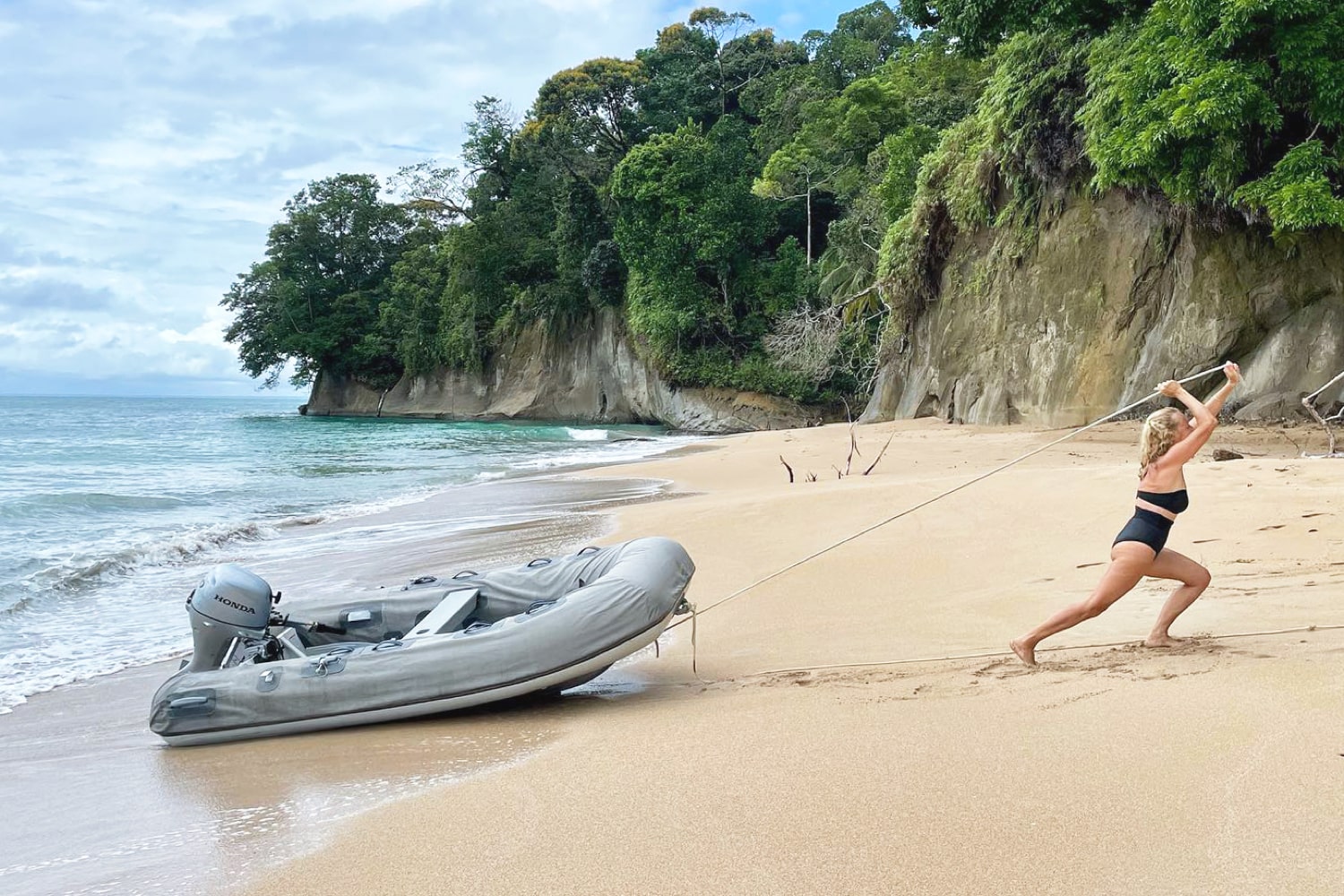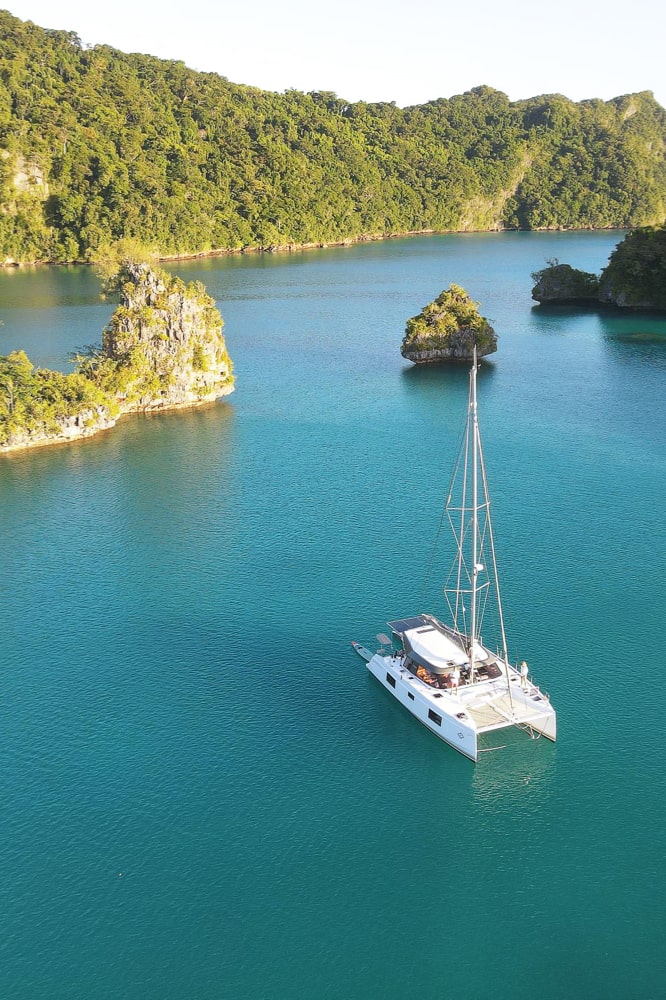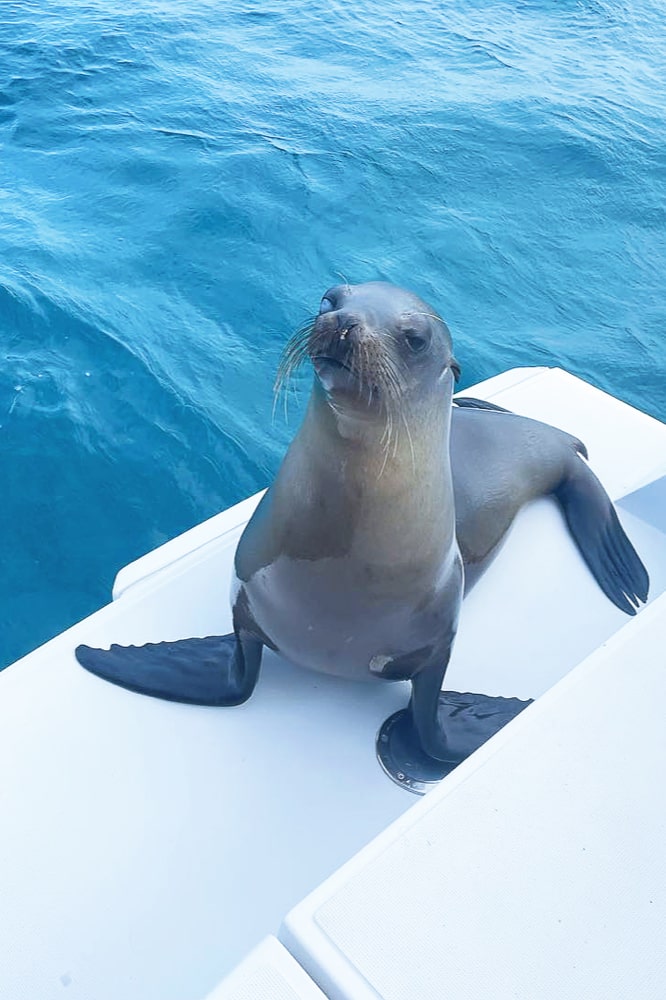 A huge lot of stories left to tel
They moored in Sainte Anne, listened to the sound of silence. And jumped in the water, all four of them, for a bath they were dreaming of for three weeks.

Jacques and Silvina moved on without delay and sailed the deserted Grenadines by themselves. After a rough heading northward back to Martinique, they are preparing to set course toward the Bahamas. Their circumnavigation is only beginning. They have a huge lot of stories left to tell.
Share their stories
Discover the most beautiful ocean crossings of Nautitech's owners and fill up on escape
The ideal partner for living on board and sailing anywhere on our planet.
Made in France
Expert in catamaran construction since 1994, based in Rochefort, one of the cradles of boating.
A unique experience
Elegance, comfort and equipment to offer you a welcoming living space.
Quality and performance
Our main concern is to offer robust and durable catamarans with recognized marine qualities.