Sailing LouiseAnna
Sailing with LouiseAnna has been a project that started growing in our heas about 13 yars ago.
The crew
Louise and Anna
Louise and Anna are the two smallest crew-members. They are 4 and 5 years old (on the day we leave). Luckily they love sailing and are looking forward to spend two whole years alone with their parents!
Kim and Geoffrey
They met in 1995 (at sea) and are a couple since 2002. They have been best friends ever since, quite necessary to even begin this adventure. They love a good sailing race and owned an Archambault Sprint 95 for 5 years before the two girls arrived.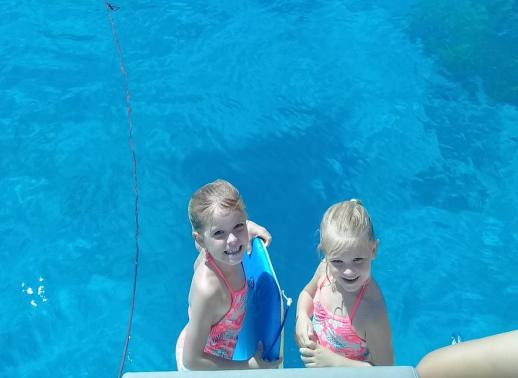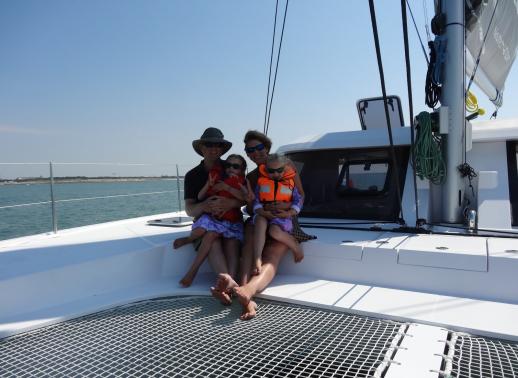 The journey
What project at the beginning?
The idea came up 12 years ago after reading some books and dreaming of some stories in sailing magazines. We already had a sailing boat and enjoyed discovering new harbours, bays and cities. We knew that travelling by boat was something for us. It was already set that we would start our journey with kids (of an age where no diapers are involved and old enough to swim), this gave us enough time to save money and test out different boats by renting them during the summer. Two years before our departure date, we rented a Lavezzi 40, our first catamaran trial with our two girls, we enjoyed the space and sailing comfort a lot and went back home convinced about the catamaran aspect.
Why a Nautitech catamaran?
One year before our planned starting date we visited La Grande Motte catamaran show. The main reason was to ask questions to other manufacturers about second hand catamarans we had found on the market. However when we discovered the Nautitech Open 40, my wife immediately fell in love and dragged me along for a second visit after comparing with all the others of the same category. I was still not convinced about the steering setting for manoeuvring in harbours. However today I can tell you it's very nice to have a complete view over your boat and an extra eye on the whole crew (especially our very small crew)! And off course, it just gives you that extra feeling of really sailing a sailboat! Four years before we had met Nathalie Maurel from Liz Mer that explained us all the possibilities of LOA and advantages. She supported our dreams by answering all our questions in those 4 years. So now we recalculated our travel plan and decided we should maybe buy a new boat rather than renovate a second hand catamaran. And after visiting the boat twice that day, Jean and Didier from AC Yachting invited us to try the Open 40 in Arcachon and visit the factory at the same time. The fabrication techniques and cheerful motivation of the people working there on a Friday afternoon was convincing enough. The nice weekend spend in Arcachon together with the leasing calculations made us change our mind from a 10 year old used catamaran to a brand new one.
Strong points / weak points?
After 16.000 nm and some bad weather situations, we can say that the Open 40 is a fast, strong and seaworthy boat. Besides that you will have plenty of comments of how good she looks when arriving in harbours and she's so special and good-looking you will always get the fanciest pontoon :-) The large cockpit, that you can close if necessary, and the open space is just amazing when cruising around the equator. We spend most of our time outside enjoying the shade and protected environment. The most negative point of this is that all other boat friends (even from bigger cats) prefer to have drinks and meals on your boat:-) The Open 40 provides enough space for a family of 4 living their dream around the world. You will be amazed how much toys we have stored on board (not only for the girls!)/ Storage space is huge and well organised. The weak points are mainly related to longtime cruising and can certainly be changed in advance when you are aware of them. One of them are for example the self tacking Genoa that is just great when the weather is bad but having an additional fixed genakker instead of a removable furling one, would make cruising live easier and safer, specially when a sudden thunderstorm or gust is appearing at night. We need to say that the after sales partners in different regions of the world are great and been high level companies in contact with Nautitech.
Best memory?
There are so many of them, it is hard to tell. You can read about our adventures on sailinglouiseanna.blogspot.com But related to the sailing capacities of our Open 40, entering the bay of Lisbon at 17 knts of speed on flat waters, was a great feeling after 6 days of rough seas. Our last 48h towards Cartagena with 50knts of wind, an average of 11knts and a peak of 21knts with nearly no sails was scary and at the same time exciting and pleasing to see that our boat brought us safe to Colombia. She is a pleasure to hand-steer with good winds and seas.
If again, what's different?
During our longer crossings, we have plenty of time to think about this, "would we do it again and how?". We agreed that we would do it again once the kids are grown up and we had time to earn enough money again;-) At the moment we would still go for a Nautitech and after the experience we created, we would of course change some minor things to make longer cruising life easier. Minor boat improvements as more solar panels, arm to lift out dinghy engine, … but mainly the improvements would not be boat related. The trajectory would be different as would the time spend per region, but mainly we would like to leave for a "bit" longer than two years :-)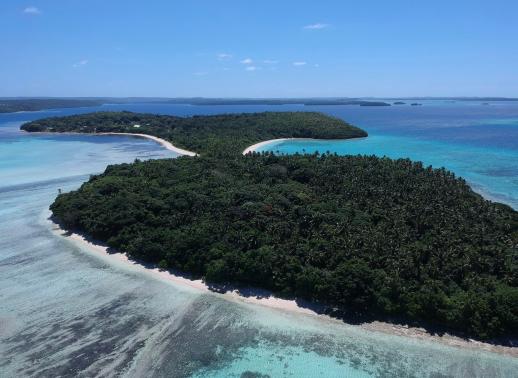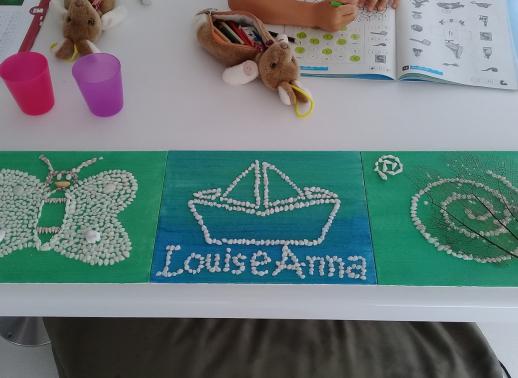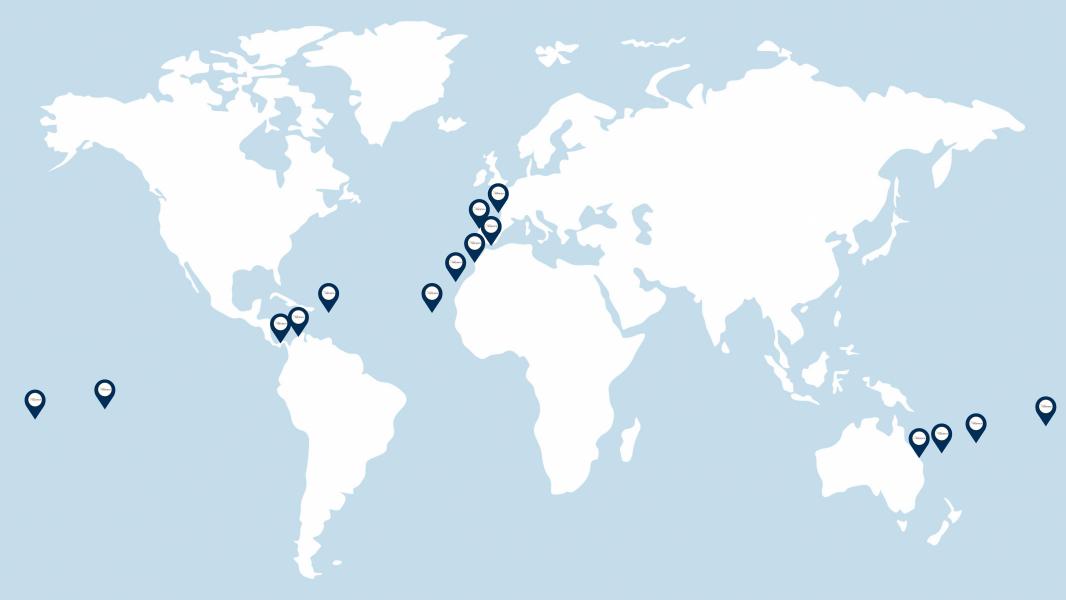 Some pictures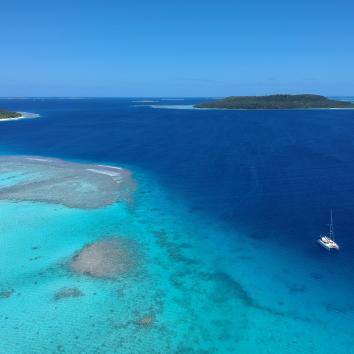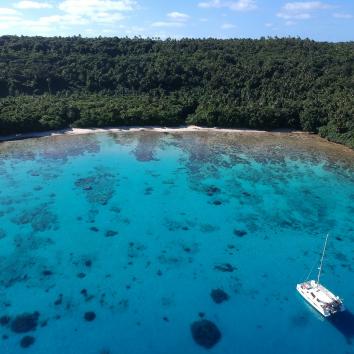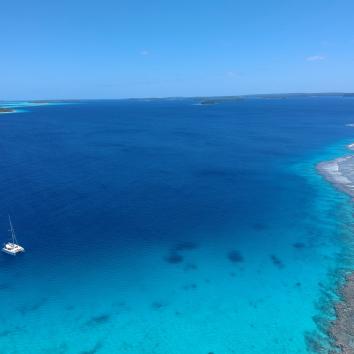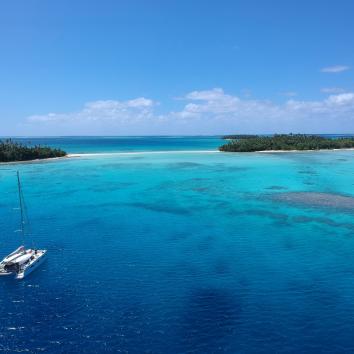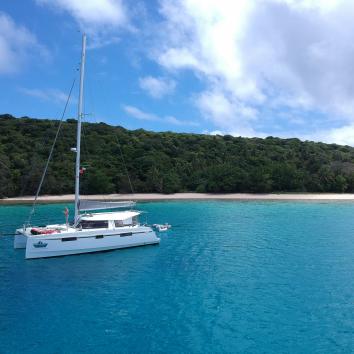 The boat we had for this trip
Discover other adventures