The Kumbaya journey
Kumbaya is a Nautitech 46 Open bought in 2020 by a big family of 4 children ! Juliette and Hubert, proud owners, they shared their experience.
A round-the-world sailing trip with 4 children
Le Voyage de Kumbaya" is the incredible adventure of a large family who decides to go on a three-year world tour by catamaran. Juliette and Hubert, a couple of experienced sailors, have decided to set sail with their four children aged 3 to 11 years old to make them discover new places and broaden their horizons. Let's get to know these great explorers who set sail in the fall of 2020 aboard their Nautitech's 46 OPEN.
Juliette and Hubert, a couple of passionate skippers sailors
A skipper and nurse, Juliette is a mom who is not afraid of multitasking. With 4 children, she is not afraid of challenges and it is with enthusiasm that she has planned this beautiful project. Hubert, an experienced adventurer and sailor, has been preparing this catamaran trip with his family since he met his wife. For him, it is the dream of a lifetime: to embark his family on a memorable sailing expedition around the world that their children Louise, Agathe, Paul and Bertille will always remember.
Louise, Agathe, Paul and Bertille, curious and prepared children
Each of the children prepared a lot for this trip. They all have different personalities with Louise being the eldest responsible, Agathe who fears nothing but sharks, Paul the coy one and Bertille, the youngest who will celebrate her 3 years birthday on board. For them to gather memories of this incredible cruise at sea while keeping in touch with their loved ones who stayed in France, they created a vlog on their YouTube channel Le Voyage de Kumbaya. Check it out to find out more about the family's adventures.
The entire family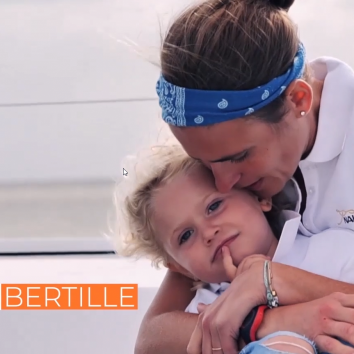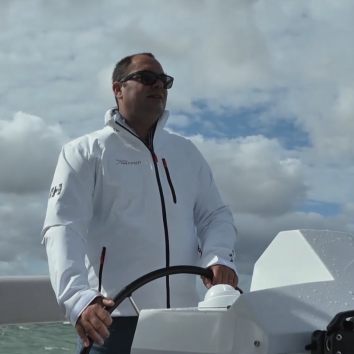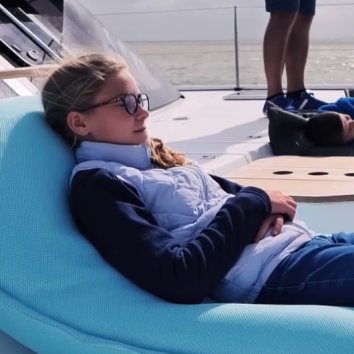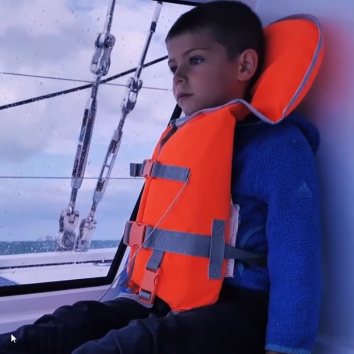 The itinerary of kumbaya's journey
From the Port des Minimes in La Rochelle, the Dolley family plans to go down to the coast of Africa, then cross the Atlantic Ocean to reach Brazil before entering the West Indies and finally make their way to the Australian coast.
Would you like to know more about this family's great adventure?
Looking for an itinerary for a round-the-world sailing trip with your family? Trail

The 46 OPEN by Nautitech: why should you choose it for a round-the-world catamaran trip with your family?
Until now, Hubert and Juliette had always sailed together on monohulls. But for their family round-the-world trip, they chose a catamaran because it is the kind of boat that combines speed, comfort and safety. For Juliette, life on board had to offer quality of life on a daily basis: "we were immediately drawn to the living space and the spacious volumes of the 46 OPEN".

Indeed, this luxury multihull is composed of 4 cabins with double berths. The 46 OPEN in a nutshell? A livable catamaran, a real house on the water where everyone can blossom and follow the school program in a bright and serene atmosphere.
The Nautitech shipyard, a guarantee of quality and performance
"We reviewed all manufacturers and we quickly got in touch with the Nautitech shipyard. We were looking for a cruising catamaran and Nautitech was able to find the right balance between authentic sailing sensations and comfort," explains Hubert.

The family also decided to turn to a French shipyard specializing in catamarans combining comfort and performance because it's a guarantee of quality and innovation. After some hesitation between the 40 OPEN and the 46 OPEN, the Dolleys had the opportunity to try the 46 OPEN for a week in Croatia. A decisive step to make sure that this habitable catamaran was suitable for their everyday life.
The choice of navigation options
After choosing the 46 Open, Juliette and Hubert decided to customize their new home on the water. They relied on the expertise of the Nautitech shipyard and their dealer to fit additional equipment to make their navigation and maneuvers easier at sea. For the 46 OPEN Open , they installed a solent, as well as a gennaker to take full advantage of the alysees.

To ensure the autonomy of the catamaran during long crossings, 3 solar panels have been placed on a gantry at the rear of the catamaran as well as a watermaker. A luxury that allows the 6 members of the family to take a hot shower every day.

Are you planning a round-the-world trip or a catamaran vacation? Discover our sailing catamarans and our customers' testimonials and their travel stories.
The boat we had for this trip